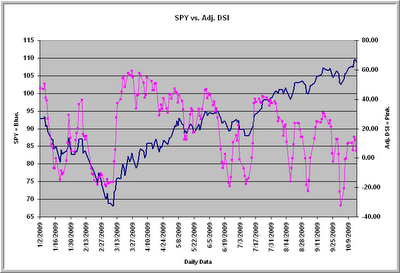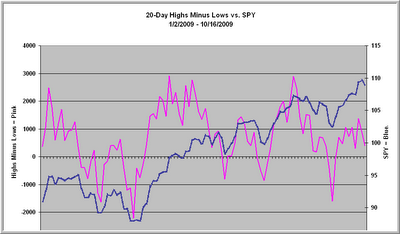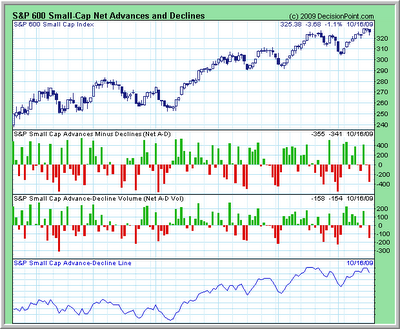 Last week's indicator review
found that we were seeing price strength in the major indexes, but signs of non-confirmations among several indicators. This past week registered fresh price highs, keeping
most sectors in a bullish trending mode
. Still, we continued to see non-confirmations among the indicators. The Cumulative Demand/Supply Index (top chart) continues to register lower highs, indicating a loss of upside momentum.
We also are seeing fewer new 20-day highs minus lows among NYSE, NASDAQ, and ASE stocks (middle chart), relative to the September levels. Similar readings are evident among the 65-day new high/low data. All of this suggests that participation to the upside has been more selective over time.
The advance/decline line data paint a more mixed picture. We did register new highs in the large cap indexes, including the A/D lines specific to the S&P 500 Index, the NASDAQ 100 Index, and even NYSE common stocks. As the helpful chart from
Decision Point
indicates (bottom), however, we have not seen similar new highs in the A/D line specific to S&P 600 small cap issues.
I continue to view this as a bull market. Note, for example, how pullbacks in the Cumulative DSI have occurred at successively higher price lows. Still, the indicators suggest that we may have registered a momentum high in September, with recent price highs coming on lower volume, lower momentum, and reduced participation. If that is the case, I would expect further corrective action prior to any fresh bull leg.