Earnings seasons are always hectic times on Wall Street, but this time around it seems to come with added importance. We've seen signs and heard whisperings that the recession has ended and a recovery is underway, but investors are anxious for confirmation from corporate America. Last week's reports gave mixed results, with positive surprises from JP Morgan (NYSE:JPM) and Google (NASDAQ:GOOG), but disappointing results and outlooks from IBM (NYSE:IBM) and Citi (NYSE:C).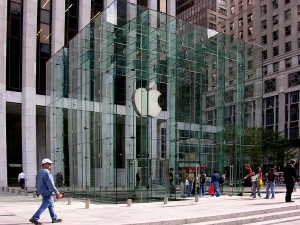 This week features several more high profile earnings reports (including Merck (NYSE:MRK), McDonalds (NYSE:MCD) , and Microsoft (NASDAQ:MSFT)), but perhaps none are more highly anticipated than Apple's call (NASDAQ:AAPL) after the close on Monday.
Apple is a company that has never really traded on fundamentals – swings in stock prices are much more likely to occur as a result of a sexy new product unveiling or news of a delay to a highly anticipated launch. But it is the ultimate consumer product company, and its financial report will provide insight into the health of the U.S. technology sector.
Confidence has been rising steadily in recent months, and Apple's third quarter financials should indicate whether consumers have been putting their money where their mouth is.
ETFs To Watch
While Apple's earnings could have an impact on broad U.S. and international equity markets, certain ETFs will be impacted more than others (sign up for our free ETF newsletter for daily actionable investment ideas). Funds that could be on the move early in the week include: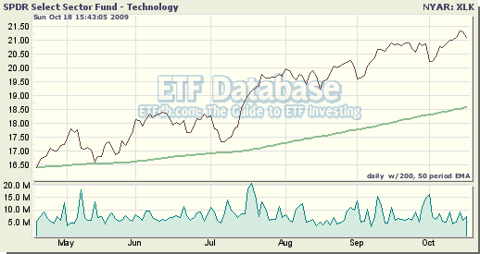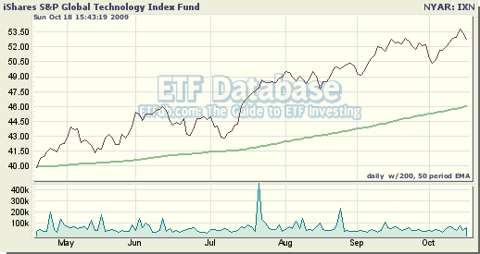 PowerShares Dynamic Consumer Discretionary Sector Portfolio (NASDAQ:PEZ): This ETF doesn't hold a single share of Apple stock, but could nevertheless see some movement following the earnings announcement. While Apple is a tech company, it relies primarily on individual consumers (as opposed to business spending) to drive sales. If consumers have begun loosening up their budgets for discretionary spends on iPhones, iPods, and computers, it could be a good indication for consumer discretionary funds.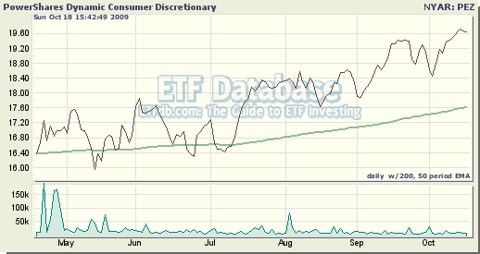 Disclosure: No positions at time of writing.