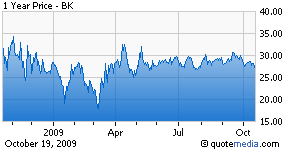 The Bank of New York Mellon Corp. (NYSE:BK) is expected to report Q3 earnings on Tuesday, October 20 before the market opens, with a conference call scheduled for 8 am ET.
Guidance
Analysts are looking for EPS of 47c on revenue of $3.16B. The consensus range is 30c-60c for EPS and $2.99B-$3.31B for revenue, according to First Call.
Analyst Views
J.P. Morgan's (NYSE:JPM) results contained negative information for trust banks such as Bank of New York Mellon, UBS and Goldman Sachs analysts said last week. J.P. Morgan's results indicated that its trust bank unit had weak revenues in Q3 due to low revenues, the analysts said. Separately, Rochdale analyst Richard Bove, in an interview with CNBC, recently named Bank Of New York as one of five banks whose stocks he would consider owning. In addition, Sandler O' Neill last month upgraded the bank to Hold from Sell, with a $32 target. While a majority of banks will lose money over the next six months, Bank of New York is sure to report pre-tax profits, according to Bove. Meanwhile, the bankruptcy of Reader's Digest may have a significant negative impact on the bank, the New York Post reported. The publisher owes Bank of New York Mellon about $600M.