By Chris McKhann
There are a number of ways to bet on a return of the real estate market, and one happens to be the options of the leveraged ETFs.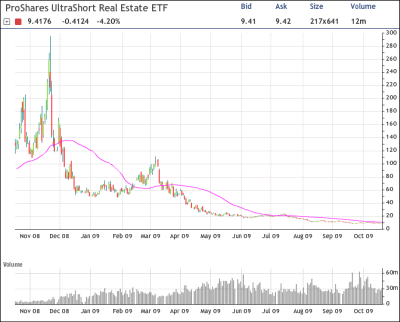 The ProShares UltraShort Real Estate (NYSEARCA:SRS) exchange-traded fund, which is down 4.2 percent this morning to $9.42, is designed to correspond to twice the inverse of the daily performance of the Dow Jones U.S. Real Estate index. Shares are just a shade above their September low and down 97 percent from their November highs.

Despite this, one trader has decided to place a cap on the upside by selling the December 13 calls. We see one block of 4,800 sold for $0.45 against no previous open interest at the strike.

This sale was very likely done against existing shares as a covered call, otherwise the risk would have unlimited risk. As a covered call the maximum profit will come with shares at or above the $13 level, while the income from selling the calls gives a protective cushion down to $9.05. Shares briefly touched that $13 level back in early September and have strong technical support at $9.
(Chart courtesy of tradeMONSTER)