Real-time Monetary Inflation (last 12 months): 3.0%*

The coal market coat-tailed on last week's breakout move in crude oil prices. Oil wasn't the only impetus, though. Prices in the spot and forward markets were also buoyed in anticipation of bullish coal import figures from China expected to be released this week.
Coal, until recently, was an investment suitable for only for commercials and large speculators. Last year's introduction of the Market Vectors Coal ETF (NYSE Arca: KOL), a portfolio tracking the Stowe Coal Index of 39 global producers, gave retail investors an opportunity to efficiently exploit trends in this hitherto hard-to-trade marketplace.
KOL's had a quite a run this year, as prices more than doubled to test the $33 level. It's not been without fits and starts, however. In fact, KOL prices have been stalled in a monthlong trading range, as sellers have sat on excursions above $33.
Market Vectors Coal ETF (NYSEARCA:KOL)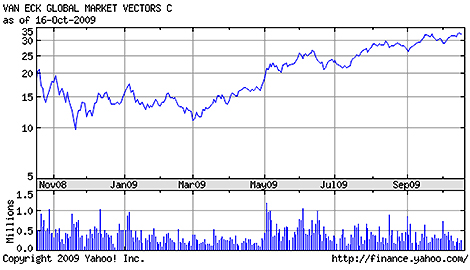 This morning, however, the bulls came out strong to push prices to new trend highs. A close today above $33.04 would make the October low at $29.03 a likely pivot point for an advance to the $37 level.
KOL's exhibiting the technical strength to follow through on such a move, as several indicators point to potentially higher prices. Most telling, the last three volume spikes have been on days when KOL shares have closed strong on the upside.
The path to the $37 level is strewn with a couple of boulders, though. Most notably, there's the potential for resistance around $34.87, which represents a key retracement of KOL's June-November 2008 decline. Last year, the fund's shares tumbled from $60 to less than $10 along with the swoon in overall energy prices.
For now, though, the near term looks fairly benign for bulls. A break below last week's low at $31.13 might change their minds.
*Note: The monetary inflation rate is calculated daily and represents the change in our proprietary index from this date one year ago. We update long-term inflation in real time as well. Since 1999, the compound annual growth rate in our index is 5.4%.