GLD: China Buying Will Push Valuations Above Critical Levels
Valuations in precious metals have encountered some lift in recent weeks, with the SPDR Gold Trust ETF (NYSEARCA:GLD) higher by nearly 15% since posting its yearly lows toward the end of June. The central question at this stage is whether or not this is the beginning of a renewed bullish rally, or simply a correction after its extreme declines in the early parts of the year. In order to make this determination, it is important to assess some of the reasons behind the latest rally and then to look at some of the factors that could support metals prices into the end of the year.
One of the most direct drivers has been the possibility of military conflict on the Middle East. This added uncertainty (especially for oil trade routes) had jarred markets and this has brought investors back to gold-related assets because of its renewed safe haven allure. In addition to this, we have seen some highly erratic moves in currency markets (India and Indonesia being prime examples), and this has led many investors to look for alternative stores of value. Gold is one of the assets that can be most easily converted to cash, so it is not entirely surprising to see the metal rally in these types of situations. Finally, we have significant evidence that suggests physical demand is surging in Asia, creating a confluence of events that is likely to solidify a yearly bottom in GLD valuations.
Stabilizing Asian Economies Add to Physical Demand
In the early parts of this year, physical purchases in China and India (the world's two largest consumers of the metal) saw massive spikes. In the first two quarters, purchases in both countries were higher by more than 45% (568 tons in India, and 571 tons in China). Policy moves in India have been enacted in India to attempt to limit demand and help improve the country's building current account deficit. But as we move into the festival and wedding seasons in India, these policy moves will likely have a reduced impact. Overall, demand in China and India is expected to surpass the 1,000 ton mark (in both countries) before the end of the year.
Additional evidence for why these forecasts could be accurate can be seen in the improved manufacturing productivity in China. The latest Chinese PMI figures showed that manufacturing activity (the central pillar of the country's economy) has finally moved into expansionary territory, hitting its highest levels in 16 months. The general trajectory seen in emerging market performances this year has been disappointing. But the latest data out of China suggests that we could see some stabilizing factors moving forward. This will likely bring additional buying to the commodities markets, with oil and metals being supported into the final months of the year. Precious metals need a more positive context from emerging markets, as this is quickly becoming the central region for sales in gold. And this all starts in the manufacturing space, stronger results in China will help put a floor in gold prices at the June lows just above $1,200 per ounce.
GLD Chart Perspective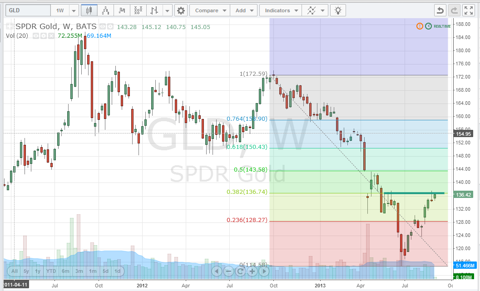 GLD is now facing some important technical resistance at 137.05. This level marks the 38.2% Fib retracement of the decline from 173.35, and is a historical supply level from the beginning of June. This is the central price level to watch, and now that we have improving economic data out of China, we can expect new purchases here to push GLD valuations above this important bull level.
Disclosure: I have no positions in any stocks mentioned, and no plans to initiate any positions within the next 72 hours. I wrote this article myself, and it expresses my own opinions. I am not receiving compensation for it (other than from Seeking Alpha). I have no business relationship with any company whose stock is mentioned in this article.