Asset reflation has clearly become the play in the markets as the concerted global printing press continues to churn out its magic dust and continues to bridge the gap between still-fragile business/investor sentiment and eventual economic recovery.
Commodities have performed as well as stocks, as exhibited by the powerful breakout in the Reuters/Jeffries CRB index as of late. The index has about a 30% exposure to energy, while it is also exposed to a number of hard and soft commodities contracts.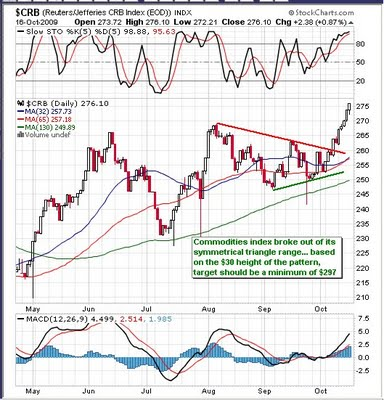 As improved commodities prices incite producers to redeploy idle capacity, and as some businesses have overshot on the downside with regards to bringing down inventory levels, will a revival in shipments of commodities, particularly raw material components in dry bulk containers, be not too far behind? Clearly, China's restocking of iron ore and steel imports has helped.
Looking at the chart of the Baltic Dry Index (BDI), we are clearly nearing a decision point with the index approaching major resistance levels, in particular the 130-day moving average. The improving MACD shows that we have clearly put in a bottom to the index for the short-term. I use a move above and below the 130-day moving average to signal major reversals of trends.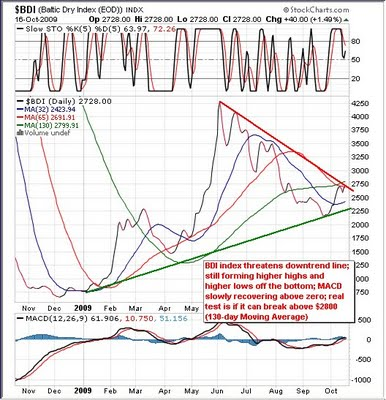 While dry bulk shipping has a lot of headwinds (including the much publicized overcapacity as ship deliveries are due the next few years), the dry bulk segment has done better than the oil tanker and container segments due to emerging market demand. Well managed dry bulk shipping companies (in terms of balance sheet and access to funding) can be high leverage plays on any global economic recovery.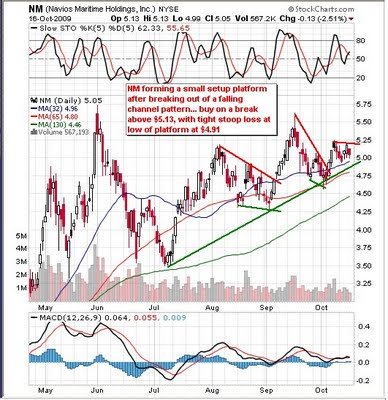 Looking at individual dry bulk shipper names, I am currently interested in Navios Maritime Holdings (NYSE:NM). It has favorable access to bank credit, a good mix of owned and chartered-in ships, as well as options to purchase 11 ships at below current market value. It has also over 80% of revenue days contracted for next year that could provide stable revenues, while still being flexible enough to leverage a recovery in global trade by buying new ships. I'd look to buy NM for the model portfolio at above $5.13.
Disclosure: None