By Taras Berezowsky
Rising three-month LME aluminum prices and European semis pricing, which improved against a more optimistic manufacturing performance by many of the countries within the EU, drove MetalMiner's monthly Aluminum MMI® up 1.1% for September. Long-time aluminum industry observers know that September serves as a good aluminum buying month. In other words, the rock-bottom lowest aluminum prices of the year might not occur in September, but overall, September represents a good month to lock in known short-term demand for the balance of the year.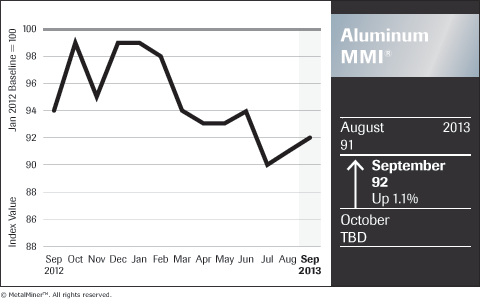 "Our friends at Harbor Aluminum conduct this type of purchasing analysis each year, and though aluminum prices remain above earlier year-lows, this early part of September remains a good time to take some commodity risk off the table," said Lisa Reisman, managing editor of MetalMiner. "Our own forecast models suggest price weakness now, but that could change after the next couple of weeks."
And what about premiums? More importantly, we have begun to see some slippage of the Midwest aluminum premium price, which helps most buying organizations with large aluminum buys. As for the price point drivers of the monthly index, European 1050 aluminum finished the month up 5.0 percent.
For the second month in a row, the cash price of primary aluminum increased, rising 2.5 percent on the LME over the past month to $1,775 per metric ton. The aluminum three-month price rose 2.2 percent over the past month to $1,817 per metric ton, the second straight month of gains. European 5083 plate gained 2.4 percent.
Chinese aluminum bar shifted up 1.1 percent last month. Chinese aluminum billet finished the month up 0.4 percent per metric ton. The cash price of Chinese aluminum inched up 0.3 percent. Chinese aluminum scrap prices remained relatively flat. The Indian aluminum cash price drifted down just a bit. Korean 3003 coil premium over 1050 sheet, 5052 coil premium over 1050 sheet, and Korean 1050 aluminum sheet base prices all improved marginally over the month of August.
Note: The Aluminum MMI® collects and weights 12 global aluminum price points to provide a unique view into aluminum price trends over a 30-day period.