OK. I will admit. My favorite movie of all times is The Wizard of Oz. I love the scene when Dorothy finally gets to Emerald City after a journey from Munchkin country down the adventuresome yellow brick road. I can hear the cast of characters singing now:
We're off to see the wizard, The Wonderful Wizard of Oz
We hear he is a whiz of a wiz, if ever a wiz there was
If ever, oh ever a wiz there was, The Wizard of Oz is one because
Because, because, because, because, because
Because of the wonderful things he does
We're off to see the wizard, The Wonderful Wizard of Oz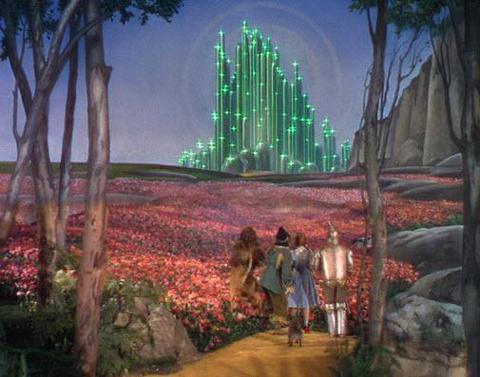 The Wizard of O (is retiring his jersey)
In REIT-dom there's another Emerald City that has all of the credentials of the fictional Land of Oz. Much like the fortress built of green marble and emeralds in Oz, this REIT is built on a foundation of dividends that have endured almost two decades of consistency. Fortresses like Emerald City aren't built overnight and much like this stalwart REIT, the battle-tested platform has managed to control risk by dealing explicitly with risk - the most essential aspect of investing.
The Monthly Dividend Company - better known as Realty Income (NYSE:O) - has one of the most remarkable records of risk control, based on decades of consistency, not just high returns. Like the Wizard of Oz in Emerald City, The Wizard of O has a similarly recognized skill-set as evidenced by his sophisticated leadership at The Monthly Dividend Company. As Howard Marks explains in The Most Important Thing:
Successful investors manage to acquire that necessary "trace of wisdom" that Ben Graham calls for.
Realty Income announced this week that its former CEO, Tom Lewis, would be retiring effective September 3rd and transitioning into the Vice Chairman role of the company's Board of Directors. Lewis joined Realty Income on November 2, 1987 (almost 26 years ago) and he became the company's CEO on May 13, 1997 (around 16 years ago).
As a tribute to Lewis' remarkable track record with Realty Income, I wanted to provide you with some noteworthy stats:
Since Lewis became the CEO of Realty Income, the company grew from around $500 million in total assets to over $9.42 billion (as of Q2-13):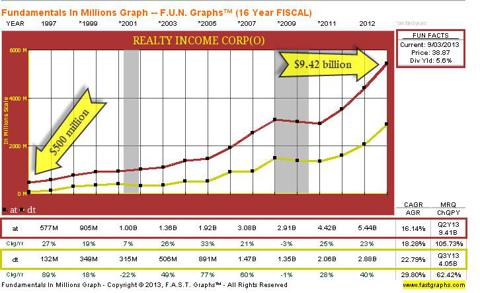 Since Lewis became the CEO of Realty Income, the company's stock price went from $12.62 to a high of $55.48 (in May 2013) with a market close of $39.30.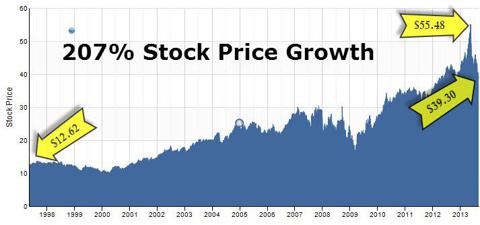 Under Lewis' tenure as CEO, the company's total return was over 810%.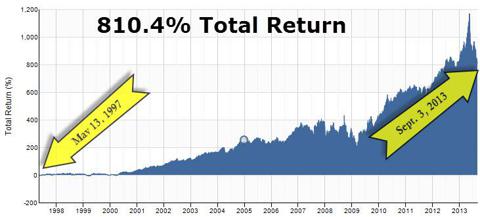 As Ben Graham believed, "one of the most persuasive tests of high-quality is an uninterrupted record of dividend payments going back over many years," and as evidenced by the next snapshot, Lewis has successfully managed risk while also delivering exceptional returns. As Howard Marks wrote, "outstanding investors are distinguished at least as much for their ability to control risk as they are for generating return."

As any investor knows, risk is inescapable. However, as Ben Graham wrote, "successful investing is about managing risk, not avoiding it." The snapshot below clearly illustrates how Lewis was able to control risk in good times and bad. A dividend investor can interrupt the meaningful aspect of this chart as Realty Income's dividend yield never dropped below the yield on the 10-year.

Finally, my favorite chart (FASTGraphs) below shows many talents of the wonderful wizard of O: The shaded aqua blue area illustrates the dividends paid during Lewis' leadership period. As you can see, the dividends were NEVER cut and, in fact, under Lewis' tenure, the company increased dividends every year. The company paid over 200 consecutive monthly dividends and increased its dividend 70 times, growing the dividend from $0.95 per share to $2.179 per share. During this 16-year period, shareholders enjoyed a compounded average annual return of 15.4%, assuming the reinvestment of dividends.
One thing I want to point out (with the chart below) is that during Lewis' leadership, there were multiple recessions and during the most severe ones (highlighted in red), Realty Income never cut its dividend. To put that into perspective, there are only 11 equity REITs that managed to increase dividends during the Great Recession, O being one of them. Also, the share growth (the dark green shaded area) has provided stable capital appreciation over many economic cycles. When Lewis was CEO, the company's total enterprise value grew from $619 million to $12.9 billion.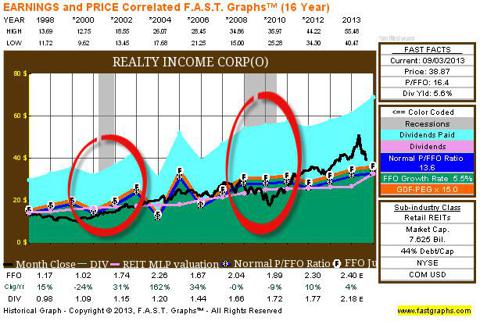 The Brand Lives On
Indeed while Lewis led Realty Income his leadership and insight were invaluable, however, he's not irreplaceable. A brand is more than one man (or woman) and in the case of Realty Income, the 44-year operating history and enviable track record of repeatability have become a standard which many REITs try to replicate. That's not to say that a battleship can run on auto-pilot and I admire the leadership (and Board) of Realty Income which has embarked on a thoughtful succession strategy to insure that Emerald City is around for decades to come.
Enter the new wizard, John Case. As Realty Income's third CEO in the company's history, Case has broad experience in REIT-dom where he previously served for 19 years as a New York-based real estate investment banker, most recently as Co-Head of Real Estate Investment Banking for RBC Capital Markets, where he also served on the firm's Global Investment Banking Management Committee. Prior to joining RBC, he was Co-Head of America's Real Estate Investment Banking at UBS. He began his career in Real Estate Investment Banking at Merrill Lynch, where he worked for 13 years, and was named a Managing Director in 2000. During Mr. Case's career, he was responsible for more than $100 billion in real estate capital markets and advisory transactions.
Over the last few years, Case has been Chief Investment Officer at Realty Income where he has been responsible for implementing the company's expanded acquisition strategy focused on increasing the size, quality and diversity of its real estate portfolio. During this period, the company has acquired more than 1,500 single-tenant, net-leased properties, for approximately $7 billion. These acquisitions have meaningfully increased the diversification and quality of Realty Income's portfolio, while significantly increasing revenue, earnings and dividends to its shareholders.
No Need to Spark a Fire
Earlier today I read another Seeking Alpha article that argued that Realty Income "isn't cheap" and that shares have "underperformed peers." The author (a friend) stated that he knew his article would "draw fire from the diehard Realty Income investors."
There's no need to light a fire. I purchased shares in Realty Income for the dividends, period. It's not that I'm a diehard Realty Income investor, but more so the fact that I'm a diehard dividend investor. When I analyze the share price of Realty Income, I am looking for an adequate "margin of safety" in the stock price; however, I am also simultaneously seeking the best risk-adjusted return I can find. I would love a bargain, wouldn't we all.
What do I mean by "best risk-adjusted return?" I will let Ben Graham define that:
A satisfactory return…is a subjective term; it covers any rate or amount of return, however low, which the investor is willing to accept, provided he acts with reasonable intelligence.
Realty Income closed today at $39.30 with a dividend yield of 5.54%. I feel as though the dividend yield is extremely attractive and thanks to the sell-off (under-performance as the author describes) I believe the shares have moved into the fair valuation range.
Furthermore, I would argue that Realty Income's "truest" peer group should be the REITs that have demonstrated similar earnings performance and that would also indicate that the premium valuations are warranted. I summed up my argument in an article yesterday:
The biggest challenge today is protecting those dividend holdings while minimizing risk (volatility) of the ups and downs of the value of your investments. Accordingly, REIT dividends provide a cushion to potentially weather the storm of (potential) losses incurred during a severe market sell-off. Because dividends play a much smaller role in the total returns of other equities, investors with REIT exposure have more cushion to weather the loss of value, while at the same time building a sound portfolio of income repeatability.
The most important metric to me is the steadily growing REIT dividends - they help maintain purchasing power. I am confident that Realty Income can continue to generate durable internal and external growth and that, combined with the very stable and sustainable dividend, is what helps me "sleep well at night." That's the moral of my story… there's no place like O.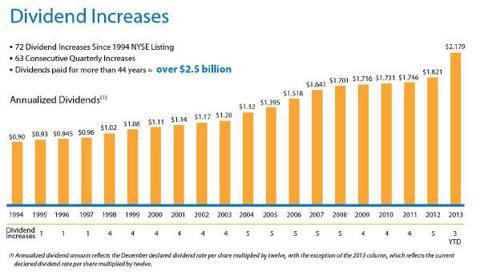 Disclaimer: This article is intended to provide information to interested parties. As I have no knowledge of individual investor circumstances, goals, and/or portfolio concentration or diversification, readers are expected to complete their own due diligence before purchasing any stocks mentioned or recommended.
Source: FAST Graphs
For more information of REIT investing, check out my newsletter here.
Disclosure: I am long O, HTA, VTR, HCP, DLR, CSG, ARCP. I wrote this article myself, and it expresses my own opinions. I am not receiving compensation for it (other than from Seeking Alpha). I have no business relationship with any company whose stock is mentioned in this article.