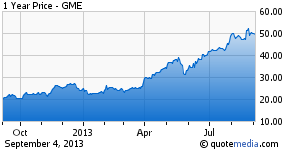 In 2005, the launch of Xbox 360 led to such a massive surge in the valuation of GameStop (GME) that its share price nearly doubled in a span of 12 months. A similar event is underway in November when two tech titans Microsoft (NASDAQ:MSFT) and Sony (NYSE:SNE) will come out with their next-gen consoles Xbox One and PS4 and while there are still a couple of months to go before the launch, let us analyze if it can be a good opportunity.
Quarterly results have not picked up yet!
There are high hopes attached to the launch of these next-gen consoles to initiate a positive change in the numbers for GameStop. The video-game retailer has been facing a hard time since last few quarters as a result of declining interest in console games and increasing popularity of digital games. For the most recent quarter, GameStop reported a decline of 10.7% in the overall revenue as compared to the last year with comps also down by 10.7%.
The video-gaming industry is witnessing a slow phase because of the rise in adoption of digital games. A good number of casual gamers have shifted to free and low-priced digital games leading to a considerable loss of revenue to sellers of disc-based games.
GameStop's Digital business
The surge in popularity of digital games has prompted GameStop to tweak it business model and enter the new territory. Prior to analyzing the prospects of this decision, let us take a look at some numbers. For Q2, company's digital business grew 18% on a y-o-y basis with GAAP revenue totaling $50 million. One of the impressive points was the strong growth of 38% in PC Digital business mainly because of phenomenal success of PC/Mac version of Minecraft. Recently, the retailer crossed 12 million sales mark for the game, marking a record figure since its launch.
Digital is growing gradually
The analysts have expressed some skepticism around the fact that a major chunk of Digital sales consists of items like Steam Wallet cards and Downloadable Content Cards from GameStop's physical stores. In my opinion, it is not a cause for worry because the company is still in the process of growing its footprint in the digital world and we have to acknowledge the fact that the purchase of the above-mentioned goods might as well lead to online purchases on its digital properties. Additionally, the company is investing massive efforts to pick up pace in digital games as Kongregate launched its first set of mobile games on the iOS platform.
Staying focused on mobile is important
While Digital business is growing gradually, mobile is the also an integral component that would drive substantial growth in future. Talking of Q2, GameStop's mobile business generated $55 million in global revenue, achieving a growth of approximately 100% over the last year quarter with impressive margins of 29%. Mobile is going to drive the tech world in near future and it is definitely encouraging to see that GameStop is not sitting idle but taking adequate steps to build a credible position in the industry.
Xbox One is crucial to Microsoft
From the beginning of this article, I have laid stress on past numbers just to imply that while GameStop is facing a tough macroeconomic environment, it is investing efforts in the right direction and high growth areas. The upcoming launch of next-gen consoles can well be the event that can provide a breather to the company. In this article, I highlighted a few pointers with respect to the fate of Microsoft after the exit of Steve Ballmer. Microsoft has been struggling with its revolutionary Windows 8 OS and the launch of Xbox One will be quite crucial to the company.
Microsoft faced considerable criticism on the launch of Xbox One at E3, 2013 because of its restrictive policies around used games and online check-in requirement, leading to a quick reversal of the policies. Sony, however, was successful in impressing the gamers because of factors like low pricing of PS4, no restrictive policies and attractive game titles. Apart from new consoles, gamers are also eagerly waiting for the release of legendary titles Grand Theft Auto 5 and Battlefield 4, which would play to the advantage of GameStop.
Final take
There are a couple of perspectives with regard to investing in GameStop. In the near term, the stock has potential to rally on the exchange essentially because of the launch of new consoles and game titles. Additionally, GameStop being the undisputed leader in the market, it can leverage the upcoming opportunities in the best way.
However, GameStop fails to make a convincing case as a long-term investment. Though the numbers for its Digital and mobile picture reflect good momentum, it is not good enough when compared to the exponential growth in these industries. We cannot forego the fact that the company has strong competition from paid games manufactured by Digital gaming companies along with a number of free games uploaded by individual developers.
In my opinion, it would not be prudent to invest in GameStop with a long-term perspective as the company still lacks a robust plan for shielding itself from competition and achieving high growth.
Disclosure: I have no positions in any stocks mentioned, and no plans to initiate any positions within the next 72 hours. I wrote this article myself, and it expresses my own opinions. I am not receiving compensation for it (other than from Seeking Alpha). I have no business relationship with any company whose stock is mentioned in this article.