Don't be scared when you look at the prices you are paying at the pump right now for gasoline and diesel. This winter fuel prices both gasoline and diesel will reach the same low price levels as last year.
In Montana and in the rest of the U.S., we are now already paying about 45 cents per gallon less for fuel than we did last year. Gasoline in Montana is currently averaging $2.59 with the price last year at $3.04 per gallon.
The bulls are charging on the New York Mercantile Exchange again today and crude closed at $79.44 a barrel and RBOB - the gasoline base stock at $1.98 per gallon. As a reminder the price of gasoline dropped to almost $1.65 per gallon in the U.S. by Christmas 2008 when the WTI crude oil price tanked to below $34 a barrel.
The following chart from zFacts.com shows gasoline prices from 1972 through September 2009: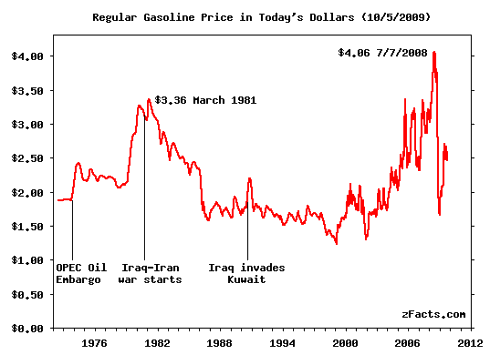 Meanwhile, diesel inventories in the U.S. are at an all time 25 year high level. Two refineries on the East Coast, including the Valero (NYSE:VLO) and Sunoco (NYSE:SUN) ones, are being mothballed due to lack of demand for diesel fuel for on-road use as well as heating oil.
That should be good news for Montana, Wyoming and North Dakota refineries with abundant crude oil supplies now becoming available.
The current price for crude oil is being driven by Wall Street investment firms i.e. Goldman Sachs and Morgan Stanley once again talking up the price for crude oil. Investors are using crude oil as a hedge against inflation betting that the dollar will continue to weaken as the U.S. is continuing to "print" money to cover the increasing budget deficit looming over us.
Barron's published an article over the weekend imploring the Fed to raise the federal funds target interest rate from zero to a "more normal" two percent. The article by Andrew Bary goes on to say that with the economy recovering, the dollar falling, and commodities on the rise, keeping rates near zero will only fuel speculation and anger America's economic partners and foreign creditors - and potentially stoke inflation.
Gasoline and diesel prices will fall again by Thanksgiving to around into the $2 per gallon range with further decreases down to $1.75 to $1.50 per gallon possible by Christmas 2009. Oil companies typically try to empty their storage tanks by that time each year causing drastic fuel price decreases. They are forced to do in order to reduce their overall profits for the year since they use the last in/first out method of accounting.
Then the cycle starts all over again after January 1, 2010 when refineries, switching back to producing gasoline and diesel, attempt to replenish low inventory levels. It typically causes fuel prices to spike by spring time and we are off to the races in trying to have supply catch up with demand.
Enjoy it while you can but be sure to save your pennies for the summer next year when the price of gasoline and diesel will be reaching back up to the $3 per gallon mark at your favorite gas station.
Disclosure: The writer does not have any investment in the equity or commodity markets.