There's little question that the healthcare sector is poised for growth, with the number of U.S. citizens over 65 years old growing from 39.6 million in 2009 to 72.1 million by 2030, according to the U.S. Administration on Aging. While many sectors are poised to benefit, ranging from pharmaceutical firms to life settlement providers, certain industries may be poised to benefit more than others from a shift towards cost savings and efficient care.
Addus HomeCare Corporation (ADUS) is a comprehensive provider of home and community based services for the dual eligible population. With over 96 locations in 19 states servicing over 25,000 clients, the company provides personal care and assistance with payor clients primarily consisting of state, local or other government programs (94.9%). In particular, Illinois represents about 64% of revenues and California represents about 7% of revenues.
In FY 2012, net service revenues from continuing operations increased 6.2% from $230,105,000 to $244,315,000, which represent an increase of approximately $14.2 million. While gross margins fell from 26.7% to 26.2%, management cut SG&A expenses from 19.9% of revenue to 19% of revenue to boost net income from continuing operations by 10.4%, from approximately $8.4 million in FY 2011 to $9.3 million in FY 2012.
In this article, we'll take a look at why Addus HomeCare represents a strong investment opportunity in the healthcare space, driven by both industry and company-specific catalysts.
Trends Away from Nursing Homes
Nursing homes may seem like a natural investment in healthcare, given the increasing number of seniors in need of care, but nursing home stays have been trending downward for at least 10 years (Figure 1). While Medicaid still spends more total dollars on nursing homes than home care, states have been making a concerted effort to shift spending to home and community-based settings that seniors favor and that tend to save significant money over the long run.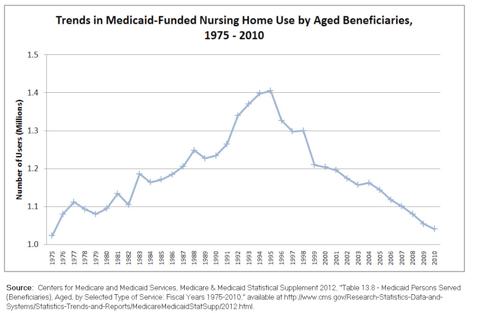 Figure 1 - Nursing Home Trends - Source: AARP
According to Genworth's 2013 Cost of Care Survey, the median annual cost of private nursing home care jumped 24% from $67,527 five years ago to a record $83,950 this year. These cost increases came from higher insurance, food, maintenance and labor costs, which means that investors haven't benefited much from margin improvements. Assisted living facilities have seen similar increases, with their median annual cost of care up 23% to $41,400.
Companies like Brookdale Senior Living Inc. (BKD) and Capital Senior Living Corporation (CSU) both reported a net loss during FY 2012, as operating income moved lower from reduced revenues and higher costs. While these companies have been growing over the past five-year period, investors may want to consider how companies like Addus HomeCare could benefit from these trends away from nursing homes and towards in-home care.
Illinois Becomes a Reliable Payer
Addus HomeCare ran into some problems when the financial crisis hit, with the State of Illinois paying on a delayed basis with respect to its agreements. In particular, the Federal Medical Assistance Percentage ("FMAP") granted under the American Recovery and Reinvestment Act ("ARRA") helped cover some of the state's services to Medicaid beneficiaries, but these payments stopped coming in the door as of June 30, 2011.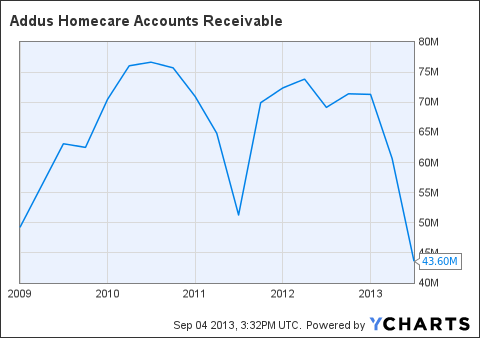 ADUS Accounts Receivable data by YCharts
Figure 2 - Accounts Receivable Trend - Source: YCharts
Fortunately, these trends have been reversing as of late, with Figure 2 showing the steep drop in accounts receivable as Illinois makes good on its debts. The stock itself has also benefited from this realization that Illinois has become a more reliable payor, jumping nearly 200% so far this year from a low of about $5.00 per share to a high of around $23.71 per share. While some risk still remains, the outlook for Illinois looks decidedly more bullish than before.
According to its Q2 2013 conference call:
We're very pleased with the State of Illinois having made a significant payment in the quarter, adding to an already solid balance sheet. Rightly, Illinois has been a concern for our company and our longer-term investors. However, for the past several quarters, Illinois has been a consistent, dare I say, almost dependable payor.
In the end, the recovery of Illinois as a reliable payor is great news for the company given that the majority of its revenues are derived from the client.
Multiple Catalysts for Growth
Addus HomeCare has numerous catalysts that should drive growth apart from the secular industry move away from nursing homes and towards in-home care. As of March 2013, the company sold its Home Health Business assets in Arkansas, Nevada, and South Carolina, and 90% of the segment in California, and Illinois, for a $20 million cash payment, essentially dumping its unprofitable businesses to reinvest and focus on its historically profitable divisions.
According to the same Q2 2013 conference call cited earlier, management's focus is on becoming a sales organization, driving census development, and positioning for managed care as states shift liability for their personal care programs to managed care organizations under the initiatives already under way across the U.S. These initiatives are further boosted by the company's strong balance sheet from the $20 million cash infusion above.
In particular, management aims to accomplish these objectives by fully deploying its customer relationship management ("CRM") software, recruiting sales executives, and continuing to plan, monitor, coach and train their agency director and regional director team. Beginning in 2014, the firm will also focus on securing managed-care projects in California, Illinois, New Mexico and New Jersey, as well as new potential markets in Michigan, Idaho and South Carolina.
Valuation Remains Discounted
Addus HomeCare's stock has surged nearly 200% so far this year, as it divested its unprofitable divisions and refocused on its profitable ones. As a result, many investors may be hesitant to build a position in a stock that has rebounded so sharply in such a short time period. And indeed, the stock may be overdue for a retracement on a technical level, as short-term traders and some long-term investors lock in profits and take them off the table.
However, the company's long-term value remains attractive even at these levels. While its price-earnings multiple has closed the gap to trade right near industry averages, its price-book and price-cash ratios remain well below both industry and S&P 500 averages. The firm's potential growth over the coming quarters may also be discounted in its 21x price-earnings multiple, which could move higher if growth rates extend beyond a 20% annual rate.
| | | | |
| --- | --- | --- | --- |
| | ADUS | Industry | S&P 500 |
| Price-Earnings | 21.1x | 21x | 16.6x |
| Price-Book | 2.1x | 3.4x | 2.3x |
| Price-Sales | 0.9x | 0.8x | 1.5x |
| Price-Cash | 5.3x | 8x | 10x |
Figure 3 - Valuation Comparisons - Source: Morningstar
In the end, investors should keep an eye on Addus HomeCare, as it refocuses on its profitable divisions, hires new sales personnel, and diligently works to build a presence in new markets to capitalize on a well-defined industry trend. Capturing just a portion of the overall secular move could result in a significantly higher share value over the coming quarters and years.
Disclosure: I have no positions in any stocks mentioned, and no plans to initiate any positions within the next 72 hours. I wrote this article myself, and it expresses my own opinions. I am not receiving compensation for it (other than from Seeking Alpha). I have no business relationship with any company whose stock is mentioned in this article.