As one of the first national park Wardens, his life adds color to the history of the national parks. When World War I started, he enlisted with the Twelfth Mounted Regiment and Machine Gun Brigade, serving in Belgium and France. At the battle of Ypres in 1916, the soldier known as Wild Bill, was wounded in the right leg. When he finished a long convalescence in England, he returned to the Banff area and resumed his duties as a warden.
Ebenezer William Peyto was a unique individual and imposed his own style on the budding organizations to manage and conserve the wilderness of the Canadian Rockies. Wild Bill's visage greets visitors to Banff, Alberta. A beautiful lake bears his name. Stories of his independent ways and mountain man wit made him a perfect namesake for this unique Canadian gas producer.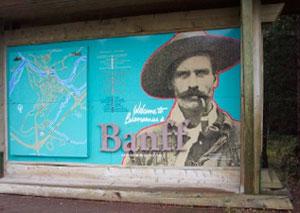 Source: Peyto Lake Books
This article will present this interesting small-cap producer, committed to build value through the exploration and development of high quality gas properties in the Alberta's Deep Basin. After a brief recap of the company, I will highlight its assets to get a better view of its current plays. Then, a review of its core financials as well as its future outlook will be assessed in order to see if Peyto is well managed financially and if the company can be sustainable for the long term.
Finally, I will identify the company's most significant upsides as well as the risks involved in order for the investors to get the insight needed to help them in their decision-making. So let's get started.
Peyto Exploration & Development (PEYUF.PK) is a Calgary-headquartered company formed in 1998. In 2000, the natural gas weighted producer built its first gas plant at the Sundance field with an initial capacity of 10Mmcf/d (million cubic feet per day). In 2004, Peyto's daily production doubled in two years, achieving 20,000Boe/d (barrels of oil equivalent). Notably, Peyto hits record of production per share of 250Boe/d per million shares in April 2011.
The Strategy
According to Peyto, its business model is designed to deliver a superior total return and, over time, growth in value, assets, production and income, all on a debt adjusted per share basis.
The model is built around three key principles: the use of technical expertise to achieve the best return on capital employed, through the development of internally generated drilling projects, build an asset base which is made up of high-quality, long-life natural gas reserves. The objective is to offer a balanced payout of dividends to its shareholders while funding its capital program with cash flow and available bank lines. After looking at its asset base, we will see if Peyto's strategy is delivering the expected results so far and if the company can be sustainable for the long term.
The Deep Basin Plays
The Deep Basin gas system in the WCSB (Western Canada Sedimentary Basin) has been recognized by the industry for over two decades. First documented and published by Masters (1979) and Gies (1984), they suggested that the potential gas resource could exceed 400Tcf (trillion cubic feet). The petroleum industry has continued to exploit those resources since the 80's, however, far from reaching the 400Tcf discovery gas mark.
The Deep Basin region is the largest with 40,000 square miles and one of very few growth areas in the WCSB. Its plays in aggregate, accounted for 19% of all 2007 WCSB output.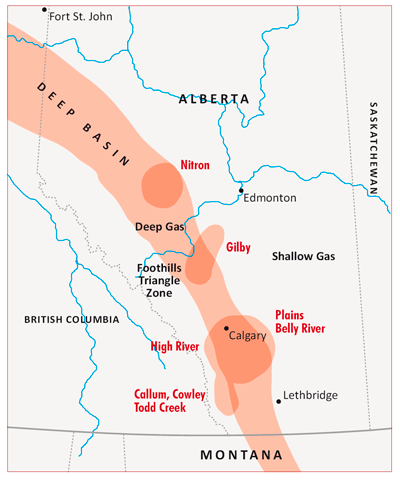 Rakhit Petroleum Consulting has been conducting hydrodynamic and geologic based studies of the Deep Basin for nearly 12 years. The Deep Basin is composed of fine grained, tightly compacted reservoirs preventing the fluids in the updip position to travel, thus avoiding the risk of wells watering out.
Its particularities include that it does not contain under-pressured gas below water. The gas/water transition zone is complex and predominantly controlled by stratigraphy and maturation. Oil columns are also present. Water occurs in the downdip positions under certain circumstances.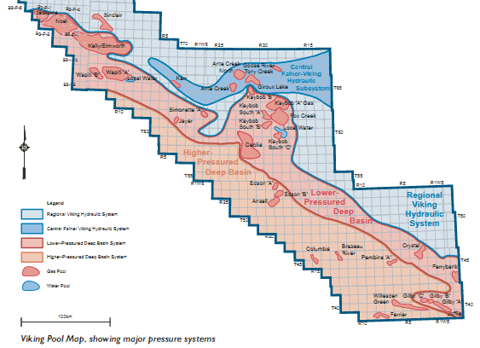 Source: Rakhit Petroleum Consulting
According to Peyto, the resource is concentrated in a stacked-package that can be developed with horizontal multi-stage frac wells, thus taking advantage of pad drilling efficiencies.
Peyto's Assets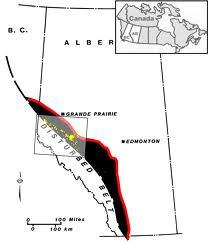 Source: Peyto's Corporate Presentation, August 2013
Peyto's wells, gas plants, gathering and sales pipelines exist in a corridor of about 124-mile long and 18.6-mile wide right by the foothills of the Rockies, halfway between the Northwest Territories and the U.S.
The producer has seven gas plants and projects to add two more before year's end. Only one plant is not fully-owned (69%), Galloway, from which it processes 60Mmcf/d. All nine gas plants will have a daily processing capacity of 520Mmcf.
Nosehill Gas Plant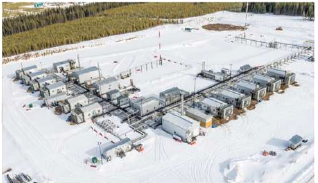 Source: Peyto Exploration & Development
The producer owns 624 net sections from which only 8% of the land is being currently developed. According to its August 2013 Corporate Presentation, 176 net sections are assessed by an independent consultant, to hold 1.9Tcfe of proved developed, ultimate recoverable resources at the end of 2012.
Its unique, geographically-focused core areas of production come from different formations within the Deep Basin. As a matter of fact, Peyto is a pure play, unconventional tight gas company.
The following chart illustrates the producer's production relatively to each play. Production is weighted approximately 89% to natural gas and 11% to NGLs (natural gas liquids) and oil.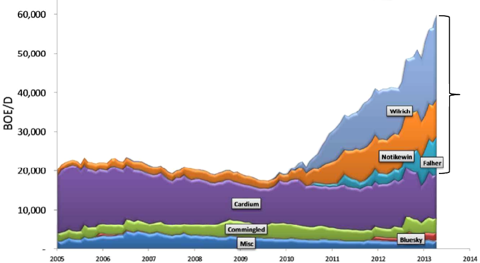 Source: Peyto's Corporate Presentation, August 2013
Peyto's 400,000 net acres of land counts more than 800 producing zones and its core assets are delimited within a 150-mile radius.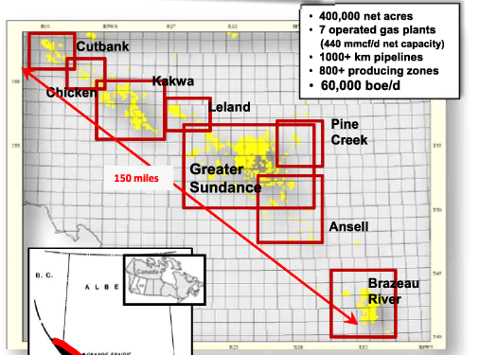 Source: Peyto's Corporate Presentation, August 2013
Let's take a look at Peyto's operational activities and financials to assess its overall value as well as its potential.
Operational Activities
During Q2 of 2013, the producer experienced a period of reduced operational activity due to a prolonged spring break-up and higher than normal rainfall. Notably, southwestern Alberta experienced twice the normal rainfall in June, causing wet surface conditions and flooding in many areas. As a result, much of Peyto's June drilling and completion operations were delayed to late July like many other producers in the region.
Consequently, the company's record production levels of 60,000Boe/d, achieved in April, declined throughout the following months, as no new wells were connected. According to its Q2 of 2013 results, Peyto was able to advance three facility projects in the quarter that will increase the total company processing capacity from 440Mmcf/d to 520Mmcf/d by Q4 of 2013.
Q2 drilling activity focused on the Greater Sundance core area and the many liquids-rich, sweet gas resource plays currently under development. A total of 13 wells were drilled across this land base, targeting the prospective zones of Nosehill, Wildhay and Ansell.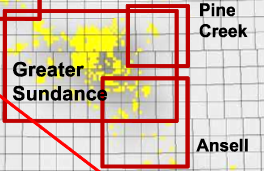 Peyto reported that both the Bluesky and Falher formations continue to prove up significant additional inventory with each successful well drilled. To date, the producer has drilled and brought onto production ten Bluesky horizontal wells, which combined, currently contribute 5,000Boe/d to the company's total production.
Furthermore, an additional five Bluesky wells are planned for the remainder of the year. As well, both Upper and Middle Falher horizontal wells, of which 26 have been brought on production in the last year, are contributing 8,000Boe/d currently, up from 3,000Boe/d a year ago.
I really like what I see from Peyto's drilling program. It has plans to drill 10-15 Falher wells to the end of the year and over the past year and a half, Peyto has assembled a significant land base in a new core area in Brazeau River. In total, 98.5 sections (91.6 net) of contiguous land was purchased with previously identified prospectivity in the Spirit River section including the Notikewin, Falher and Wilrich formations.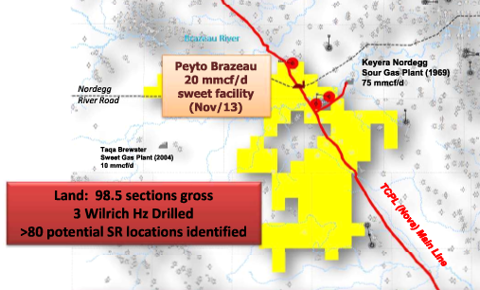 Source: Peyto's Corporate Presentation, August 2013
Average land cost to date has been less than $300/net acre of mineral rights. Thus far, Peyto has drilled three Wilrich wells with initial results that are comparable to those achieved in the Greater Sundance area. As well, Peyto has begun construction on a new 20Mmcf/d gas facility in the area, which should be operational by early November 2013. Peyto is encouraged by the initial results to date and the significant drilling inventory currently identified on these lands.
Management believes that capital invested in this area will meet or exceed Peyto's high return objectives. I think the low risk of that move could effectively pay off. For the balance of the year, one drilling rig will be active in the Brazeau area.
According to Peyto's Q2 of 2013 results, the producer spent $32.3 million to drill 13 gross (12.3 net) horizontal wells and $10.1 million completing 9 gross (8.0 net) wells. Wellsite equipment and tie-ins accounted for $7.3 million, to bring on production 11 gross (10.0 net) wells. Two major pipeline projects were completed early in the quarter in the Ansell and Berland areas, accounting for $4.1 million, which allowed Peyto to redirect existing production to owned facilities and lower cost processing alternatives.
Since exiting Q2 of 2013, Peyto has completed an additional 18 wells, 16 that have been brought on production, which has increased production from July's 53,500Boe/d average to approximately 60,000Boe/d currently. The remaining wells have been tied in and producing by the end of August. In addition, 10 wells are currently drilled and waiting on completion, while ten drilling rigs are actively working in Peyto's core Deep Basin areas, drilling approximately 14 wells per month. There is also 2,500Boe/d of productive capability waiting on the new Brazeau processing facility, expected in Q4 of 2013.
Ongoing progress on the three new gas plants that Peyto is constructing in 2013, at Oldman North, Swanson and Brazeau, accounted for remainder of the $18.5 million in pipeline and facilities capital. Peyto invested $5 million into new lands in the quarter, primarily in the Brazeau, Berland and Sundance areas, as well as $0.6 million in new seismic, adding a significant number of new drilling locations to Peyto's vast, liquids-rich, deep basin inventory.
Financial Highlights
Alberta's daily natural gas prices averaged $3.35/GJ in Q2 of 2013, up 86% from Q2 2012, resulting in a Peyto unhedged realized price of $3.85/Mcf before hedging losses of $0.13/Mcf. Meanwhile, Edmonton's light oil prices averaged $92.62/Bbl from which Peyto realized $68.08/Bbl, before hedging losses of $0.26/Bbl, for its natural gas liquids blend of condensate, pentane, butane and propane.
Combined, Peyto's unhedged revenues totaled $4.68/Mcfe ($4.56/Mcfe
including hedging losses), or 138% of the dry gas price, illustrating the benefit of high heat content, liquids-rich natural gas production. Revenue increased 67% to $144.6 million from $86.6 million for the same period in 2012. The increase in revenue for the period was a result of increased production volumes and natural gas prices offset by lower oil and NGLs prices.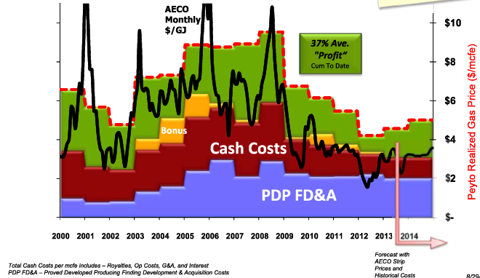 Source: Peyto's Corporate Presentation, August 2013
The improved realized natural gas prices from the previous quarter have almost doubled that of the previous year, and when combined with increased average production, the realized prices drove the company's funds from operations to record levels. The chart above illustrates Peyto's impressive realized prices through the years, representing a current average of 37% profit.
For Q2 of 2013, funds from operations totaled $110 million or $0.74 per share, as compared to $64.7 million, or $0.47 per share during the same quarter in 2012, an increase of more than 70%.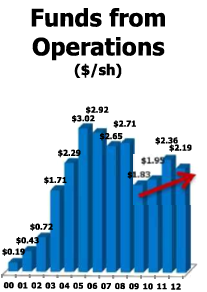 Source: Peyto's Corporate Presentation, August 2013
Operating costs increased to $11.2 million in Q2 of 2013 from $6.6 million for the equivalent period in 2012 due to increased production volumes and well count. On a unit-of-production basis, operating costs increased 21%, averaging $0.35/Mcfe or $2.10/Boe in the quarter compared to $0.29/Mcfe or $1.76/Boe for the equivalent period in 2012. This increase on a per unit basis was primarily attributable to increased electricity prices. Transportation expense remained unchanged on a per Mcfe basis.
However, despite the increase in operating costs, Peyto's costs remain very low compared to its competitors. As a matter of fact, I believe that it is the most significant attribute that drives its cash flow higher than the average of its peers.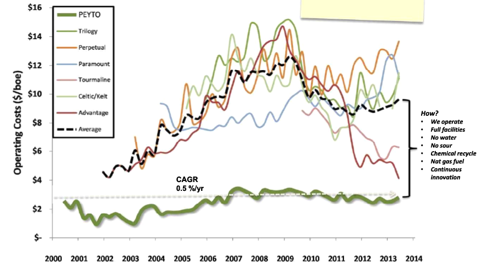 Source: Peyto's Corporate Presentation, August 2013
To assess how much profit the company can produce, let's see how much Peyto unlocks in cash netbacks, from the production of natural gas to the sale of its commodity on the market. Thus, netbacks will help us determine its overall performance and efficiency.
According to its Q2 of 2013 results, the producer reported an average cash netback of $3.47/Mcfe or $20.82/Boe for the quarter, an increase of 21.3% over Q1. The following chart shows a comparison of the cash netback with several peers in the industry.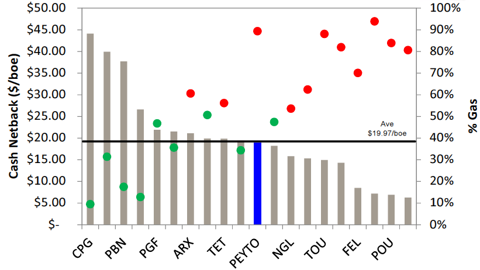 Source: Peyto's Corporate Presentation, August 2013
The primary factors that produce Peyto's strong netbacks and high margins are its low-cost structure and the high heat content of its natural gas that results in higher commodity prices.
Regarding the company's long-term debt, it amounted to $0.75 million at the end of Q2. The long-term debt to equity ratio of Peyto's is at 61.08 compared to 70.28 of its industry's average. Peyto improved its financial flexibility in the quarter with an expanded credit facility and an increase in total borrowing capacity to $1.15 billion.
Despite the flexibility improvement on its balance sheet, I would like to see the company reduce its debt a little, without impacting its drilling program, in order to cut into its financing interests and maximize every cubic feet of gas it produces, thereby with more efficiency.
For Q2 of 2013, Peyto reported interest expense of $8 million or $0.25/Mcfe compared to $5 million or $0.23/Mcfe for Q2 of 2012. The increase or decrease in earnings for each 100Bps (1%) change in interest rate paid on the outstanding revolving demand loan amounts to approximately $1.4 million per quarter.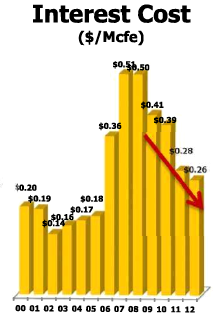 Source: Peyto's Corporate Presentation, August 2013
At quarter end, the producer reported that 65% of this capacity was utilized, resulting in a net debt to annualized FFO ratio of 1.7 times, down from 2.0 times in Q2 of 2012, and leaving over $400 million undrawn. The strong financial and operating performance delivered in the quarter resulted in an annualized ROE of 12% and 10% on the ROCE.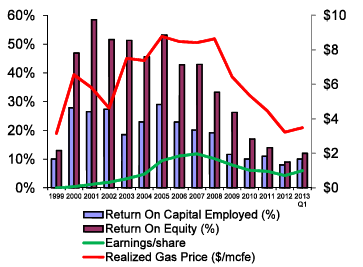 Source: Peyto's Corporate Presentation, August 2013
To have a good idea of the company's valuation, I looked into its EV/EBITDA multiple compared to its peer group. The chart below shows that Peyto trades at a premium with a multiple of 57.39x, significantly higher when compared to the peer group average of 17.42x. This shows that Peyto's valuation is way above the market valuation of its peer group, thus reflecting higher long-term growth.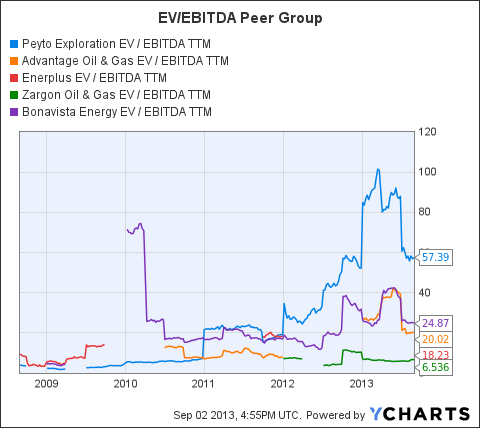 Furthermore, another good aspect about Peyto is its current production recycle ratio of about 1.5 and its ten-year average recycle ratio of 2.6. Thus, the producer is managing efficiently its production by selling for more than what it costs to replace it.
Future Outlook
Peyto's management believes that year end of 2013 production will exceed the previous 67,000Boe/d exit guidance, once again achieving capital efficiencies of less than $18,000/Boe/d. Its capital budget of $500 million, allowed for 2013 will assume approximately 100 gross wells during the year, adding about 29,000Boe/d of new production.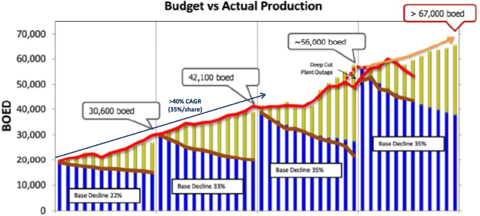 Source: Peyto's Corporate Presentation, August 2013
Peyto expects that funds generated from operations, together with borrowings under the credit facility will be sufficient to maintain dividends, finance current operations, and fund its planned capital expenditure program. Peyto said in its Q2 results that the total amount of capital invested in 2013 will be driven by the number and quality of projects generated.
The producer also said in its Q2 of 2013 results that capital will only be invested if it meets the long-term objectives of Peyto. The majority of the capital program will involve drilling, completion and tie-in of lower risk development gas wells. Peyto's rapidly scalable business model has the flexibility to match planned capital expenditures to actual cash flow.
The company is a party to certain derivative financial instruments, including fixed price contracts. It enters into these contracts with well established counterparties for the purpose of protecting a portion of its future earnings and cash flows from operations from the volatility of petroleum and natural gas prices. The following chart shows Peyto's hedging strategy.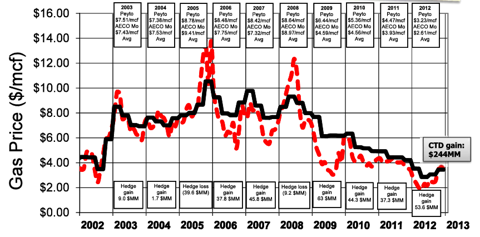 Source: Peyto's Corporate Presentation, August 2013
Peyto believes that the derivative financial instruments are effective as hedges, both at inception and over the term of the instrument, as the term and notional amount do not exceed the company's firm commitment or forecasted transactions and the underlying basis of the instruments correlate highly with the company's exposure.
As of December 31, 2012, the total proved plus probable reserves were estimated at 2,353Bcfe (billion cubic feet) or 392.2Mmboe (million barrels of oil equivalent), as evaluated by an independent petroleum firm. The chart below shows the proved plus probable reserves comparison with its peers.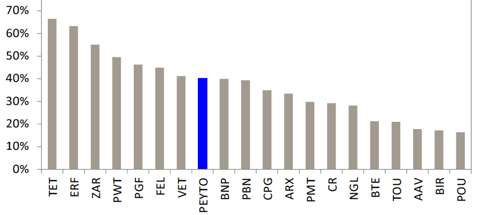 Source: Peyto's Corporate Presentation, August 2013
Furthermore, Peyto's assets have one of the longest reserve life index of its peers with nine years, compared to an average of five years of its industry.
Bottom Line
The dividend currently yields about 3.34%, which is exactly twice as much as its industry's average. Peyto's payout ratio was at 30% at the end of Q2 of 2013, which I consider at a sustainable level.
On July 7, 2013, Peyto reported that its rig released its 245th horizontal well, marking the point at which Peyto had drilled over three million feet using horizontal well technology.
Since the summer of 2009, when Peyto spud its first horizontal well in the Deep Basin, the combination of horizontal wells with multi-stage fracture stimulation technology has helped Peyto become one of the fastest growing E&P companies in Canada, effectively tripling corporate production over that time. The experience and knowledge gained from this activity makes Peyto one of the most proficient drillers in the Deep Basin.
It is important to note that Peyto's earnings are affected by commodity prices for crude oil and natural gas including the currency exchange rate. Volatility in these oil and gas prices can cause fluctuations in Peyto's earnings. However, low operating costs and a long reserve life index reduce Peyto's sensitivity to changes in commodity prices over a long period of time.
I like Peyto's growth potential for the next few years. Its production is expected to increase to approximately 67,000Boe/d at the end of the year with the execution of its drilling program. Since 2009, the producer has seen its production growing from 352Mmcfe/d to 656Mmcfe/d at the end of 2012.
Furthermore, Peyto has been growing production per share at a CAGR (compound annual growth rate) of about 35%, which is very good. I think that if natural gas prices stay above $3.50/Gj for a prolonged period of time, Peyto's growth rate could achieve CAGR of about 40%.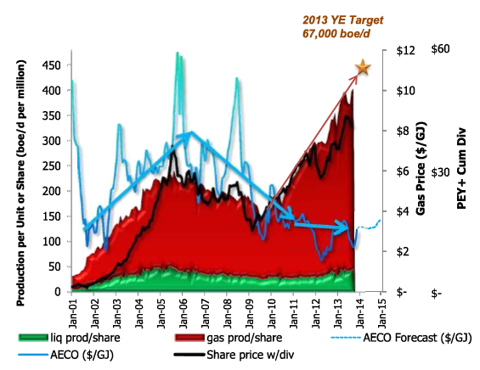 Source: Peyto's Corporate Presentation, August 2013
I really like the position in which this producer is right now, as it shows great potential for the long-term growth of its shares. The strong netbacks generated with its very low operating costs are key components showing that Peyto's model for growth is well-balanced and has what it takes to bring the company to another level over time.
I identified several positive elements from which I believe, represent a great opportunity for investors looking to add a pure play, junior unconventional gas producer with tremendous upsides:
Unique, geographically-focused core areas of production in different formations of the Deep Basin
Very low operating costs are a real benefit for its long-term sustainability
Strong netbacks and high margins are attributes of high efficiency and sustainability
Higher long-term growth than its peers' average
A high ten-year average recycle ratio of 2.6
Potential reserve of 1.9Tcfe in proved developed, ultimate recoverable resources and total proved plus probable reserves estimated at 2,353Bcfe or 392.2Mmboe
The longest reserve life index of its peer group with nine years
Despite its tremendous attributes, some risks involved with a junior gas producer can't be overlooked:
A pure play gas producer is exposed to the volatility of the commodity's prices despite hedging activities and can have a significant impact on its cash flow
The committed long-term debt is a little high and will need constant attention to improve and strengthen its balance sheet
Earnings could be affected with unfavorable currency exchange rate, thus putting pressure on its liquidity
Disclosure: I have no positions in any stocks mentioned, and no plans to initiate any positions within the next 72 hours. I wrote this article myself, and it expresses my own opinions. I am not receiving compensation for it (other than from Seeking Alpha). I have no business relationship with any company whose stock is mentioned in this article.