Quantum Corporation (NYSE:QTM), a San Jose, California based company, seems to be making waves in the field of big data management solutions and data protection. Quantum Corporation, which caters to storage needs ranging from small business units to medium establishments, has become a one stop solution to the data issues of an expanding customer base. In the recent past, Quantum Corporation, trading at $1.50, has been seeing some downfall in its stock price, but the future story of this company seems to be promising. This piece attempts to highlight the growth story of this stock.
Company Overview
When the ever growing technology sector is swelling with the big data issues, Quantum is equipped to provide solutions for storing and protecting information on physical, virtual, cloud, and big data environments. Quantum, having a market cap of $372.62 million is among the world's largest supplier of tape drives, tape automation, and disk-based data duplication, backup, and storage products and recovery. Quantum reaches out to its customers through its extensive network of distributors, original equipment manufacturers ("OEMs"), value-added resellers (VAR's), and other suppliers. It has managed to create a successful business model amidst a transitional economical environment.
Big Data, Big Value
The IT sector is a major sector among others, with ballooning big data issues. Industrial data is growing at a rapid rate of 50% every year. This scenario has put the big data management on the priority list of business planning, as these companies need to store data of all types, be it structured or unstructured, and for near or long-term retention. Amid, the legal aspects and pricing concerns of managing big data, Quantum competes with its strong performance driven solutions and at an affordable price.
Quarterly Earnings
Quantum beats the market estimates by reporting the 1Q14 quarterly revenue earnings at $148.0 million, which is up 5.1% on a YoY and inclusive of a major receipt of $15 million payment from Microsoft Corporation, which relates to intellectual property agreement. The growth in earnings is accredited to increase revenue of $7 million, by lowering operating expenses up to $6 million, and higher gross margin. Where non-royalty revenue stood around $122.5 million, contributed to by branded sales amounting to $101 million, and the remaining $16 million through OEMs. Royalty revenue totaled to $25.5 million compared to $11 million in the same quarter a year ago.
Quantum witnessed a decline in revenue in its Tape automation and Enterprise DXi sales which has been partially offset by revenue from mid-range DXi by 23% YoY. During this period, the company has acquired around 550 new mid-range and enterprise tape automation customers, and more than 500 new DXi customers. On the other hand, StorNext appliance revenue saw a surge 13% YoY balancing the dropping revenues from StorNext software sales. Meanwhile, the company added around 250 new StorNext customers.
Operating Results
Quantum's reported gross margin in the quarter was 47.3%, up 39.6% QoQ due to better cost management. The total operating expenses of the company decreased 8.1% YoY. Research and development expenses decreased 10.0%, sales and marketing expenses dipped 12.4%, and general administrative expenses also fell 12.4%. Quantum reported GAAP net income of $3 million, which is 1 cent per diluted share, for the 1Q14, compared to a GAAP net loss of $17 million in the same quarter of last year.
Growth Forecasts
Quantum management has clearly indicated that they are moving forward, they will focus on growth through product expansion, and maintain the robust growth achieved in the quarter.
Quantum seeks to increase revenues through steering growth in DXi, and StorNext software and appliances. DXi can be a prime revenue driver for the company, followed by the Lattus. The company is expected to see encouraging revenue figures from already shipped Lattus products, the revenue for which was not recorded in Q1. Additionally, it intends to out-perform the market through aggressive product launches and strategies including partnerships to create a firm leadership footing for the big data management and data protection.

Quarterly Revenue Comparison and Forecast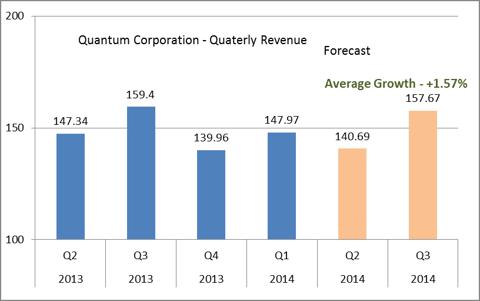 Source - markets.ft.com
For FY14, Quantum has released expectation of total revenue of $610 million to $630 million, a 7% incremental estimate against the prior year of $588 million. These estimates are reassessed to be in the range of $605-$607 million.
Quantum's Future Prospects
Quantum's impressive 1Q earnings and reassuring YoY revenue comparisons echoes the growth prospects of the company. Although Quantum's second quarter expectations are below estimates, with the launch of Lattus-D and addition of new enhancements to the DXi8500 product, it prepares itself to drive the revenue growth forward. Quantum plans to bring its tape automation product in profit line by expanding its partnership with Benchmark Electronics (NYSE:BHE).
Furthermore, Quantum has recently appointed Bill Britts as senior vice president of Worldwide Sales and Marketing, which has been leading the company's core areas for last 7 years. Britts hands-on experience and expertise of the business, industry, partners, and customers can establish Quantum's objective to reach to a broader range of customers.
Big Data Revenue - Market Segment Wise
Below is a market segment-wise of the Big Data revenue for software, hardware, and services. As per market research, for the year 2012, revenue generated by the sale of Big-data hardware, software, and services grew up to a whopping $11.4 billion, which is a 59% growth as compared to the previous year.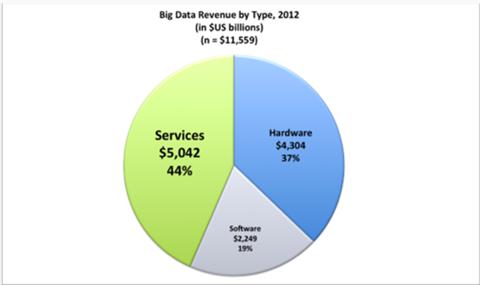 Source: Wikibon 2013
Moreover, as per a report published by Wikibon, it projects the Big Data market to grow to$50 billion by 2017 against the current market share of $18 billion in the year 2013. This projection is a 31% CAGR increase over the period between 2012-2017. Therefore, the Big Data market is expected to stay poised amid the stagnant global outlook as more of the companies prepare to embrace data protection and big data management.
Concerns
Quantum Corporation faces neck-to-neck competition in disk backup solutions with other market players like EMC Corporation (EMC), IBM Corporation (IBM), and NetApp Inc (NASDAQ:NTAP). HPQ, IBM and Tandberg Data are the main competitors for performance tape drives for the storage device level. Quantum's LTO and DLT-S4 products are in a race of headstrong competition with the LTO tape drives from HP and IBM, however revenues from this segment declined in FY13, owing to an economical slowdown in Europe.
Quantum has limited resources compared to the giant market players in the Industry, and it serves customers like IBM and Oracle, who are its customers or suppliers in one market area but are competitors in the other. Secondly, few software companies like Symantec Corporation and CommVault Systems Inc., which partnered with Quantum earlier, have launched their own deduplication product to compete with Quantum's products.
Thirdly, Quantum's sales are centered around select customers who contributed a major portion of revenue, about 32% in fiscal 2013. Though Quantum has managed to keep revenue contributions below 10% from a single customer in fiscal 2013, it needs to focus more on expanding its customer base.
Quantum's balance sheet reflects a considerable debt of $205 million, which essentially means high interest service obligations. This has been addressed by issuing $70 million convertible subordinated notes to align with its capital structure. Quantum has also been involved in amending credit agreements to benefit business.
Conclusion
Though Quantum Corp initially seems to offer little scope for both short term traders and investors, things are turning out to be in this company's favor. Quantum's latest announcement on revolutionizing and highly competitive products like StorNext, DXi and Lattus storage object, coupled with its strong underlying business model of expansion through strategic partnerships and OEMs indicates an uplifting outlook of the company. Hence, it's a BUY recommendation foreseeing it's competitive edge among the market players.
Disclosure: I have no positions in any stocks mentioned, and no plans to initiate any positions within the next 72 hours.
Business relationship disclosure: The article has been written by an Analyst at ResearchCows, ResearchCows is not receiving compensation for it (other than from Seeking Alpha). ResearchCows has no business relationship with any company whose stock is mentioned in this article. Any analysis presented herein is illustrative in nature, limited in scope, based on an incomplete set of information, and has limitations to its accuracy. The author recommends that potential and existing investors conduct thorough investment research of their own, including detailed review of the company's SEC filings, and consult a qualified investment advisor. The information upon which this material is based was obtained from sources believed to be reliable, but has not been independently verified. Therefore, the author cannot guarantee its accuracy. Any opinions or estimates constitute the author's best judgment as of the date of publication, and are subject to change without notice.