[The full text of this article is published on Metue.com]
There is a transformation underway in the world of video games. Fueled by changing technology, everything from who plays, to what they play, to how they play it, is in a state of transition.
This begs the question: Where are we headed?
Answers are a tea-leaf reading game. But dot by connected dot, what are the patterns showing today?
Chances are we're heading slowly toward a new marketplace: A place with different cost structures and different hardware archetypes. A place where traditional hardware cycles elongate and where software delivery methods change. We're probably looking at a gaming industry future where some consoles become truly multi-purpose home entertainment platforms – music, movie, digital video recording (DVR) and gaming enabled devices in one – where direct delivery (streamed digital content or real-time streamed game play) becomes the dominant reality.
It's a likely future where interfaces and user experiences will mix and match – from 2D to 3D, from traditional joystick inputs to full figured motion control and voice automation. It's a future where mobile games will likely take off in new directions, a place where boundaries from one medium to the next (console, PC, portable, cellular etc) become less defined. It's a place where a game's play will be capable of crossing over between different devices. It's a place where games won't have to be linear, where game storytelling is exploring new forms.
We're heading toward an environment where streams and subscriptions stand to surpass "shrink wrap" software sales. A place where business models evolve.
Some changes will come slowly, doled out in measured bits. Other changes will be fast, driven by startups able to move on bold ideas.
Step by step, level by level, the changes are coming. Some are here now.
Backstory: History, Evolution and Pacing
Powered by microprocessors, in the late 70s and early 80s the home video game industry was born. With it, a pattern emerged: Every handful of years hardware manufacturers would duke it out with a next generation hardware platform filled out with the latest and greatest of the era's technology. It started with Silicon Valley rivals, Fairchild and Atari. Atari gave way to Nintendo (OTCPK:NTDOY), Sega (OTCPK:SGAMY), and eventually, Microsoft (NASDAQ:MSFT) and Sony (NYSE:SNE) joined the mix too.
Feeding the cycle and fueling it, the game software industry came to life. Arcade titles were licensed for repackaging on home platforms. Movie titles were lined up as potential franchises.
Over the next twenty to twenty five years, the overall industry matured but its market dynamics stayed mostly unchanged. The video game industry became the "Interactive Entertainment Industry," millions turned into billions but console cycles came and went. Developers still ported titles from one generation to the next. Publishers still courted retail relations. And consumers still did their shopping at retail.
For decades patterns were consistent. Our current generation of hardware changed that.
Evolution: -Download in Progress-
Like every other entertainment and media industry, when technology advances brought connectivity (aka the Internet) to the current generation of gaming devices, it was a game changer; literally. In the interactive entertainment business, for the first time, manufacturers were teased with the promise of an environment where they'd soon be able to sell directly to consumers. On offer were higher margins and extended shelf life. Connectivity also delivered tools capable of giving players the benefits of PC gaming (upload/download, remote social interaction, game upgrades) with the graphic engines, controls and "sit back/ lay back on the couch" environment that made console gaming the industry's headlining (but costly) star.
So far, however, a lot of potential innovation is on order but not yet delivered. Financial imperatives are pushing evolution but they are also holding it back.
In today's world, console games can take tens of millions of dollars and several years to develop. In addition to general development expense, they carry costs for outsourced art, voice licensing and more. When it comes time for sales, a title has a limited shelf life, maybe a few years, sometimes only months. During that window, developers need to recoup the millions of expense. That equation (high cost, short life), similar to the movie industry, creates financial imperatives for supporting "tent poles" – the sure thing sequels. It's an environment where studios consistently redeploy known brands because they're the only commodity that can provide relative insurance of a secure income. Creativity and innovation become sacrificial to bottom line needs.
EA's (ERTS) CEO John Riccitiello spoke of these phenomena in a keynote in 2008. Among his points, he charged rising development costs with "putting pressure on everyone." "It's leading to creative failure," he said. For all but the biggest publishers "it's create a hit or else."
The business models of download-driven gaming offer an alternative but getting there rapidly poses a challenge: If a company embraces tomorrow's revenue streams too aggressively, they threaten today's income. If they protect today's income too securely, they slow the pace of advancement.
The situation is like an old parable: A parched city needs water. Its own supplies are limited. An answer lies in a lake on the other side of a barren desert but to be the city's salvation, the city's people need to have enough water to reach the lake in the first place. They also need to have enough to sustain the effort of building an aqueduct to bring water back in unlimited supply. It's a challenge of balancing resources.
This "aqueduct scenario" is a struggle being confronted by many of the gaming industry's biggest names.
Looking at examples of the measured advancements here today:
At one extreme, there's downloadable content. Things like track packs in a music game, or episodic add-ons for a first-person shooter. Impossible on prior generation consoles, now, an initial purchase can be stretched through the Internet pipeline. With an expansion, the initial sale still happens at retail but there is a tool to draw out revenue beyond it. Downloadable content extends the tail.
Examples: between launch and February of 2009, Rock Band sold 40m downloadable song tracks. Guitar Hero, as of last spring, had pushed out upwards of 34 million.
A second case of download-driven gaming's staged evolution is a genre called dynamic games. Dynamic games are games endowed with the ability to expand, or evolve; games with the ability to change from one playing experience to the next.
Imagine a baseball title, it's October and the Yankees and Red Sox are playing for the American League pennant. When you boot up your video game, it queries a sports database and downloads the latest stats. Jeter's having a bad year and only batting .240? With the "reality setting" chosen, his virtual character's abilities will simultaneously be dropped in your game to replicate the real world data.
In 2007, one of the first commercial demonstrations of this was a barely publicized experiment from Electronic Arts. The company linked up with the Weather Channel to allow real world weather to trigger the weather displayed in its NCAA football title. A year later, EA upped the ante and put the same concepts to work in a second generation offering that addressed the player skill levels in a sports game.
More examples of dynamic gaming will come to gaming's other genres in time.
So back to those tea-leaf questions about "what comes next":
One of the answers may come from startups. Young companies can often try things their larger rivals cannot.
ONLIVE: Stream by Stream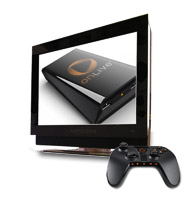 When it comes to game consoles, stories usually center on the couple of devices that define the current generation of hardware or delve into what's coming next. Usually we talk about an individual platform; the console's power, the integrated electronics.
For the past seven years, Steve Perlman and his team at a company called OnLive have been working on a project that deviates from those conversations. Instead of emphasizing the power of a single box, the people behind OnLive have imagined an environment where everything but a few basic components move to the server. Their view is the gaming world's introduction to "cloud computing."
Instead of focusing on cross-media potential or the integration of services that underscore current offerings like Xbox Live or the PS3's Bluray on board, OnLive focuses on delivering a high-end gaming experience while capturing as little of your living room real estate as possible.
Announced to big buzz and comparable skepticism last spring, the company has lured 9 game publishers and major investors into backing its vision. A Series C financing announced in late September on the company's blog is rumored to have closed at a valuation upwards of $500m.
Currently in beta, it's unclear how OnLive will be received by the consumer market. As a network driven offering, there are potential issues of latency and lag. Success depends in part on an Internet pipe that can handle the load. Success will also require high quality games, and a leap of faith on the part of consumers.
There's a very real possibility OnLive could be a few years ahead of its time. Still, the company is pushing boundaries. Publishers, in particular, seem to love the idea for a simple fact: OnLive can do several things they can't.
For one: server side software is almost impossible to pirate because it's never loose in the wild. Piracy, be gone. Another benefit: OnLive addresses the aqueduct scenario. With OnLive's streamed gaming solution, publishers can offer games outside of traditional retail. They can embrace the potential of dynamic games and downloadable content however they see fit. And so long as OnLive reaches the market during the already supported console cycle (as planned), the risk of retail cannibalization is measured. With OnLive, THQ (THQI), EA or Ubisoft (OTCPK:UBSFY) can each experiment with installment, subscription, or even pay-per-play models.
Talk to Me: The iPhone Phenomenon and Mobile Gaming
Consoles, consoles, consoles. With all the talk, it sometimes seems like the three boxes define the entire gaming space. Of course, there's a lot more out there … casual games, PC games, portables, and definitely, mobile games.
Just a few years ago, mobile gaming was not much more than lightweight entertainment on underpowered devices. The genre was a novelty. Now, you can't talk about gaming's future without mention of mobile platforms.
Much as Internet connectivity unlocks new avenues for consoles, the power, portability and connectivity of today's phones creates entirely new opportunity too. Today's phones are reinterpreting what video games can be.
At the center of this, somewhat indirectly, is Apple (NASDAQ:AAPL). The iPhone and iPod Touch are revolutionary. But it's not the phone service that makes the iPhone amazing or the musical abilities of the iPod Touch that make it spectacular. It's the "Apps".
On September 28th, Apple announced more than 2 billion applications had been downloaded. Over its short life, the store has pushed out an average of more than 4.5m downloads a day. Revenue modeling hints the App Store could easily be turning more than $3 million a day.
[]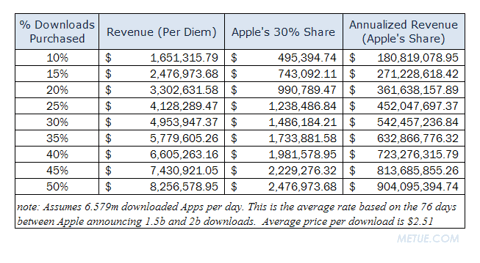 Not surprisingly, the majority of the titles driving this demand are entertainment specific (books, entertainment and games). Among all categories, games have been the most popular.
According to one list tracking the top all time apps (paid/free combined), all of the Top 100 were games. People are trying marketing promos, grabbing old standbys. Frogger to play on a train, Tetris to pass some time. Customers can't get enough.
The thing is, many of the most popular titles are retakes on older hits, or variations of existing (and current) game concepts; rapidly consumed, played for a bit, and forgotten.
For all the innovation and potential of the platform, developers haven't yet figured out how to leverage the iPhone's fullest potential. This is changing.
Hello Tarver: a Case Study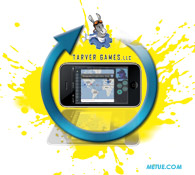 Tarver Games is a small IP development studio based in Southern California with only iPhone games on its public product roster (so far). At first glance, it would be easy to peg the company as another player riding the waves at the iPhone's periphery. That view would be a mistake.
Like other veterans of the gaming industry, Tarver's founders were aware of the market trends and they launched their company in reaction to them. To their eyes, the iPhone was a springboard. It represented a massive, low cost focus group. With the iPhone, Tarver's developers can explore new ways to build and distribute games.
Explains Chris Cross, Tarver's president and the former game design director for Electronic Arts' "Medal of Honor" franchise: "Everybody is looking for guaranteed new intellectually property but projects are becoming more and more expensive. This makes everybody very risk averse. So the goal to shoot for is a process for creating compelling new IP without risking a big budget."
Tarver's second game demonstrates Cross' view in action. Revealed earlier this month, Ghosts Attack is a first person shooter for the iPhone that integrates Google Maps to procedurally generate game levels. The story begins with seventeen linear missions but these are infinitely replayable in different locations around the world. Going forward, Tarver plans to support the game with evolving episodic updates and possible cross platform (Facebook, Twitter, web) integration.
"The real goal is to get players to treat our game like a TV channel. Get them to come back on a daily basis looking for new content," says Cross.
In a way, that's a view that goes back to an old entrepreneur's mantra: To do something great you have to get out in front. It's not enough to solve today's problems. You have to anticipate tomorrow's. Tarver is trying to do that with game design. They're trying to find the potential in emerging platforms so they can push the boundaries of what a game can be.
Tying Up the Tea-Leaves: Back to the Future
So back to the fortune telling and the predictions. Back to gaming's future….. Where are we going?
Some answers are apparent. In measured steps, the future is already here in the broader entertainment offerings of Xbox Live, or the motion controls begun with the Wii and promised in Microsoft's Project Natal. There's evidence of gaming's next generation in the success of downloadable expansions, in dynamic games, or in the mass adoption of the iPhone as an entertainment platform.
Other answers will surely be surprises. Maybe the future will be found in the download-driven focus of OnLive, maybe games will find new direction in the concepts being explored by companies like Tarver Games. Maybe, it will be something not yet seen.
Wherever gaming is going…. we're on the way. The gaming industry is changing.