With 2013's Q3 earnings season nearly upon us, it makes sense for bank stock investors to start thinking about 2014 and beyond. While there aren't as many 2015 sell-side bank earnings estimates as there are for 2014, there are still several estimates for most banks.
Which banks do analysts expect to deliver the highest EPS growth? The chart below lays out compounded EPS growth rates from 2013 through 2015 for the 20 largest US banks by market cap, excluding the trust/processing banks (data is provided by FactSet via SNL Financial LC):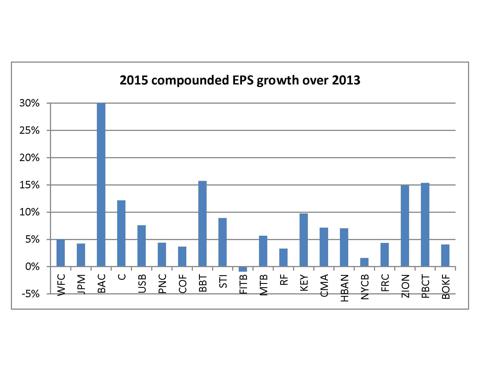 The mean and median compounded EPS growth forecasts for the group are 8.7% and 7.1%, respectively. The two largest banks by market cap, Wells Fargo (NYSE:WFC) and JPMorgan Chase (NYSE:JPM), have forecasted growth rates of 5.0% and 4.2%, respectively. Both are meaningfully below the peer group median, but both banks delivered record EPS in 2012. So the growth is from an attractively high base.
The same cannot be said for Bank of America (NYSE:BAC) and Citigroup (NYSE:C). Both are still struggling to deliver a consistent and attractive level of EPS. Neither will deliver record EPS for a very long time; the financial crisis led BAC and C to increase shares outstanding by 142% and 509%, respectively. BAC's 2013 EPS base is low, and that's what might enable it to grow EPS by 30% per year over the next two years.
Three other banks with noticeably high expected EPS growth are BB&T Corporation (NYSE:BBT), Zions Bancorporation (NASDAQ:ZION) and People's United Financial (NASDAQ:PBCT). Although BBT's provisions/assets ratio has fallen, it remains high, both relative to its own historical figures and to its peers. A further reduction will help BBT achieve the EPS target. ZION has already benefited from such a decline. PBCT's provisions/assets ratio was never especially high; it appears that analysts expect some combination of asset growth, margin expansion and share buybacks to drive EPS growth.
Two negative outliers are worth noting. Fifth Third Bancorp (NASDAQ:FITB) is expected to deliver negative EPS growth over this period. New York Community Bancorp (NYSE:NYCB) is expected to deliver only 1.6%. NYCB's figure makes perfect sense given its astronomical dividend payout ratio.
Are WFC's and JPM's EPS growth estimates lowball figures, or are they all that investors can expect from here, given how big the two banks are? Will ZION and PBCT miss what appear to be aggressive growth targets?
Time will tell.
Disclosure: I have no positions in any stocks mentioned, and no plans to initiate any positions within the next 72 hours. I wrote this article myself, and it expresses my own opinions. I am not receiving compensation for it (other than from Seeking Alpha). I have no business relationship with any company whose stock is mentioned in this article.