One more week of data gone by, one more week of Amarin's (NASDAQ:AMRN) Vascepa prescriptions moving in the right direction. I know it feels like we're beating a dead horse with the prescription data, but in between reports from the company and upcoming catalysts, it's the only true raw data we have - making it very important.
Amarin is still trending upward, as it has been over the past couple of weeks, serving investors who covered when I wrote "Cover Your Amarin Short and Go Long." Below is how Amarin has fared since my change of heart in early July. QTR's short yielded over 30%, and now the ensuing cover is pushing 15% gains - with more to come.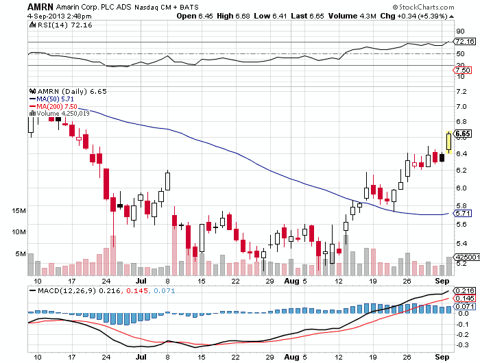 From its website, "Amarin Corporation is a biopharmaceutical company focused on the commercialization and development of therapeutics to improve cardiovascular health. Amarin's product development program leverages its extensive experience in lipid science and the potential therapeutic benefits of polyunsaturated fatty acids. Vascepa (icosapent ethyl) is Amarin's first FDA approved product and is available in the United States by prescription."
After the drug's approval, the company did not pair with any major pharmaceutical partners, brought on its own sales staff, and is taking a stab at launching Vascepa on its own. In the face of the stock losing a good portion of its value over the past six months, prescription data (provided by Symphony and IMS Health) continues to head in the right direction.
On July 3rd of this year, I announced that I was covering my Amarin short that yielded results over 30% and that in the face of Vascepa data and the valuation of the stock, Amarin was a buy opportunity. Of recent, it's looking more and more like the stock had bottomed in the mid to low $5 range, and we've seen a major trend reversal.
Brian L. Wilson comments on this reversal in his latest article, showing that Amarin has vastly outperformed the Nasdaq Biotechnology Index:
In perspective: Amarin is up 15.8% in the last 30 days, the NASDAQ Biotechnology Index (NBI) is down 3.58% in this time frame, and the S&P 500 is down 4.49%.

This is an encouraging turn of events for Amarin shareholders who have otherwise seen a truly disastrous year. Investors, still upset over the fact that the company was unable to secure a buyout or partnership before the market launch of hypertriglyceridemia drugVascepa, have punished the stock with a >50% drop in share price since the decision was finalized in December 2012 (along with a non-dilutive debt financing). The NCE status of Vascepa also remains undetermined to the frustration of bulls and bears alike.
The raw Vascepa prescription data continue to head in the right direction, with a continued healthy correlation between total prescriptions and refills. On 8/23/13, the last data available, total scripts reported were 5,382 (up 5.34% from 5019) and refills reported as 2,477 (up 2.48% from 2417).
Both sets of data continue trending in the right direction - as represented by this updated chart showing the progression since 3/22/13.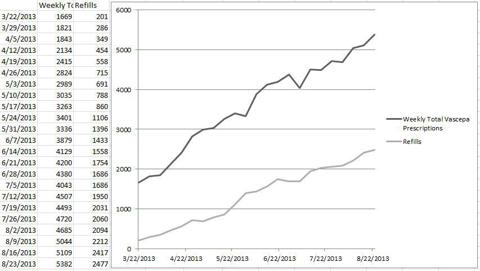 On the heels of these data continuing to trend upward, QTR strongly believes that Amarin is going to carry its momentum upwards into the second half of this year. I'm contending that Amarin is still a buy as it will continue to rise based solely on emotion leading up to the end of year catalysts coming down the pipe.
The FDA had announced a committee meeting for Amarin's sNDA on October 16th. In addition to this event which is likely to move the stock, Amarin has a scheduled PDUFA date for its ANCHOR indication on December 20th of this year.
An approval of this indication would rope in a much larger patient population for Amarin's Vascepa.
QTR is bullish on Amarin here - not even based on the coming results of the ANCHOR indication and other catalysts, but simply on the emotional run-up that's going to take place beforehand (as it does with many other biotech stocks pre-binary event) that will undoubtedly move AMRN significantly higher.
Disclosure: I have no positions in any stocks mentioned, and no plans to initiate any positions within the next 72 hours. I wrote this article myself, and it expresses my own opinions. I am not receiving compensation for it (other than from Seeking Alpha). I have no business relationship with any company whose stock is mentioned in this article.