By Taras Berezowsky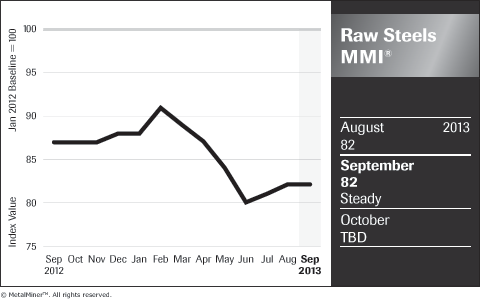 Steel prices in the U.S. had consistently increased through much of August, but have begun to stall, while U.S. scrap prices have also slipped slightly – that's why the monthly Raw Steels MMI® held steady at 82, still down substantially from the January 2012 baseline level of 100.
"Shorter term, we have seen some nice bumps in demand coming from the construction and automotive sectors," said Lisa Reisman, managing editor of MetalMiner. "But the steel price rally we have seen throughout the bulk of the summer has begun to slip as early September prices have come in lower than August levels."
Construction demand, despite appearing positive this summer, has begun to slide. Our friends at Gerdau Market Update show this momentum swing. Of particular importance to the steel sector – overall economic activity – the news remains mixed, with rising interest rates (negative for home sales and that sector, which drives our Raw Steels and Construction MMIs), lower capacity utilization, according to Gerdau Market Update (right now around 77%, but on the low end of the "ideal" overall manufacturing capacity range of 75-85%) and overall manufacturing economic growth starting to slow, according to William Strauss, chief economist of the Chicago Fed, who will speak at our upcoming Commodity/PROcurement EDGE conference on Oct. 8.
Current Drivers of Steel Price Index
The price of Korean steel scrap climbed 10.9 percent over the month of August.
The 3-month price of the U.S. HRC futures contract actually rose 3.8 percent to $628.00 per short ton after falling the previous month. After dropping the previous month, the steel billet 3-month price prices rose 3.2 percent on the LME to $160.00 per metric ton.
The price of Chinese slab rose 1.6 percent after falling the previous month. After dropping the previous month, the price of Chinese billet prices rose 0.3 percent.
However, U.S. shredded scrap was down 4.0 percent for the month.
Prices for Chinese coking coal remained relatively constant this past month. Korean pig iron remained virtually unchanged.