Samsung Galaxy Gear May Change The Apple iPhone Release Story
On September 4, Samsung (OTCPK:SSNLF) introduced its new Galaxy Gear smartwatch a full week before Apple (AAPL) is expected to roll out the next generation of iPhones - the iPhone 5S and the iPhone 5C. What Apple is not expected to introduce is the much anticipated iWatch, which some believe may be delayed by as much as a year. While the Apple faithful may argue that there is no connection between the release of Galaxy Gear - which runs on Google (GOOG) Android - and the release of the next iPhones, investors should pay attention to early reviews of the smartwatch because, I believe, they have the power to color how the iPhone release is viewed.
Apple's Challenges
Last fall, when Apple released the iPhone 5, some critics felt like the new device was not splashy enough to make a big difference. Despite record sales figures, Apple stock peaked above $700 per share and proceeded to sell off to below $400. Apple needs to build on the little momentum it has gathered over the last few weeks, and a muted reception for the new devices should be seen as a blow. Knowing these stakes, there are two specific factors you should watch.
First is the fact that one of the biggest upgrades expected to accompany the iPhone 5S release is the introduction of iOS 7. The new OS is expected to significantly change the look and feel of the iPhone more dramatically than ever before, as well as add new functionality. This seems like good news until you remember the fact that iOS 7 will be available for the iPhone 5, the iPhone 4S and the iPhone 4 as well. With such an apparently significant upgrade coming without buying a new device, there is at least the potential that many consumers may not rush to have the newer device.
Enter Galaxy Gear
Without any help from Samsung, which has become Apple's most significant smartphone competitor, there is reason to be concerned about how much of an advance the iPhone 5S will actually represent. If Galaxy Gear quickly creates a buzz, it will be hard not to look at the new iPhone and wonder why Apple is late to the smartwatch party. Samsung's timing is beautifully calculated to challenge Cupertino.
The Galaxy Gear will have a 1.63-inch screen with half the resolution of a typical high-end smartphone, include a 1.9 megapixel camera in the strap, and be capable of making hands free calls, performing basic text message functions, and initially running as many as 70 dedicated apps. While much of the functionality is designed to make smartphone features more streamlined - the device is reliant on a pairing with a Galaxy series smartphone - some options are unique. For example, a variety of fitness apps will be available for the device, meaning that Gear may become a legitimate competitor to Nike's (NKE) Fuel Band. Gear will sell for $299 relative to the $149 for a Nike Fuel Band.
Wearable technology is in its infancy, but by beating both Apple and Google to market, Samsung has the opportunity to drive the story. Fitness devices, like a variety of options from Nike, is just one obvious area where potential functions reside. Being a first-mover may give Samsung the advantage here because, particularly for athletes, once you get comfortable with something, changing becomes increasingly less likely.
Changing the Story
While I do not mean to suggest that the release of the next generation iPhones is any less meaningful after the release of Galaxy Gear, in the world of personal consumer electronics, perception is critical. Samsung, Apple, and Google each strive to be seen as innovators with cutting edge technology. Certainly, a week with an unproven technology like a smartwatch is too short a period to change perception completely, but Apple investors need to see how the new device is reviewed this week. If it does well, comparisons between the iPhone 5S and the Galaxy S4 - which were inevitable anyway - are sure to contain mention of the expanded capabilities of the Samsung product family. Samsung does not need to win the debate, but rather get it started and let people wonder when the iWatch is coming.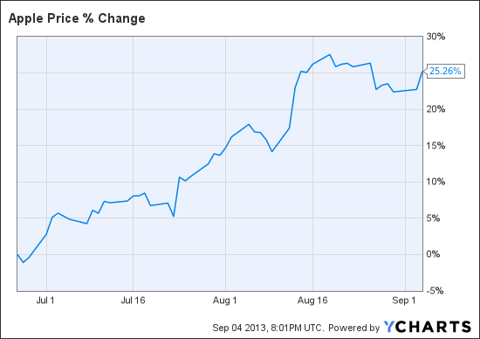 Apple shares are up roughly 25% since the end of June, but have been thus far unable to hold the $500 per share level. Still, with activist investor Carl Icahn continuing to push the company to buy back more stock - arguably at a price of $525 per share - there is obvious upside immediately available. Shares are trading at a P/E of about 12.4, suggesting that they remain cheap; Google's P/E is twice that. Finally, no matter what thunder Samsung is able to steal, an iPhone release will be a positive catalyst for shares. I continue to like Apple shares headed into next week, but overlooking the importance of this news from Samsung would be a mistake.
Disclosure: I have no positions in any stocks mentioned, and no plans to initiate any positions within the next 72 hours. I wrote this article myself, and it expresses my own opinions. I am not receiving compensation for it (other than from Seeking Alpha). I have no business relationship with any company whose stock is mentioned in this article.
This article was written by
Mr. Ehrman is a hedge fund vet who takes a diversified approach to trading and investing.