What should investors think about copper just under $3/lbs? In my opinion investors (even those more short term trading oriented) should not freak out if copper fails to break above $3/lbs.
Salida Capital, one of my personal favorite global macro investment firms, did some work a few months ago on copper with respect to Chinese buying patterns. They argued that, "China's import pattern over 2004–09 also indicates a noticeable price sensitivity, although the key level appears to be US$3.00/lb. While that price is above today's level, we would note that the current supply/demand situation is markedly different than in recent years. As such, we would not be surprised if China's discretionary price level has been lowered as a result. After all, the country knows full well it faces a buyers' market — and it is the only major buyer."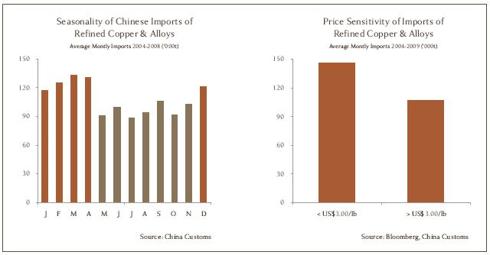 Presently, copper prices are just under $3/lbs. which makes this analysis extremely relevant. If Salida is correct in their assessment, Chinese copper imports might begin to slow until the price of copper corrects a bit. Although, imports have remained extremely robust and so long as relatively decent importing continues copper companies should be poised to do very well–even if the price of copper can't crack $3/lbs.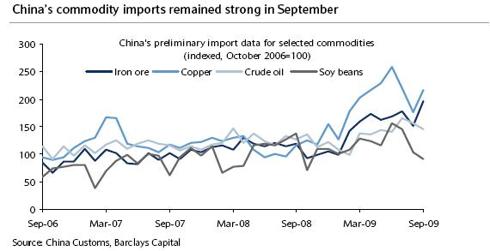 I don't think it would be particularly prudent to run out and load up on copper futures. However, as long as copper can sustain prices well above the cost of production (which if I recall correctly is somewhere between $1.10-1.50/lbs), copper mining companies can earn an excellent return on invested capital. This is to say, if copper prices remain between $2.50-$3.00/lbs, copper mining stocks should continue to drift higher and higher as each month passes regardless of whether copper futures can break out above $3/lbs. Plus for those investors interested in dividend payouts... assuming copper prices can stay between $2.50-$3.00/lbs and the global economy continues to stabilize, dividend payouts should start to make a strong comeback in the copper mining sector.
Disclosure: Author is long FCX, PCU, VALE, PSEC, and ETV.