Newspaper stocks are generally shunned by today's investors. Moats are shrinking as advertising moves online, and yet capital structures are often levered (a consequence of the decades of industry stability). But it is among the most-hated industry groups that some of the best bargains can be found.
The Business
Torstar (OTCPK:TORSF) owns a number of newspaper assets, including its flagship Toronto Star, along with a smaller book publishing segment. The circulation numbers for the company's newspapers (including that of The Star) often dwarf those of the competition, which helps explain the company's strong returns on capital, despite the industry's secular troubles :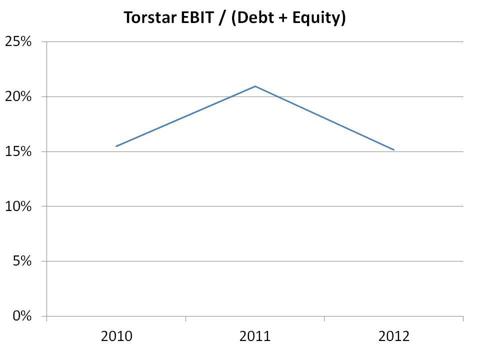 As Warren Buffett has indicated with both his words and his actions, newspapers that are locally focused still hold economic moats. Torstar's dailies, along with its community papers (of which it owns more than one hundred), occupy strong local positions that allow the company to generate the capital returns depicted above. (See the company's Annual Information Form for more details on Torstar's portfolio of media assets.)
Short-Term Earnings Problems
Despite the company's strong market position, however, Torstar's stock price has dropped considerably over the last couple of years. Since its highs in 2011, the stock is down 60%, for what appear to be temporary problems. As a result, the company trades for a trailing-twelve-month P/E of less than 8, despite the low current earnings!
A number of unrelated occurrences have caused worse-than-anticipated results in both of the company's segments simultaneously, resulting in recent earnings declines that are unlikely to be sustained. In the publishing unit, weakness in European demand along with higher author royalties and a lack of blockbuster titles in the period hurt results.
The nature of both blockbusters and regional demand is such that their timing and number is unpredictable in short-term periods such as a few quarters. A better gauge of success is over the long term. Here, the company's segmented operating margin has never been below 12% in any of the last 10 years. Last quarter, this number came in under 10%.
In addition to cutting costs, Torstar's publishing unit is implementing price increases to consumers, which should help margins get back to normal.
In the media unit, a stronger than expected decline in print advertising hurt results. Softness in print advertising is nothing new in this industry, as the secular decline caused by the internet has now been going on for many years. But traditionally, the company has been able to cut costs or grow other revenues (e.g. digital revenues) to maintain returns, as depicted below :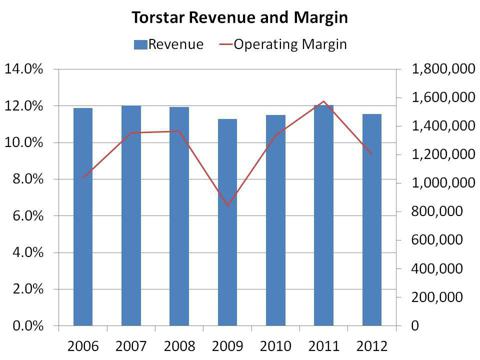 Through the first six months of this year, however, Torstar's margin is just over 5%.
Management is taking a number of steps aimed at returning profitability to normal. First, the company has announced cost cuts that are anticipated to save $25 million annually. To give a sense of the magnitude of these cost reductions, this number is 70% of the company's operating profit through the first six months of the year.
The company has also just implemented a pay wall on its website. Other media companies that have instituted once-risky and controversial pay walls have seen great success, not only because digital subscription revenue increases as a result, but also because it appears to stem print circulation declines.
As such, it appears unlikely that the dip in operating margin to 5.4% through the first six months of this year is likely to persist.
Valuation
Even in the case where margins remain at their current levels, however, investors are still able to buy into a safely-capitalized company (debt to equity = 23%) with strong assets (as evidenced by its return on capital depicted earlier) at a low trailing-twelve-month P/E of just 8, implying minimal downside risk.
On the other hand, if margins were to return to normal, which is a decent bet considering the company's local moats and its history of stable returns, not only would Torstar's earnings rise to a normalized level of $1.50/share, but the multiple offered by the market would also rise. At a P/E of 12, which is a discount to the current TSX index P/E, this implies a share price of $18, compared to today's $6/share.
Risks
One risk to the company is its dual-class share structure. Investors can only buy Class B shares, which have no voting rights. Such a structure can cause even a cheap stock to be a poor investment. After all, if the company's capital is deployed in value-destructive activities, shareholders will lose.
But Torstar's controllers appear to be shareholder-friendly. The company has used its free cash flow to repay debt and pay a dividend. As a result, the company's debt has fallen from $555 million in 2009 to just over $200 million today. The company's interest coverage ratio was almost 6 last quarter, suggesting the company's capital structure is quite safe. The stock's dividend yield is almost 9%.
Another risk to the company is its pension deficit. When a company with a defined benefit plan has to shrink, its pension obligations can loom large, as fewer workers are around to service large obligations. The company has been deploying capital of late in order to fund its pension deficit. Recent interest rate increases have also helped reduce the deficit. As a result of these two factors combined with asset returns, the company's net obligations fell from $255 million to $134 million in the first six months of the year.
Other Investors
If you're still interested in Torstar, you're not alone among value investors. Both Francis Chou and Mackenzie-Cundill Investments currently have positions in the Class B (non-voting) shares.
Conclusion
Torstar has a number of media assets with strong, local presence. This has enabled it to generate good returns on capital, which have been used to pay down debt and reward shareholders. A current blip in earnings has resulted in a good buying opportunity for long-term investors.
Disclosure: I am long OTCPK:TORSF. I wrote this article myself, and it expresses my own opinions. I am not receiving compensation for it (other than from Seeking Alpha). I have no business relationship with any company whose stock is mentioned in this article.