The purpose of this series is to highlight stocks that are undervalued, profitable, underperformed the market, and have a favorable technical outlook. The stock that I will be covering for my undervalued series this week is Valmont Industries (NYSE:VMI). VMI stock has fallen 5.21% in the last month compared to the S&P 500 (NYSEARCA:SPY), which has fallen only 2.90% in the last month. I believe VMI is a solid undervalued long-term choice to gain exposure to a company that has a footprint on a wide range of industries. Valmont manufactures metal structures for infrastructure products, utility support structures, irrigation and coatings. The major business segments of Valmont are diversified very well with no segment accounting for more than 30% of revenues. The three largest segments are also the three segments that are growing the fastest for Valmont, which is a strong sign for the future growth of the company. Below is a list of the significant sub segments of the business of Valmont, and as the list below shows they operate in a wide range of industries.
Light Poles
Communications Towers
Access Systems
Highway Safety Products
Utility Support Poles
Center Pivot Irrigation Equipment
Galvanizing coatings
Value
To value VMI I will be using a DCF calculator, with data for earnings and growth coming from Zacks.com, benchmark data from longrundata.com, and CPI data from the BLS. The DCF table below shows shares of VMI is undervalued by 54.40%, which represents a good opportunity for price appreciation for shares of VMI.
EPS [ttm]: $10.61
Long-term Growth Rate: 11.67%
Earnings grow for next: 5 years
Level off: to 1% after
Benchmark return: 10 yr annualized SPY return of 6.94%+2.0% inflation= 8.94% benchmark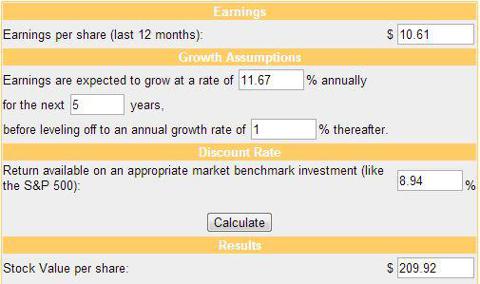 Technical Outlook
The chart below shows that shares of VMI have been in a steep since shares made a new all-time high at the end of March this year. If there is market weakness due to geopolitical reasons, or government arguing, I expect shares will move lower in the short-term towards the important level of support [Red Line] at around $129, and bounce off that level. This level is important because it was at that level where shares broke out to news high in the middle of 2012, and is right in the middle of the whipsaw action that occurred in the stock in the last quarter of 2012. I believe shares will hold support and reverse the downward trend in the stock in the long-term, but short-term shares could fall and test support.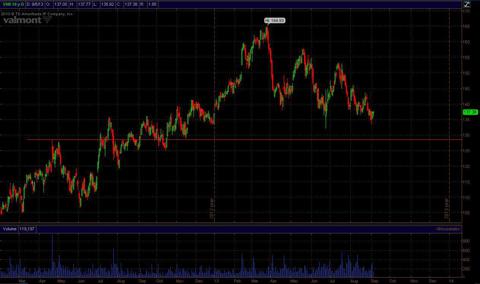 Catalyst
Valmont has three long-term catalysts that I believe will propel the stock to new highs in the long-term. The catalyst for the infrastructure precuts segment is growth in infrastructure spending, if there are infrastructure projects like new roads & bridges, they will need to have safety products to protect drivers. Also for new communications towers for the increase in the number of smart phones that are using more and more data, and the need for more towers to upgrade or expand coverage to keep up with the increase.
The catalyst for the utility support segment is the upgrade and expansion of the electrical grid. Below is a chart from a recent Valmont investor presentation showing the projected growth in electricity infrastructure expenditures, which is projected to nearly double by 2030. With the increase in solar & wind power, these projects are usually far away from existing transmission lines, so new lines have to be built to reach these projects, which is where Valmont comes in by manufacturing the utility poles.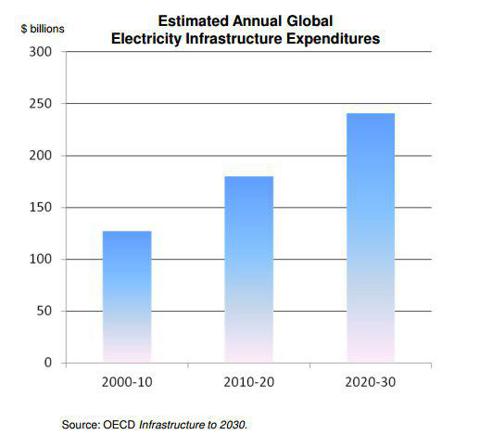 The catalyst for the irrigation segment is the worldwide modernization of the irrigation system. With the increase in agriculture use and more people in emerging economies moving into the city, there has been a massive increase in demand for fresh water. In the investor presentation, there was an astonishing number I took away, is that 84% of Global Irrigated Acres uses flood irrigation, which is extremely inefficient and wastes a large amounts of water. This is where Valmont comes in by building irrigation equipment, which uses less water than flood irrigation. Therefore, the extra water that is saved by not using flood irrigation can be used for drinking water, or more irrigation to meet the demands of the increasing global population.
Risks
The biggest risk to VMI is governments & municipalities not being able to fund future infrastructure projects. With the US Government heading towards a budget battle, and municipalities defaulting like Detroit, this could pose a risk to Valmont because of the decreased financial resources that could be allocated towards infrastructure projects.
Closing thought
I believe shares of VMI are poised to move higher from current levels, because the stock is undervalued, the stock is near a key level of support, and the underlying businesses are growing. In addition, VMI has been steadily increasing its dividend over the last decade and currently yields 0.72%, which is not that high, but VMI has a payout ratio of only 9.43%, therefore they have a well-covered dividend that they can easily raise over time. VMI has increased its quarterly dividend from $.065/share to the current level of $0.25/share, which is a 284% increase in the quarterly dividend over that time. Combined with the strong growth and earnings power, as well as being undervalued, I believe going forward shares of Valmont Industries in the long-term will move higher to my fair value estimate of $209.92.
Disclosure: I have no positions in any stocks mentioned, and no plans to initiate any positions within the next 72 hours. I wrote this article myself, and it expresses my own opinions. I am not receiving compensation for it (other than from Seeking Alpha). I have no business relationship with any company whose stock is mentioned in this article.