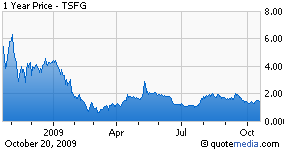 The South Financial Group (TSFG) is expected to report Q3 earnings before the market open on Wednesday, October 21 with a conference call scheduled for 10 am ET.
Guidance
Analysts are looking for EPS of (44c) on revenue of $115.32M. The consensus range is (57c)-(33c) for EPS, and $110.20M-$1.32M for revenue, according to First Call.
Analyst Views
In August, Fitch Ratings downgraded the long-term Issuer Default Rating for The South Financial Group (TSFG) to B+ from BB+. The firm said that the downgrade reflects what it sees as the company's continuing credit losses, and its significant problem assets. According to Fitch, the bank has been badly hurt by its residential construction and development, land, and mortgage portfolios. South Financial's high provisioning needs will continue to result in losses for the bank for the remainder of 2009 and 2010, the ratings agency predicted. Furthermore, the bank will have to raise more common equity in 2010, Fitch predicts. South Financial took steps last quarter that raised its capital by about $106M, but investors will want to ascertain tomorrow whether the bank will need to raise still more capital. Of course, investors will also want to determine whether the bank's residential loans and mortgage portfolios are continuing to weigh on its results.
Meanwhile, on October 8 Morgan Stanley downgraded South Financial to Equal Weight from Overweight, as the firm believed that the stock's risk-reward profile had become balanced. In addition, the firm predicted that mid-size regional banks' Q3 results would be "quite challenging," due to higher provision expenses and increased net charge-offs. However, Fox Pitt defended the stock on the same day.