By David Urani
Heading into tomorrow's big jobs report we're getting some good signs from other data. To begin with, the ADP gave out its own report on private payrolls this morning and it was decent with a 176k increase for August. Likewise, the consensus for the BLS result tomorrow calls for 175k. It's not particularly great, but it'll do for now and supports an improving job market, albeit somewhat slowly but at least steadily.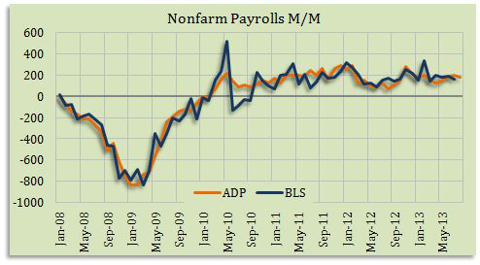 But even more positive than that has been the weekly initial jobless claims data. This morning's result showed 323k, down from 332k in the previous week. That led to a 4-week average of 329k, which is the lowest since October 2007. Given that claims tend to have a good correlation with the unemployment rate, we're looking to be in good shape here.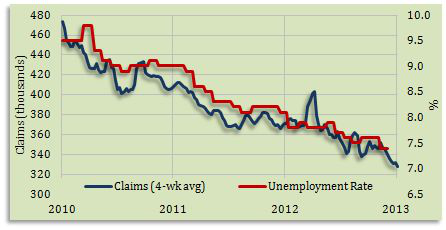 One other item this morning was the ISM services index, which not only was the highest since 2005 but the employment component was a highlight, rising from a reading of 53.2 in July to 57.0 in August. That being said, the manufacturing ISM report from earlier this week had shown a slight decline in employment, from 54.4 to 53.3.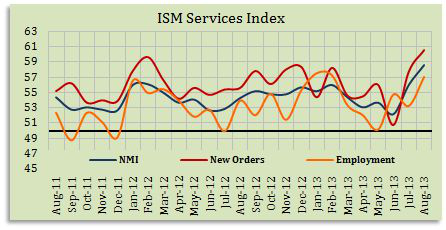 And along those lines, the Challenger, Gray & Christmas job cuts report also showed some softness for the industrial sector. Their report showed 50,562 layoff announcements in August, all the way up from 37,701 in July and the highest since February. That being said, they steer away from calling it industrial sector weakness, and blame it largely on mining equipment.