Most consumer staples companies that supply us with our daily necessities have very stable business models. These companies are usually less affected by the economic state of the nation. Unless the U.S. government takes a cue from its Spanish counterpart and announces a La Tomatina festival this month, or American schools replace math with rugby, stains will keep occurring at a similar rate across the country and Clorox (CLX) will sell the same amount of bleach.
Clorox is a manufacturer and marketer of household products. The company's flagship product, Clorox bleach, is a strong brand name in itself. The company has been rewarding investors with continuous dividend increases for years. Additionally, stronger earnings growth compared to its peers has made the stock available at a very attractive valuation multiple for investors.
Free cash flow and dividend growth
Clorox has seen very robust free cash flow generation in the last three fiscal years. The company's free cash flow dropped slightly in the fiscal year 2012 to $428 million from $470 million in fiscal year 2011. However, free cash flow grew more than 35% over the last fiscal year with an increase to $583 million in 2013. Clorox generated a combined $135 million through the sale of a general office building in Oakland, California and an R&D facility in Pleasanton, California, which helped in generating incremental free cash flow.
This robust free cash flow generation has helped Clorox lower its debt. Clorox reduced its total debt to $2.37 billion in 2013, down from $2.72 billion in the previous year. The company's debt to EBITDA ratio has also come down significantly. Clorox had an EBITDA of $1.15 billion in 2013, so it had a Debt/EBITDA ratio of 2.05 for the year. This ratio was down from 2.5 in 2012.
Clorox also had enough cash on its balance sheet to reward income investors with an incremental dividend. The company increased its quarterly dividend to $0.71 per share, an increase of 11% over the previous year. This is the 37th consecutive year that the company was able to increase its dividend. The quarterly dividend growth that the stock has seen in the last three years is particularly compelling, as the dividend grew from $0.50 per share to $0.71 per share.
It's also interesting to compare the dividend yield of Clorox with its peers Procter & Gamble (PG) and Colgate-Palmolive (CL). Dividend yield typically measures a company's annual dividend relative to its share price. The minimum, maximum, and average dividend yield for these three companies in the last five years is shown below:
| | | | | |
| --- | --- | --- | --- | --- |
| Company/Dividend Yield | Minimum | Maximum | Average | Current |
| Clorox | 2.6% | 3.88% | 3.23% | 3.3% |
| Procter & Gamble | 2.05% | 3.62% | 3.01% | 2.93% |
| Colgate-Palmolive | 1.9% | 2.91% | 2.37% | 2.23% |
The table shows that Clorox leads its competitors on the dividend yield front. Additionally, the company has a long history of increasing dividends. Clorox has become a very attractive option for income investors.
We are also bullish on P&G. Please read: Procter & Gamble: Bulls Won't Regret It, And Neither Will You
Attractive P/E multiple
Clorox recently announced earnings for its 2013 fiscal year. The company posted an EBIT of $853 million, which was an annual increase of 8% over the previous year. Earnings from Clorox's international segment dropped to $96 million, a 20% drop for the year, but the company derives just a little over 20% of its revenue from international markets.
Colgate wasn't as fortunate. The North American markets drive only 18% of Colgate's overall revenue, and the company depends on international markets for the rest of its sales. Latin America delivers nearly 30% of Colgate's revenue. Continued pressure in Latin America, particularly because of the devaluation of the Venezuelan bolivar, prompted Colgate to reduce its 2013 earnings estimate by $0.05-$0.07 per share. Venezuela accounts for about 5% of the company's total sales.
Procter & Gamble has also struggled to keep its earnings growing. The company posted revenue of over $83 billion in 2012, and it is difficult for a company of this size to keep growth rates constant. Procter & Gamble's net earnings have decreased over the last three years, and the company has been forced to take cost saving initiatives to revive its earnings growth.
Let's look at how both earnings growth and earnings hits have affected the P/E multiples of these companies.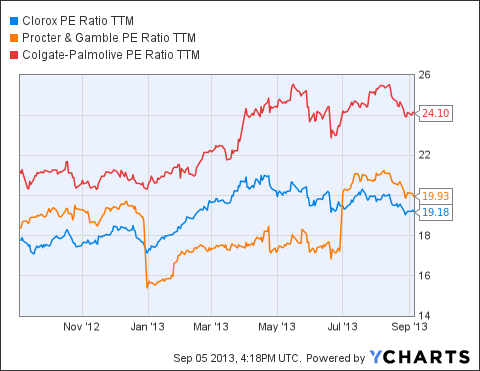 CLX PE Ratio TTM data by YCharts
A stock's P/E tells how much an investor has to pay to buy the stock, per dollar of the company's earnings. The lower the P/E of a stock, the more attractive it becomes as an investment option, other factors being equal. At a P/E multiple of less than 20, Clorox is trading at a slight discount to Procter & Gamble, and at a steep discount to Colgate.
Conclusion
Clorox is currently available at an attractive P/E multiple compared to its peers. The company also has a history of increasing dividends. At a five-year average dividend yield of 3.23%, and a 3.3% yield at present, this stock is comfortably above the 10-year treasury bond rate as well as the yield offered by most of the senior notes issued in the U.S. Therefore, income investors with long-term horizons should love to substitute bonds in their portfolio with this stock.
Disclosure: I have no positions in any stocks mentioned, and no plans to initiate any positions within the next 72 hours. I wrote this article myself, and it expresses my own opinions. I am not receiving compensation for it (other than from Seeking Alpha). I have no business relationship with any company whose stock is mentioned in this article.