Introduction
The discovery of the Patos-Marinza field in 1928 was a major milestone for Albania's energy history. However, plagued by inefficient management and obsolete technologies, Albania's oil production declined and was on the brink of extinction in the post-independence transition period. Following a shift away from Communism in 1992, Albania has been increasingly welcoming of foreign investment for the development of its extensive petroleum resources by offering favorable fiscal terms both before and after cost recovery.
Landing on Bankers Petroleum's Acreage
Bankers Petroleum (OTCPK:BNKJF) is an underfollowed heavy oil producer. It came in Albania in 2004 in order to revive the Patos-Marinza heavy oilfield and is Albania's largest producer and foreign investor currently. The Patos-Marinza field is the largest onshore oil field in continental Europe with 7.7 billion barrels of original oil in place (OOIP). Bankers holds a 25-year license under an existing agreement with state-controlled Albpetrol and the National Petroleum Agency of Albania, and has an option to renew for additional five years. The company currently produces its black gold exclusively from its 44,000 net acres in the Patos-Marinza oilfield.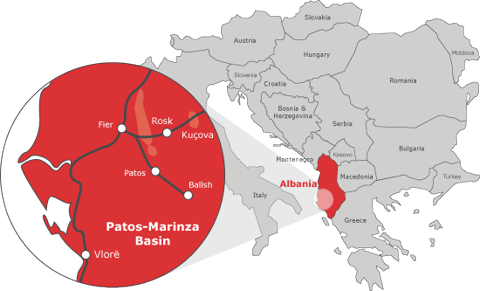 Bankers has also a 100% interest in the Kuçova oilfield where it will drill the first horizontal well in Q3 2013. The Kuçova oilfield is estimated to have 297 million barrels of original-oil-in-place. Bankers is focused on creating a plan of development for this field, incorporating many of the extraction techniques utilized in the Patos-Marinza field.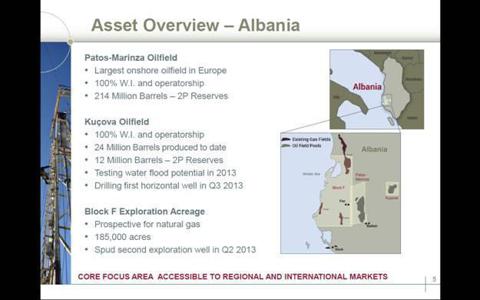 Furthermore, Bankers holds a 7-year exploration license on a 185,000 acre block named Block F, which is contiguous to the Patos-Marinza field and is prospective for natural gas. However, two exploration wells in this Block have been dry and suspended.
A Production Growth Generator
Bankers has been in a sequential production growth mode since 2004 when it took over operations in Albania. The production has increased from 400 bopd to approximately 18,300 bopd in Q3 2013, and the company has invested over US$1 billion in the development of the Patos-Marinza field, helping to improve local environmental, health and safety standards, as well as benefiting Albania's economy. Average oil production was 17,886 bopd in Q2 2013, 6% higher than 16,919 bopd in Q1 2013. The company's average production for 2012 was 15,020 bopd, 15% higher than 2011 average production of 13,051 bopd.
Bankers has not achieved this production growth accidentally. Apart from applying modern exploration techniques (horizontal drilling) and reactivating the existing wells, Bankers is also progressing on the secondary and tertiary recovery front. The company has been implementing several techniques like reduced space pattern drilling, water flood and polymer flood to increase the internal rate of return (IRR) of its wells. The expansion of water flood and polymer flood patterns will continue with additional wells to be converted to injection in the second half of 2013.
The company's CapEx in 2013 is $247 million and is fully funded from projected cash flow, based on an average $102.50 Brent oil price. Bankers maintains a strong financial position with cash of $33 million and working capital of $117 million in Q2 2013. It has drawn $115 million of its $230 million approved credit facilities.
Bankers gets robust pricing with netbacks higher than $40/bbl at $100 Brent. The average realized sales price Bankers is currently receiving for export sales is approximately 80% of Brent (an increase of 13% over the 2012 average realized pricing of 71% of Brent). Bankers also benefits from the fact that there is a VAT exemption for all oil and gas exploration goods and services, and the Law allows 100% export of crude oil at Brent based oil prices. Both factors help Bankers generate strong cash flow for 2013 which is expected to be approximately $260 million, bringing the Net Debt to Cash Flow ratio (annualized) down to 0.32 times. Since the D/CF ratio is so low, the company has a lot of liquidity and financial flexibility to support and expedite its growth during the next months.
Bankers' Valuation
The company's stock has been trading in a tight range since 2012. It has fluctuated from $2.4 to $3.3 more than once since then, generating significant returns for many traders who have been disciplined enough to buy and sell it in this tight range. The upside breakout can take place any time not only because of technical reasons but primarily due to fundamental ones.
To support this bullish call, I'll estimate the company's value first and compare it to its peers later with three different ways. I have to note that an investor can hardly find a publicly traded heavy oil producer. After all, my list includes Pacific Rubiales (PEGFF.PK) that operates in South America, Baytex Energy (NYSE:BTE) that operates in the US and Canada, and Berry Petroleum (BRY) that operates exclusively in the US.
1) Per Production and Reserves: With current Enterprise Value at approximately $1 billion, production at 18,300 bopd and 139 million barrels of oil (MMbbl) of proved reserves, Bankers trades at $54,640/bopd and $7.19 per barrel of oil (BBL) of proved reserves. Let's check out the peers now:
Baytex Energy

Berry Petroleum

Pacific Rubiales

Average

Enterprise Value

($ million)

5,900

4,000

7,900

-

Production

(boepd)

58,300

(73% heavy oil)

39,500

(50% heavy oil)

127,600

(50% heavy oil)

-

Proved Reserves

(MMboe)

143

275

390

-

Per Production

($/boepd)

101,200

101,270

61,910

88,130

Per Proved

Reserves

($/boe)

41.26

14.55

20.26

25.36
Applying the average metrics of the peers above on Bankers, I get the following:
A) Per Production: 18,300 bopd X 88,130 = $1.61 billion.
B) Per Proved Reserves: 139 MMbbl X 25.36 = $3.53 billion.
To minimize the gap between the results, I'll use the average enterprise value which is $2.57 billion.
2) Per Cash Flow: With Enterprise Value at $1 billion and cash flow (annualized) at approximately $260 million, Bankers currently trades 3.85 times its annual cash flow. Let's check out the peers now:
Baytex Energy

Berry Petroleum

Pacific Rubiales

Average

Enterprise Value

($ million)

5,900

4,000

7,900

-

Cash Flow

(Annualized)

($ million)

570

510

2,000

-

EV/CF

10.35

7.84

3.95

7.38
Using the average metrics of the peers, I get that Bankers' enterprise value should be: 260 x 7.38= $1.92 billion.
3) Per Net Asset Value (NAV): The most recent presentation calculates Bankers' NAV, based on the latest report of the independent reserves evaluators:
1P (Mbbls)

2P (Mbbls)

Reserves

139

226

Net Present Value At 10% After Tax

($ millions)

958

1,865

Per Share*

$3.77

$7.35
(*): Common shares outstanding as at June 30, 2013 (millions): 254,502,049 (Basic).
To minimize the gap between the results, I'll use the average valuation which is $5.56/share (basic).
Additional Factors Weighing On The Valuation
On the positive side, it must be noted that:
1) Bankers' production is 100% heavy oil while the production of the peers contains natural gas too.
2) Bankers' core focus area is easily accessible to the regional and international markets. The area does not suffer from an infrastructure shortage and the proximity to pipelines and sea routes helps the company export its black gold. Albanian crude can be refined, and in addition to the Albanian refineries, this is being done by Spanish, Italian and Greek refineries along the Mediterranean coast. Albanian heavy oil is currently being exported by small tankers to these countries.
On the negative side, a discount factor is the country's risk. Albania had a leftist Government for many years and is one of the poorest countries in Europe amid concerns over transparency and corruption. Several frictions have also happened between authorities and foreign investors in Albania, and the government has taken the following decisions that have raised eyebrows:
1) In 2011, Albania cancelled a concessionary agreement for seeking oil and gas with Texas-based Sky Petroleum. The license affected covered 17% of Albania's total area. It would have given the Texas company exclusive rights to three exploration blocks totaling approximately 5,000 square km. In May 2013, the International Court of Arbitration rejected all claims of Sky Petroleum and ordered this company to pay to the Republic of Albania 383,000 Euros in expenses.
2) In May 2013, Czech power group CEZ launched arbitration proceedings against Albania after the country's power regulator revoked the distribution license of CEZ's local unit in a dispute over prices and imports.
3) In 2011, Albania had a conflict with Canada's Empire Mining which halted operations in Albania after its concession area was suddenly halved. In 2012, the company won a lawsuit against the Albanian Ministry of Economy, Trade, and Energy which had violated the applicable Albanian mining law, and finally recovered its Bulqiza-Batra chromite license.
My Takeaway
I sum up the results from the three different calculation methods above to estimate Bankers' enterprise value based on the metrics of its peers:
1) Per Production And Proved Reserves = $2.57 billion.
2) Per EV/CF = $1.92 billion.
3) Per NAV = $5.56/share (basic).
The average price of the first two methods is $2.25 billion which translates into $8.5/share (basic). The average price between $8.5 and $5.56 is $7.03/share. This is an upside of 90% from the current levels. Even if this price of $7.03/share is discounted by an additional 20% (assuming the negative factor above outweighs the positive ones), there is still an upside left of approximately 50% from the current levels of $3.7.
Conclusion
Albania is looking at the prospect of becoming self-sufficient over the next 5-10 years, by eliminating the need for oil imports. Therefore, the country has still a long way to go in order to experience its energy renaissance and independence. Despite this, Bankers is very attractively priced at the current levels and well positioned to benefit from Albania's energy plans, continuing its growth for the foreseeable future.
Disclosure: I have no positions in any stocks mentioned, and no plans to initiate any positions within the next 72 hours. I wrote this article myself, and it expresses my own opinions. I am not receiving compensation for it (other than from Seeking Alpha). I have no business relationship with any company whose stock is mentioned in this article.