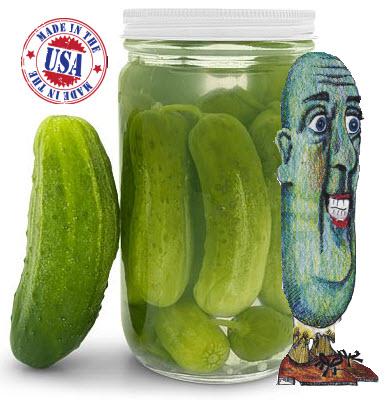 EMPLOYMENT, SYRIA, TAPER.
There was some good economic data mixed in with some that was not so good. The markets are in a pickle.
China experienced a record drop in credit, which is certain to be part of an attempt by the government to cool debt and speculation. The BoE decided to let interest rates remain where they are as did the ECB. The BoJ announced it was determined to keep central bank QE unchecked. Nevertheless, bond yields globally continued to rise. In Germany, Bund yields approached 3% and U.S. Treasury 10 year bonds approached 3% as well. None of this is good news for housing and consumer spending.
U.S. data featured better Jobless Claims data at 323K vs. 332K previously; ADP Private Employment Data fell to 176K vs. prior 198K; Factory Orders fell -2.4% vs. -3.4% previously; ISM Services were very strong at 58.6 vs. 56 previously and Productivity (2.3%) & Labor Costs (0.0%) meant people are working harder for less money. The last data point sounds familiar, doesn't it? Bulls cherry-picked the data they liked once again and it didn't hurt the Fed injected $3.3 billion in POMO Thursday after $1.4 billion on Wednesday and $4.79 billion Tuesday, or nearly $9.5 billion so far this week. That greased a few buy programs.
Nevertheless, markets seem on edge given the pending Employment Report, Syria situation, and the Fed "taper."
Leading sectors higher were the dollar (NYSEARCA:UUP) while gold (NYSEARCA:GLD) moved inversely and sharply lower. With geopolitical tension in the air, oil (NYSEARCA:USO) still remains elevated. Perhaps of some surprise were Emerging Markets' (NYSEARCA:EEM) ability to build on previous rallies as countries began aggressively defending their declining currencies. China (NYSEARCA:FXI) shares remained quite strong despite the clampdown on consumer credit. And our friends in Russia (NYSEARCA:RSX) built on stronger energy markets. Left out in the cold were bonds (NYSEARCA:TLT), dividend issues (NYSEARCA:DVY), REITs (NYSEARCA:IYR) and homebuilders (BATS:ITB). After the bold Cantor-Fitzgerald buy recommendation on Apple (NASDAQ:AAPL), tech (NASDAQ:QQQ), biotech (NASDAQ:IBB) and energy (NYSEARCA:IYE) remained the leaders domestically.
Volume was virtually nonexistent as not many wanted to make a bold move before Friday's Employment Report, not to mention other issues. Breadth per the WSJ was mixed.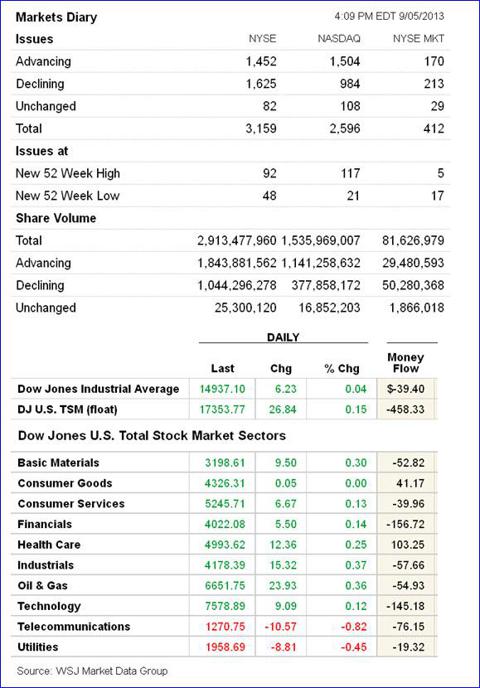 NYMO

The NYMO is a market breadth indicator that is based on the difference between the number of advancing and declining issues on the NYSE. When readings are +60/-60, markets are extended short term.

NYSI

The McClellan Summation Index is a long-term version of the McClellan Oscillator. It is a market breadth indicator, and interpretation is similar to that of the McClellan Oscillator, except that it is more suited to major trends. I believe readings of +1000/-1000 reveal markets as much extended.

SPY 5 MINUTE

SPY DAILY

.SPX WEEKLY

INDU WEEKLY

RUT WEEKLY

QQQ WEEKLY

XLF WEEKLY

XLY WEEKLY

XLB WEEKLY

IBB WEEKLY

IYT WEEKLY

ITB WEEKLY

IYR WEEKLY

CVY WEEKLY

HYG WEEKLY

LQD WEEKLY

MBB WEEKLY

TLT WEEKLY

UUP WEEKLY

FXY WEEKLY

FXE WEEKLY

GLD WEEKLY

GCC WEEKLY

USO WEEKLY

VEA WEEKLY

IEV WEEKLY

EEM WEEKLY

AAXJ WEEKLY

EWZ WEEKLY

FXI WEEKLY

EPI WEEKLY

It looks like with volume this low and progress limited, the Employment Report takes on greater importance. Once that's digested, there's that Syria thing, followed by the Fed. Pucker up.
Let's see what happens.
Disclaimer: The charts and comments are only the author's view of market activity and aren't recommendations to buy or sell any security. Market sectors and related ETFs are selected based on his opinion as to their importance in providing the viewer a comprehensive summary of market conditions for the featured period. Chart annotations aren't predictive of any future market action rather they only demonstrate the author's opinion as to a range of possibilities going forward. More detailed information, including actionable alerts, are available to subscribers at www.etfdigest.com.
Disclosure: I am long XLY, IBB, GLD, USO, VEA. I wrote this article myself, and it expresses my own opinions. I am not receiving compensation for it. I have no business relationship with any company whose stock is mentioned in this article.