The Solar Industry is Healthy and Growing
Let's begin with some facts. The solar industry is not dying as some would have you believe. The utility market for solar in the United States increased by over 130% in Q1 2013 compared to Q1 2012. Compared to Q1 2012, the United States installed 33% more megawatts in Q1 2013. Solar accounts for a shocking 48% of new electric capacity in Q1 2013. In terms of utility PV in the United States, installations grew a staggering 670% from 2010 to 2012, only two years. In 2012, 59% more megawatts of utility PV was connected to the energy grid. This is more than all previous years combined.
(data from SEIA/GTM Research "U.S. Solar Market Insight: Q1 2013")
The charts below demonstrate the growth in solar. The solar market looks anything but weak.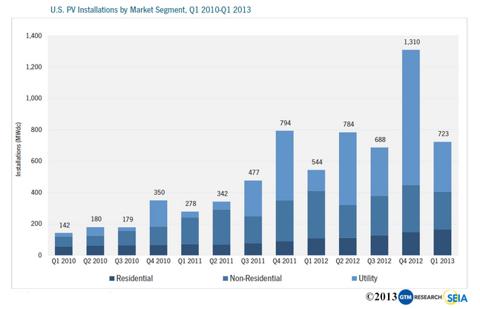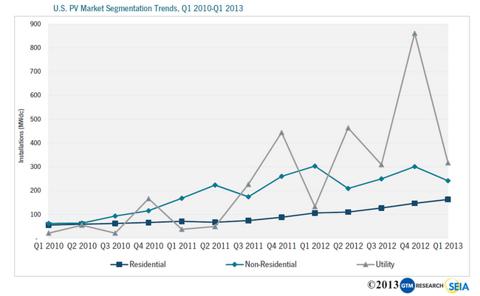 The upward trend in solar is undeniable. Within just a few years, demand for solar has skyrocketed and projects have been coming in droves. The most reliable source of information, the Solar Energy Industries Association (SEIA) predicts that this growth trend will continue. Solar installations will increase and the market will grow substantially according to SEIA. See the chart below for their predicted increases in PV installation. As you can see, the installations are expected to grow 109.9% from 2013 to 2016!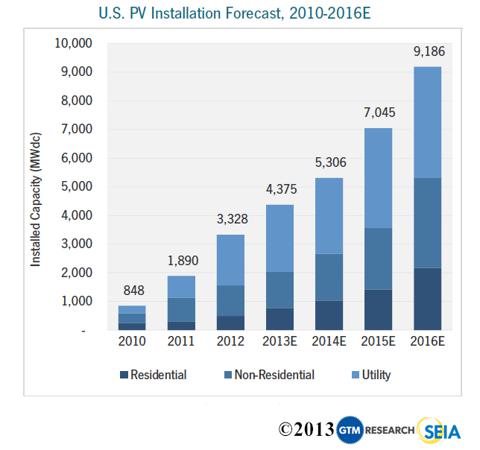 Solar Prices Falling
While the solar industry itself is growing, many solar companies are struggling with lower installation prices and are unable to make a profit. The national average price fell 24.4% year-over-year. Utility installation prices fell to $2.14/W in Q1 2013 and prices are going to continue to drop. As you can see in the chart below, residential and non-residential installation prices are also falling.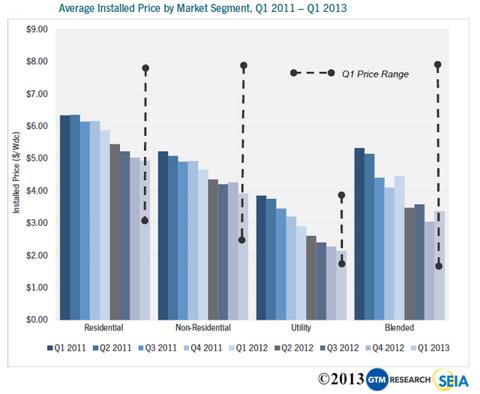 These decreases in price have been hard on solar manufacturers and installers. The vast majority of publicly traded solar companies are now reporting losses. (Even large private solar companies are making losses as well). However, there is one publicly traded solar company shrugging off the price concerns and maintaining strong profits quarter after quarter - First Solar, Inc. (NASDAQ:FSLR)
First Solar: A Star Among Failures
First Solar has reported a net profit for each of the last five consecutive quarters. Profit is consistent at First Solar and a restructuring charge led to a loss of $450 million in 2012. This restructuring is a one-time event. As you can see in the chart below, minus the two quarters with losses, First Solar has been making only profit since 2009. First Solar has proven it is competent and can handle the solar market profitably year after year. Not only is First Solar profitable, it is very profitable. First Solar currently has a price-to-earnings ratio of 10.16. This is far lower than the current S&P average price-to-earnings ratio of 18.85, and lower is better for those of you new to investing!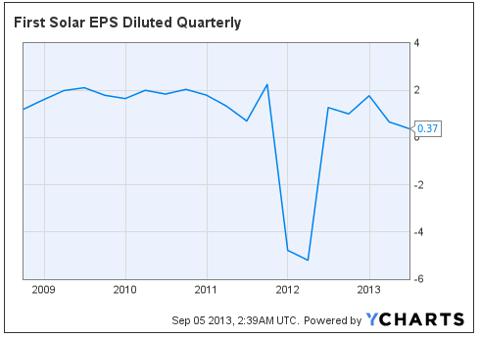 Trading Below Net Tangible Assets, Absurdly Undervalued
Assuming every negative event possible happens in the solar industry, First Solar won't crumble. The balance sheet of First Solar is remarkably strong and capable of withstanding some heavy hits. In the latest 10-Q, First Solar reported just under a billion dollars in "cash and cash equivalents." Total assets were just under $7 billion and total current assets were reported to be roughly $3.6 billion. Total liabilities for the same quarter were roughly $2.7 billion and total current liabilities were around $1.8 billion. Net tangible assets were over four billion. The current market cap (the value of the company) of First Solar is $3.75 billion. First Solar is trading below its net tangible assets which not only makes it incredibly undervalued, but the market is essentially giving the business itself zero worth. Book value has doubled since 2009. First Solar enjoys a price to book value of .9 while the rest of the industry sits at 1.8.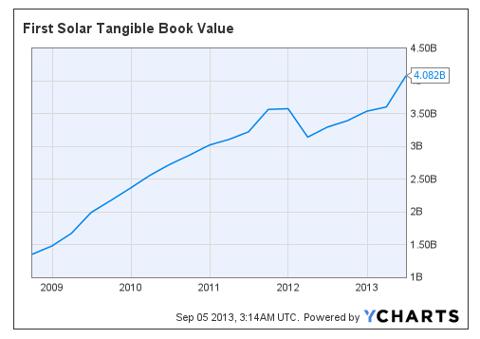 A Future as Bright as its Solar Panels
Even though the market has priced First Solar below its net tangible assets and ignored its profits, First Solar is hardly out of the game. First Solar will remain a top player for the foreseeable future. First Solar currently has 19 projects worldwide. The majority of these projects are within the United States where profit margins are good for First Solar. First Solar realizes that the solar market is mercurial and ever-changing. Therefore, First Solar has acquired TetraSun. First Solar is known for its cadmium telluride solar cells but now it will be able to compete in the silicon solar cell market with the acquisition of TetraSun. This will allow First Solar to compete with others such as SunPower (NASDAQ:SPWR), Trina Solar (NYSE:TSL), and Yingli Energy (NYSE:YGE), all of which posted a loss in 2012.
More Profits Coming for the Rest of 2013
First Solar expects operating income of over $400 million in 2013. Even if they barely meet the low end of their guidance of $405 million, they will be making over 10% of the entire value of the company in operating income. Earnings per share is expected to come in at $3.5 to $4. This maintains the low price-to-earnings ratio. Even though prices in the solar industry have fallen, margins are still quite high and expected to come in around 22%! This is assuming prices continue to fall. If prices stop falling, as some believe they will, things will only get better for First Solar. Even the pessimistic case of falling prices is optimistic for First Solar, as they have a 22% margin buffer. Even if they were making half the profits they were making now, they would still be the best stock in the solar industry.
The Competition is Struggling
First Solar, according to market share data from 2012, is the largest PV installer globally. According to PVinsights in their report on 2011 market share, First Solar came in second in terms of market share.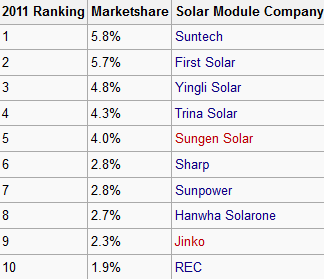 Now let's take a look at some of the competition. Suntech Power Holdings Co. (NYSE:STP) is a Chinese company that is making losses head over heels. The market has given it a market capitalization of just over $180 million and the shares are trading around a dollar per share. This year, it has failed to pay its debt and created a petition of insolvency. STP is not investment material. Yingli Green Energy Holding Co. Ltd. has made huge losses in both 2012 and 2011. It is currently trading way above its net tangible assets. Trina Solar Limited also incurred heavy losses in 2012 and 2011. SunPower Corporation has also, like the others, suffered a heavy loss in 2012 and 2011. They just recently made a small profit. They currently have a strong pipeline and very efficient solar equipment; however, their history of earnings is not strong and their balance sheet isn't nearly as strong as First Solar's four billion in net tangible assets.
Risk Factors
Competitive Technology - It is possible that in the future First Solar will fall behind in the technology race. It is possible that TetraSun and other future acquisitions will not be able to keep them up to par with the rest of the key players. I find this highly unlikely, however, as not only can they afford to acquire companies with new technology, their strong balance sheet allows them to have a ridiculous amount of research and development.
Falling Prices - It is possible companies will dump their solar products at a large loss in order to gain market share and this will lower prices further. If this situation does occur, however, I believe First Solar could still make this work in its favor. First Solar has a strong balance sheet and good profit margins and could withstand a few quarters in the black or red and let the other companies decline as they make larger losses.
Less Projects - First Solar could have significantly decreased earnings if they are unable to obtain new projects/bookings. I have confidence that management will not allow this to happen in the long run. If it does occur, the price-to-earnings ratio may increase.
An Irrational Market - Humans by their very nature are not rational. First Solar could stay in this undervalued state for a prolonged period of time or even fall lower. The price-to-earnings ratio could go under 5 and it is possible the market still wouldn't find First Solar an attractive investment.
How to Mitigate the Risks
If the risks of holding common stock seem too great, fear not. There is another way to profit off First Solar. Covered calls can be written in order to reduce your risk and increase your downside protection. If the stock remains flat, these covered calls will also increase your return! The cost of these calls is a limited amount of profit, but this limited profit is still quite high. Let's look at an example:
First Solar options expiring on the 27th of September at a strike price of $37 currently has a premium of $1.58 (As of 9/4/13). This means that for every 100 shares of FSLR you have you could receive $158 every month. This gives an annualized return of 51.98% with the premiums alone! (minus the cost of commissions, as of 9/4/13). Keep in mind First Solar is not reporting earnings in September, so this level of premium will actually increase during the more volatile earnings months and this will result in a higher annualized return from premiums. Using covered calls is a more conservative way of investing in First Solar and covered calls should only be used by experienced investors.
Conclusion
The risk/reward ratio is hugely in favor of First Solar. First Solar is a consistently profitable player in the industry and dominates the market share. It is trading below net tangible assets while maintaining a price-to-earnings ratio under 10. Options provide an excellent way to reduce risk and garner a ridiculously good return based upon current premiums. First Solar is well positioned to adapt to new technologies and maintain a top position. The balance sheet could weather a financial meltdown or World War III. Fundamentally, First Solar is a strong investment.
Disclosure: I am long FSLR. I wrote this article myself, and it expresses my own opinions. I am not receiving compensation for it (other than from Seeking Alpha). I have no business relationship with any company whose stock is mentioned in this article.
Additional disclosure: I currently have a covered call position in FSLR.