Executive Summary
Murphy USA, Inc. (NYSE:MUSA) ("Murphy", "MUSA" or the "Company") is a leading convenience store/gas station operation with 5% of the United States market. The Company has a market cap of ~$1.7B and an enterprise value of $2.3B. In 2012, the Company derived 96.7% of revenues from its convenience store/marketing segment, and 3.3% from its ethanol segment.
According to an interview with Mohnish Pabrai, Mr. Pabrai mentioned that Charlie Munger once told him to (1) focus on the cannibals, aka companies which are buying back massive amounts of their shares; (2) follow spin-offs and (3) copy/ follow the great investors. Murphy clearly fits the second category as the market is offering a highly mispriced security as Murphy was recently spun off from its larger S&P 500 brethren, Murphy Oil (NYSE:MUR).
Mispricing is evident as the Company is currently priced at 6.4x/7.5x LTM/FY2012 Owner's Earnings which is below its conservatively estimated replacement value of $2.15MM per station. Spin-offs historically have a fair degree of forced selling & general market misunderstanding.
The following attributes make the Company a highly attractive investment at current prices:
Leading Market Position: Murphy is one of the largest C-Store operators with an estimated ~5% market share in a highly fragmented market. Market share helps with scale as the Company can purchase merchandise in bigger quantities versus the mom and pop c-store operator (62.9% of total C-Stores according to the NACS) and source fuel efficiently, as smaller operators generally have to utilize third party distributors.
Spin-Off from Larger Parent Should Lead to Mispricing: The spinoff of Murphy is bound to create mispricing given that the current parent is situated within the S&P 500. We believe forced selling has created an opportunity with the business trading below its conservatively estimated replacement value.
Solid Financial Profile: The Company will be modestly levered at close with 1.8x Debt to LTM EBITDA and EBITDA/Interest coverage of 9.5x. The Company has consistently maintained profitability, with EBITDA growing from $127.0MM to $360.0MM from 2009 to LTM 2013. Additionally, the Company generates solid returns on invested capital for low margin business, in excess of 15%.
Attractive Valuation: At the current price of ~$38 per share, MUSA trades below its conservatively estimated C-Store replacement value (excluding valuable midstream assets and two ethanol facilities) of $2.15MM per unit ($41 per share)and roughly two turns below that of its competitors, which equates to a base case target price of ~$48 or 30% upside at current prices. Additionally, the Company has multiple levers to pull as it owns 90% of its real estate.
Growth Opportunities: The Company has significant growth opportunities, as it recently entered into an agreement with Wal-Mart to build an additional 200 stores near/or on Wal-Mart locations.
Low Operating Cost Model: Murphy is a low cost operator focused on volume versus in-store sales. This strategy is evident with Murphy's cash breakeven at a 6.6 cent margin per gallon of gasoline and the average size of Murphy's stores, which are significantly smaller than that of their peers (280 ft2 - 1200 ft2) and require on average ~$25K per year in maintenance capex. Additionally, the Company is able to source fuel at attractive prices compared with their competitors as Murphy has access to terminals and has a shipper status on pipelines.
We believe the Company is dramatically undervalued given its low valuation, solid market share in a fragmented market and spin-off dynamics. At current prices, the Company offers conservative upside potential of 30%+.
Company Overview
Introduction
Murphy is a leading North American convenience store operator. The business was recently spun off from Murphy Oil and primarily generates its revenues by marketing retail motor fuel products and convenience merchandise through a large chain of 1,179 (as of June 30, 2013) retail stations, almost all of which are in close proximity to Wal-Mart stores. The Company's retail stations are located in 23 states, primarily in the Southern and Midwestern United States. Of our stations, 1,018 are branded Murphy USA and 161 are standalone Murphy Express locations (as of June 30, 2013). Importantly, the Company has a 5% market share of the highly fragmented C-Store market and owns roughly 90% of its real estate.
The Company owns midstream assets, including product distribution terminals two ethanol refineries and pipeline positions.
Murphy is a low-price, high volume fuel retailer selling convenience merchandise through low cost kiosks with key strategic relationships and experienced management. For the LTM period, Murphy generated $19.3B and $360.0MM in revenue and EBITDA, respectively.
FY 2012 Revenue Breakdown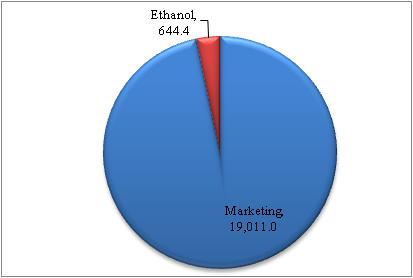 Marketing ($19B Revenues / $232MM Operating Profit FY 2012)
Murphy's main operations revolve around operating gas stations/retail convenience locations. As of 6/30/2013, MUSA had 1,179 stores located primarily in the Midwest and Southern United States. Murphy's stores are often located nearby a Wal-Mart super center. The segment also includes Murphy's wholesale unbranded customers. The wholesale unbranded customers are served from seven Murphy USA owned terminals located in the Southeastern United States and numerous other terminals owned by others.
Murphy's retail convenience stores are in two formats, a 280 ft2 kiosk and a 1,200 ft2 store. Going forward, Management plans on rolling out primarily the 1,200 ft2 units as they can hold more high margin merchandise.
Historic Segment Revenue and Operating Income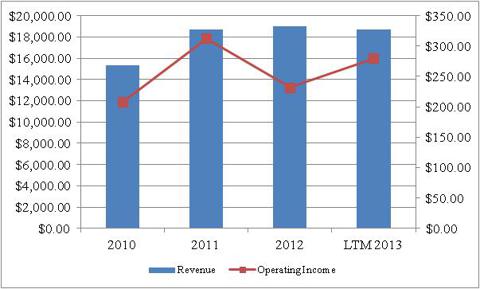 Ethanol ($644.4MM Revenues / $84.0MM Operating Loss FY 2012)
Murphy operates two ethanol production facilities, located in Hankinson, North Dakota and Hereford, Texas. The Hankinson plant, which was acquired in 2009 for ~$92MM, currently is rated at 132MM gallons of ethanol per year. The Hereford plant, which was acquired in 2010 for ~$40MM and began operations in 2011, and is rated at 105MM gallons of ethanol per year. The Company sells ethanol for blending with gasoline and distilled dried grains.
The primary input in the production process for ethanol is corn. Corn prices have been volatile in the past years, which was evident in 2012 as corn prices rose primarily due to drought conditions in the Midwest U.S, which in turn squeezed margins for ethanol production operations which led to operating losses in the segment FY2012.
Importantly, the Company has essentially viewed these assets as non-core. Murphy is actively looking into a potential sale of the two refineries when market conditions are optimal. The ethanol assets could sell for at least $130.0MM, which is in line with the historical purchase price. Further, the excess cash generated from a sale could be used to fund future growth capex.
Differentiation
Murphy differentiates itself from its competitors and has maintained its 5% market share primarily through:
Small format offerings leading to higher sales per ft2
Volume focused sale model
Low operating costs
Highly scalable business model which is fairly inexpensive to build out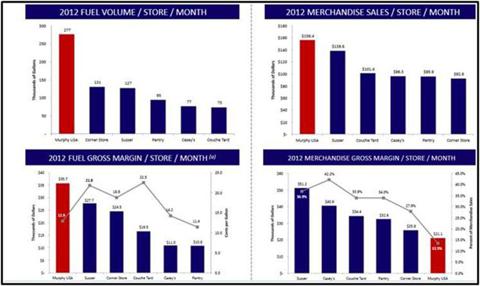 Growth Drivers

Murphy plans to continue its long-term growth strategy by:
Building 200 new stores adjacent to Wal-Mart Super Centers
Rolling out the 1,200 ft2 kiosks going forward, which allow for more in-store merchandise.
Increased midstream participation to protect/grow its advantageous sourcing method.
Dispose of non-core assets, i.e. ethanol facilities.
Spin Off Rationale
Strategic management focus: Management is aligned with the results of their unit, which was previously a smaller portion of Murphy. Entrepreneurial juices should be released with the transaction.
Appropriately capitalized and solid access to capital: With the transaction, MUSA is conservatively levered at 1.8x Debt-to-EBITDA, with an ability to take on additional debt capacity or lever its massive real estate portfolio for a return of capital or other growth opportunities.
Pursue growth opportunities: With its own board of directors and capital structure, Murphy USA will be able to pursue a growth and capital strategy that makes sense for its own business, not Murphy Oil.
Unlock value: Convenience store comps trade at 5.0x - 9.0x EBITDA vs. current Murphy Oil multiple of 3.9x 2013E EBITDA (32% -111% premium.
Executive Management
Mr. Andrew Clyde will serve as President and CEO of Murphy USA. Mr. Clyde previously was employed at Booz & Company (and prior to August 2008, Booz Allen Hamilton), in its global energy practice. He joined the firm in 1993 and was elected partner in 2000 holding leadership roles as North American Energy Practice Leader and Dallas office Managing Partner and serving on the firm's board nominating committee. According to public filings, the CEO position will hold stock worth roughly 5x his annual salary.
Mindy K. West serves as CFO and Treasurer of Murphy. Ms. West joined Murphy Oil in 1996 and has held positions in Accounting, Employee Benefits, Planning and Investor Relations. In 2007, she was promoted to Vice President & Treasurer for Murphy Oil.
Additionally, MUSA's board should be aligned with shareholders as they collectively hold ~6% of the outstanding stock.
Historical Financials
Historic Revenue & EBITDA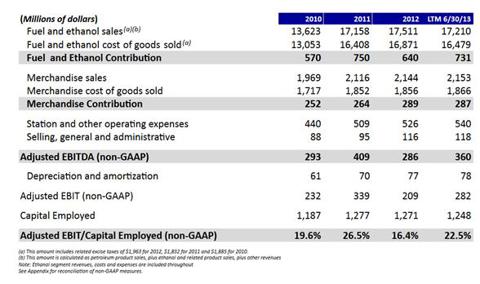 Revenue Trends
FY2012 vs. FY2011
Marketing segment total revenues increased by $239.0MM FY2012 to $19.0B compared to the FY2011 amount of $18.8B. Total fuel sales volumes per station averaged 277,001 gallons per month in 2012, down 0.3% from the prior year amounts. Within operating revenues, merchandise sales increased $28.8MM FY2012, up 1.4% compared to FY2011.
Fuel margins decreased in FY2012 to an average of $0.129 per gallon, compared to $0.156 per gallon in FY2011, a decrease of $0.027 per gallon or 17.3%. The lower fuel margins were caused by increased wholesale gasoline prices which were not fully recovered through higher prices to customers at the pump. Offsetting the decline in fuel margins, merchandise margins in FY2012 were 13.5% of merchandise sales compared to 12.8% in FY2011, an increase of 5.5%.
The ethanol segment total revenues totaled $644.3MM FY2012 compared to $561.5MM FY2011. Revenues increased due to an uptick in volume. However, profitability was materially affected as ethanol prices decreased and corn prices (the input) increased due to the Mid-West drought, which led to a write-down in the segment and a $54.8MM loss. In the TTM period FY2013, the Company achieved profitability in the segment as pricing has normalized.
Also, it is important to note that FY2011 EBITDA was materially higher than the following years as the Company disposed of its refining operations, which led to an $118.7MM positive impact on the Company.
Capitalization
Murphy is well-capitalized at the spin-off with a relatively unlevered balance sheet with Debt/EBITDA at 1.8x. The Company's unlevered balance sheet along with its portfolio of owned real estate (90%), Murphy has multiple levers to pull to fuel further growth or return capital to shareholders.
Capitalization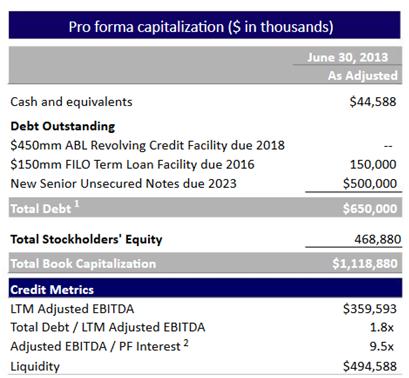 Return on Invested Capital
ROIC (including cash in Management's calculation) has consistently totaled over 15%, a solid return for a low margin, high turnover business. Further, management has managed ROIC and EBIT over volatile gasoline margins, which decreased FY2012.
Capital Employed Calculation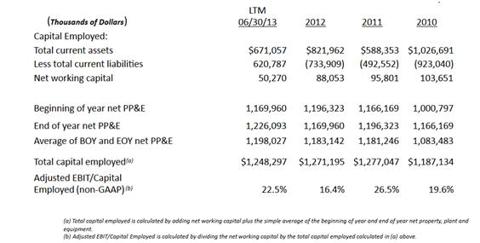 Capital Expenditures
CapEx within the marketing segment (c-stores) primarily entails the acquisition of land and build out of stores. Maintenance CapEx is fairly low within the segment, primarily deployed to upgrade existing sites (i.e. update pumps, etc.). The Company's other capex is dedicated to its ethanol and terminal segments, which are primarily growth related initiatives. Overall, the Company's maintenance capex requirements are low, averaging ~10% of EBITDA, allowing for a high EBITDA/OCF conversion.
Capital Expenditure

*Corporate capex is related to the spin-off/ one time infrastructure costs.
The Company expects to spend $204MM on capital expenditures FY2013. Roughly $201MM is slated for the Company's retail segment, with $31MM slated for maintenance capex and $170MM for new retail locations/growth capex. The remaining $3 million is slated for the Company's ethanol facilities.
Real Estate
Murphy owns 90% of its retail locations, which enables the Company to have lower operating costs versus its peers (elimination of rental expense). The Company paid $9.4MM FY2012 to lease roughly ~10% of its store base and other assets. A back of the envelope calculation with ~50% of the stores leased equates to "normalized" rent expense and TTM 2013 EBITDA of ~$47MM/$322MM (1.9% margin), respectively. Further, the ownership of real estate allows for the Management to have flexible financing options going forward (i.e. sales-leaseback or ABL financing). The excess cash from a potential transaction involving real estate could be used to finance growth capex or return cash to shareholders
Industry
According to IBISWorld, the gas station/C-store industry has enjoyed a strong performance over the past five years. Industry revenue has risen at a CAGR of 0.8% to $466.9B over the period, with 2.2% growth expected in DY2013. The world price of crude oil is the main driver of the industry's revenue growth. Gasoline makes up the lion's share of revenue, and pump prices are driven by the ebbs and flows of world oil demand. To maximize profitability, though, industry operators are increasingly relying on convenience store sales. Over the next five years, revenue is forecast to increase at a CAGR 2.0% to $514.4B.
Additionally, oil refiners and E&P companies have divested their retail brands, given the multiple discount between pure-plays and shareholder pressure. This has led to an increasingly fragmented marketplace, which is a net positive for Murphy as the Company has scale over its competitors along with a platform for new stores (Wal-Mart).
Competition
Concentration in the Gas Stations with Convenience Stores industry is very low. Industry concentration has decreased over the past five years as more prominent companies in the industry divested gas stations to concentrate on more profitable locations. The recession prompted many oil companies to concentrate on more profitable operations. Scale is important in the industry as it allows for greater bargaining power for merchandise and ability to acquire large amounts of fuel at better terms than a small operation.
Porter's Five Forces Analysis
Risk

Severity

Mitigant

Threat of New Entrants

High

The industry is highly fragmented. Murphy has a ~5% market share, which gives it scale and purchasing power versus and industry which is dominated by smaller operators (62.9% are single store operators).

Threat of Substitute Products

Low

There is no current mass substitute for gasoline in the US.

The Company offers a wide arrange of merchandise products in their kiosks/stores (i.e. tobacco products, etc.)

Bargaining Power of Suppliers

Low

Gasoline prices are typically set by the market, additionally the Company has shipper status and midstream terminal positions allowing for attractive purchasing.

Bargaining Power of Customers

Low

Pricing is set by demand/the market. Margins are typically lower for gasoline, hence customers do not have a large say in pricing (they can, however, just not drive).

Rivalry

High

Rivalry is high, however Murphy has an advantage over its competitors through the co-locations with Wal-Mart , purchasing scale and lower break-even costs compared with other C-Stores.

The Wal-Mart relationship enables Murphy to reach a captive audience (Wal-Mart shoppers). Additionally, customers tend to be destination customers who get their groceries and fill up on the same trip.
Scenario Valuation Analysis
Base Case
The base case portrays a realistic expectation of Murphy's performance going forward. Below are the assumptions used in the base case scenario:
Sales are expected going forward at 3.0% per annum.
Gross margin is expected to stay in line with the TTM period at 2.7%.
EBITDA margin is expected to be maintained at 2.0%, below the historic average.
Maintenance capital expenditures are forecasted to total 10.2% of EBITDA, which is in line with previous years.
Cash taxes are expected to total 5.5% of EBITDA, which is higher than the past average.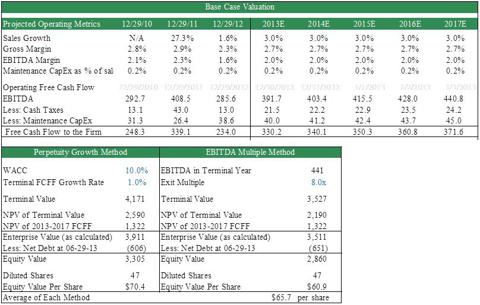 Upside Case
The upside case portrays a strong five-year forecast for the Company, when compared with the base case forecasts. Below are the assumptions used in the upside case scenario:
Sales are expected to increase 3% FY2013, increase 5.0% FY2014 - FY2015 and 3% thereafter.
Gross margin forecasted to remain at 2.7%.
EBITDA margin expected to total 2.1%, in line with the historic average.
Maintenance capital expenditures forecasted at 10.2% of EBITDA.
Cash taxes to equate 5.5% of EBITDA.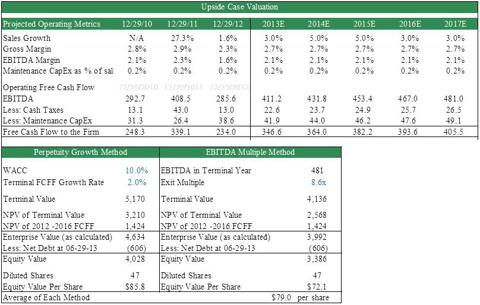 Stress Case
The stress case portrays a scenario in which Murphy does not deliver on its current objectives. Below are the assumptions used in the stress case scenario:
Sales are expected to increase 3% FY2013, followed by a 3% decline FY2014 and FY2015, and a 2% decline thereafter.
Gross margin forecasted to remain at 2.7%.
EBITDA margin expected to stay at 1.8%, below the historic norm.
Maintenance Capital expenditures forecasted at 10.2% of EBITDA.
Cash taxes equate to 5.5% of EBITDA.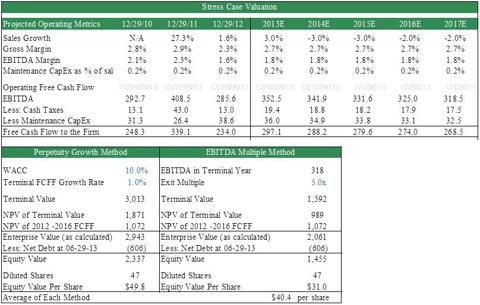 Intrinsic Valuation
Free Cash Flow to the Firm ("FCFF") is one method used to determine the intrinsic value for all three cases. The Company's terminal value was calculating using both the perpetuity growth and EBITDA exit multiple methods, 2.0% and 8.0x, respectively, for the base case, 1.0% and 8.6x for the upside case, and 1.0% and 5.0x for the stress case.

A replacement cost valuation is one method used to estimate a floor valuation for MUSA. Using Management's estimates of $2.15MM per store/land multiplied by the Company's current store base of 1,179 units, yields an equity value of $1.9B, representing ~11% upside from current prices. Importantly, The estimated replacement value does not ascribe any additional value to the Company's midstream assets or ethanol refineries ( one refinery was purchased for ~92.0MM).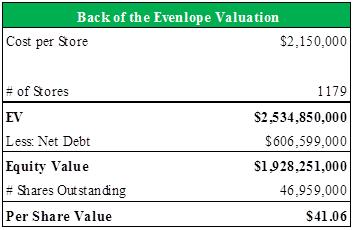 A relative valuation analysis was completed using peers within the convenience retail industry. There are five comparable, publicly-traded companies in the U.S. and Canada, whose primary or sole business involves operating independent convenience stores: Susser Holdings Corporation (NYSE:SUSS), Casey's General Stores (NASDAQ:CASY), Alimentation Couche-Tard, The Pantry, Inc, (NASDAQ:PTRY) and CST Brands, Inc. (NYSE:CST) (another recent spin off). All of the companies represent solid peers for the Company besides for The Pantry, Inc., which is a relatively small operator that has struggled, due to its smaller scale and high degree of financial leverage. Importantly, the average EV/EBITDA for the sector trades at roughly 8.6x. Below we have estimated MUSA's enterprise value by applying a wide range of multiples within the peer group.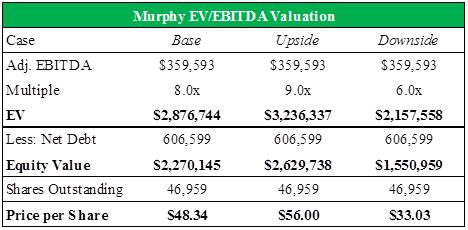 In our base case valuation, by applying an 8.0x multiple to MUSA's TTM EBITDA, intrinsic value is estimated at $48.34 per share, representing an equity upside of ~30%. We believe the base case is an conservative estimate as it equates to roughly 9.7x and ~8.5x FY2012 and LTM2013 owner's earnings.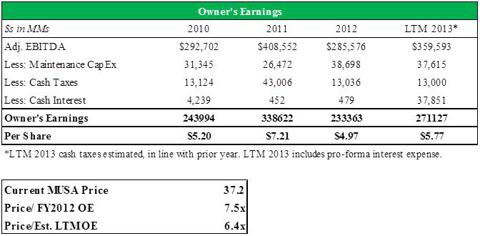 Catalysts to Value Realization
Catalyst

Description

Buyback of Shares

Murphy trades at a materially discount (~30%) to its conservatively estimated base case valuation of $48 per share. At current prices, buybacks will be accretive to intrinsic value.
Additionally, Murphy will be able to lever its balance sheet by at least one turn, which would allow for the Company to repurchase roughly ~21% of its capitalization.

Growth Strategy

Execution

MUSA's Management recently signed an agreement with Wal-Mart to build 200 locations over the next couple of years, which should be accretive to owner's earnings and intrinsic value in the long run.

At $2.15 million per store, this will cost ~$430 million which will be financed over 3 years and financed by a combination of operating cash flow, asset sales and potentially bank financing/ABL revolver availability.

Attractive Valuation

MUSA currently trades at 7.5x FY2012 Owner's Earnings and 6.4x LTM 2013 Owner's Earnings. Further, The Company has consistently generated and has grown Adj. EBITDA.

Murphy also trades below its conservatively estimated replacement value, estimated at $41 per share and below its publicly traded peers at 6.5x EBITDA (8.6x peer average).

Analyst Coverage/Inclusion into Mid Cap focused funds.

As sell-side analysts initiate coverage, the Company will be presented to a wide range of investors, specifically mid-cap focused funds.
Risks & Mitigants
Risk

Impact

Mitigant

Reliance on Wal-Mart for Co-Locations and Discount Program

Could Potentially Stunt Future Growth/

Opportunities

Murphy has a long-term relationship of over ten years with Wal-Mart, further bolstered by an agreement between both companies and a discount program for Wal-Mart shoppers.

The Company owns roughly 90% of its real estate, often pads near a Wal-Mart supercenter.

New Build Program

Potential Squeeze on Future Cash Flows and Capital Structure Risk.

Management has suggested that they have looked at alternative options for their ethanol facilities, which could potentially fund an aggressive new build program.

The Company's cost per new store are fairly low at $2.1MM, and can easily be funded through the Company's excess debt capacity.

Volatility in Gasoline Prices

Revenue and Margin Decline

Murphy is a low cost operator, which requires only 6.6 cents of gasoline margin for a cash breakeven.

The Company has successfully operated in a wide variety of pricing environments and has managed to maintain its margins and remain EBITDA positive.
Conclusion
In conclusion, Murphy is an undervalued business based upon its owner's earnings and replacement value, with a base case value of $48.3 (upside of 30% from current equity prices). The Company has separable assets such as its wholly owned ethanol facilities and certain midstream assets, which could be utilized in resource conversion activities that would increase the upside. Further, management has a clear articulated growth plan going forward and will be well aligned with shareholders ( the board holds ~6% of the Company and the CEO is targeted to hold shares worth 5x his salary). Given the potential future growth and clean underutilized balance sheet, the shares could be worth as much as $55.
Appendix
EBITDA Bridge
EBITDA Bridge

Disclosure: I have no positions in any stocks mentioned, but may initiate a long position in MUSA over the next 72 hours. I wrote this article myself, and it expresses my own opinions. I am not receiving compensation for it (other than from Seeking Alpha). I have no business relationship with any company whose stock is mentioned in this article.