The idea of cloning great ideas is preached high and low by hedge fund manager Mohnish Pabrai, and this is a practice I find heavily underutilized. Pabrai has gone as far as to generalize the idea of cloning to other industries, believing that an entrepreneur doesn't have to come up with a new idea. Rather, if they efficiently replicate another great business model they can grow a great business of their own.
Pabrai has applied this mentality to his own business and his own investing philosophy. As a result, he has done very well over the past fifteen years. More specifically, Pabrai only considers investing in stocks that will double his money every two to three years. He runs a very concentrated portfolio with high conviction for his picks. He believes you should only invest in your top picks, finding two to four stocks that are either "cannibals, spinoffs or cloning."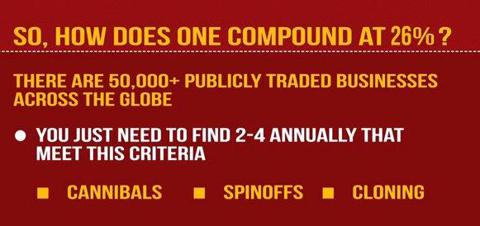 Pabrai notes that individual investors actually have an advantage compared to the large hedge funds and institutions...
"Investing is a peculiar business. The larger one gets, the worse one is likely to do. So this is a field where the individual investor has a huge leg up on the professionals and large investors. So, not only can The Dhandho Investor approach be applied by small investors, they are likely to get much better results from its application than I can get or multi-billion dollar funds can get. Temperament and passion are the keys."
Pabrai is renowned for spending $650,100 back in 2008 to have lunch with billionaire Warren Buffett. Buffett is his inspiration, and when Pabrai first started his hedge fund back in 1999, he cloned Buffett's partnership structure. He has carried this over to his investing philosophy, noting that although Buffett has outperformed the market over the past 50 years, too few have actually cloned his strategy.
"As long as humans vacillate between fear and greed, there will be mispriced assets. Some will be priced too low, and some will be priced too high. Mr. Buffett has been talking up the virtues of value investing for 50+ years, and it has made very few folks adopt that approach."
So what's at the root of Pabrai's philosophy? Cloning, of course. Pabrai scours 13F filing by other major hedge funds to get ideas. Now, I'm not going to debate the merits of tracking 13Fs, but what I will do is tout Mohnish Pabrai's philosophy of cloning. While Jim Cramer thinks using 13Fs are worthless...

I tend to disagree. Pabrai has returned almost 26% annually for the last 14 years, that's doubling your money every three years, on the premise of using 13Fs to find ideas.
I don't find it useful to buy Johnson & Johnson or IBM because Buffett added a few million shares to his portfolio. Nothing irks me more than to see an article that says "billionaire Warren Buffett sells IBM," or something similar. While that may be true, most articles that are putting out this info provide no context. Below is an article headline from ABC.

And another from CNBC.

While I take no issue with the headlines, as by all accounts they are true, but it's in the articles that they say (emphasis mine)...
"Meanwhile, the company slashed its stake in Kraft Foods Group Inc. by 88 percent to 192,666 shares. Its stake in Mondelez International Inc. was slashed by 92 percent to 578,000 shares."
While the article is factually true, in the context of Buffett's entire portfolio, these moves are meaningless. Why do they do this? To get page views. These headlines drive traffic, even if the info is relatively useless to the investing public. Lesson, don't blindly follow the media.
Back to following 13Fs
What I like to do is cross-reference many of the best hedge fund managers (at least those I consider the best) and compare their similar holdings, while also focusing on the concentration level (% of funds the position makes up).
I look for managers that have conviction in their picks. This involves having a large portion of their capital invested in the company, preferably at least 10%. Also, as a secondary factor, I like managers that have a large enough position in a company to encourage change. The manager has to have a position that's meaningful to their portfolio, but it also has to be meaningful to the company.
Pabrai uses 13Fs filing to generate ideas, and then he goes out and does his own due diligence. Monish has been a master cloner. John Huber over at Saber Capital also runs the Basehit Investing blog, and he is a like-minded Pabrai fan. I will steal from his post about the lecture given by Pabrai at Columbia University to give you some insight on how well Pabrai has done and just how he does it. Pabrai's results over the years stack up something like this:
1995-1999: 43.4% annualized
1999-2007: 37.2% annualized (he started Pabrai Funds in 1999 and this is after his fees)
2007-2009: -41.7% annualized
2009-2013: 32.7% annualized

All together, since the game started, he's made 25.7% per year over 18 years. So far, he's on target, which is incredible to think since his initial goal was 26% per year, which many probably would have called naïve for a guy with no experience and no track record...Here is how Pabrai summarized his presentation prior to the Q&A:

"Take one idea and take it seriously"
Remember the power of compounding
Clone the best investors
Now let's get to what Pabrai currently owns...
First off, he loves the beaten down major banks.
His top equity holding includes Bank of America (NYSE:BAC). BAC makes up nearly 23% of Pabrai's 13F. At number two is Citigroup (NYSE:C), making up 17.7% of his public equity portfolio. These are still of the two most underappreciated big bank stocks out there. These banks should easily trade around 1x earnings, and as returns on equity return to more normalized levels, these banks should trade at 2x book value
Bank of America
Layoffs have been abundant at these institutions, but, while bad news for employees, it's good news for investors. I couldn't agree with fellow Seeking Alpha author, Quoth the Raven, more. BAC is indeed leaner and sexier than, say, just 12 months ago. Quoth notes that...
"Layoffs are not the easiest way to get things running smoothly, but in BAC's case, where revenue growth isn't through the roof, it's extremely effective in helping out the bottom line - and subsequently, building value for the company's shareholders. Other shareholder-abrasive maneuvers, like lowering dividends, are not likely to take place as BAC seems to be trimming the fat from their operations elsewhere."
Back in 2011, BAC launched Project New BAC, which was targeted at improving earnings. Part one started in Oct. 2011 and was focused on reducing expenses by $5B before 2014, hence the headcount reduction. Phase 2 will include a total of $8 billion in annualized savings by mid-2015. Project New BAC is already catching on as the bank saved nearly $900 million in 2012, and by the end of 2013, BAC expects to save $1.5 billion in cost per quarter.
Pabrai's other major bank pick, Citi, came out of the stress test earlier this year relatively unscathed. As a result, Citi got the green light for a $1.2B share repurchase program. The big news is that Citi continues to simplify its business, getting back to the core Citigroup business, while winding down Citi Holdings.
Citi Holdings assets were down 29% in 1Q from $149 billion at the end of 2012, and made up 8% of the company's total assets. The ultimate runoff of these assets should prove to be a positive and free up capital to funnel back into the core business.
The other beauty of Citi is that it has a more diverse revenue profile when it comes to geographical operations. And while a large portion of revenue is already generated from outside the U.S., the bank is further focusing on international expansion. All in all, both banks are trading well below their peers, but they are rapidly improving their business model.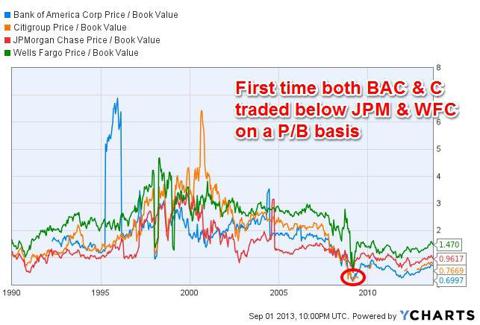 As mentioned, as ROEs strengthen, both BAC and C should return to 1x P/B, and then in a bolstering economy with ROEs at 12%, the major banks will easily trade at 2x book value.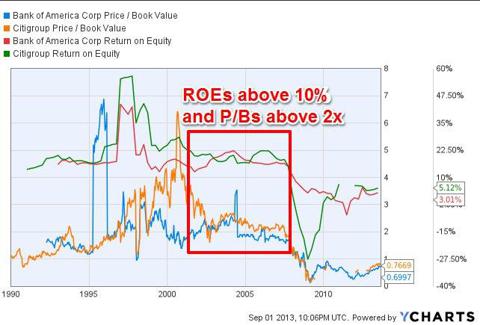 Turnaround in oil & gas
Chesapeake Energy (NYSE:CHK) is Pabrai's third largest holding and makes up 15.8% of its 13F. I also happen to like this natural gas giant. Back in 2008 you could pay 25 cents for every dollar of assets Chesapeake had on the books. In 2011, that changed, you were paying 65 cents per $1 of assets. Now, we are back to being able to buy CHK at $0.25 per $1 of assets.
Part of this is because Chesapeake still has work to do. The company has managed to increase its asset turnover ratio over the last three plus years, but leverage remains a problem.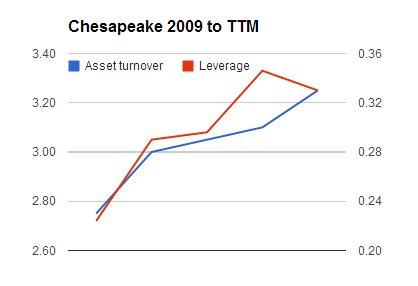 With the pullback, I would be using the opportunity to get deeper into this oil and gas company. Over time, based on the initiatives they have laid out and the hedge fund support, its leverage should come down materially. The company is on a mission to finally start monetizing its assets in an effort to reduce debt and fill funding gaps. With the largest inventory of unconventional resources among U.S. independents, we think the potential is impressive.
In a previous article, I noted that Chesapeake has been getting more things right than wrong so far this year. This comes with the help of billionaire Carl Icahn and Mason Hawkins' Southeastern Asset Management, both of which have been loading up on shares in hopes of unlocking the value in the company that has been hidden by debt and unscrupulous management. So far this year, the company has made strides in correcting:
Management. It made a great hire by bringing over a VP from Anadarko Petroleum. Doug Lawler has a strong history of managing the international LNG projects for APC. We think you can see where CHK is going with this hire, with one of the best nat gas portfolios in the US and a very strong oil portfolio that is getting better each quarter.
Debt And CapEx. CHK said it would sell $4B to $7B worth of assets in order to clear up its debt situation and it has recently hit the $3.6B mark, right on pace or maybe even a little ahead. It has good assets and the market seems to be good for selling and buying, so expect this to continue without issue. Drilling CapEx is expected to be between $6B and $6.5B in 2013, down over 15% year over year. This comes as drilling CapEx will be focused on existing assets, and overall CapEx is to be focused on drilling and completion. CHK plans to focus on the Eagle Ford shale and the Anadarko Basin. The company still has one of the best portfolios of unconventional assets in the U.S. Over the long-term the company will focus on developing the Eagle Ford, Granite Wash and Mississippi Lime plays.
As of mid-August, Southeastern and Icahn both upped their stakes in CHK, 2.75% and 11%, respectively. Now, Southeastern owns 13.4% of the company, and Icahn owns 9.9%. There should be more good things to come out of Chesapeake's move to finally start monetizing its impressive asset base.
All in all
Pabrai is one of the best underrated hedge fund managers around. He runs a relatively small fund, $500 million, compared to the likes of Bill Ackman's Pershing Square, which manages some $11 billion. His key investment thesis is also one of the most underappreciated tools. I to like use 13Fs to find new and interesting ideas, and using Pabrai's 13F is a great starting point. As far as using other 13Fs, looking for investors that have a fearless belief and high conviction in their picks.
Disclosure: I am long BAC, C, CHK. I wrote this article myself, and it expresses my own opinions. I am not receiving compensation for it (other than from Seeking Alpha). I have no business relationship with any company whose stock is mentioned in this article.