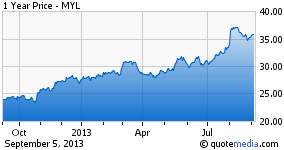 Mylan (NASDAQ:MYL) is a pharmaceutical company included in the Nasdaq 100. Mylan has a very different model than most of the biotechnology stocks I follow and invest in, which typically have pipelines of novel therapies in clinical development that have a likely future value that is not fully priced into the stock. Instead Mylan mainly manufacturers a wide variety of generic drugs and has several divisions and subsidiaries, many of them outside the United State of America.
Mylan, therefore, has to be analyzed in aggregate, rather than therapy by therapy. It may turn out that Mylan has a better risk/potential profile than the smaller pharmaceutical companies I will be looking at for this round of investment. With healthcare costs a growing concern, and a growing population of seniors who often take over 6 generic drugs for the remainder of their lives, perhaps owning a generic drug company would be a smart move. Eventually, but not in this article, I will compare Mylan to the other biotechs I am researching to consider for my new round of investment.
It is notable that Mylan and its competitors cannot manufacture and sell a drug just because it has gone off patent. Each generic must demonstrate to the FDA (or equivalent agency in other nations) that it is as safe and effective as the private label therapy it is replacing. So by knowing which drugs are falling off-patent and which Mylan is planning to apply to manufacture, and by studying the competition, it is possible to project future new income. The difference is that it is rare for any single new therapy to move the needle much. Instead the needle usually moves from dozens or even hundreds of new product introductions each year.
Q2 2013 numbers (released August 1) were not very impressive from a revenue growth standpoint. Revenue was up just 1% y/y to $1.70 billion. Even eliminating the effect of the yen and rupee, revenue was up just 2% y/y. Mylan claims the launch of a particular generic therapy, Escitalopram, in Q2 2012 also made for a difficult y/y comparison, given the high inventory build upon its introduction.
However, the efficiency of the operation improved y/y, so that EPS was up 13% on a non-GAAP basis to $0.68, and up 39% on a GAAP basis to $0.46.
Generally speaking revenue and profits have ramped significantly each of the past 5 years. Much of the ramp was through acquisitions of companies or products, which left Mylan with a rather high debt for a biotechnology company, $5.8 billion. The cash and equivalents balance was just $277 million, a somewhat narrow margin for a company doing so much business.
Cash from operating activities was $283 million, but $126 million was made in capital expenditures, leaving free cash flow of $157 million. If all free cash flow were used to pay off debt, that would take about nine years. In addition more debt will be added to acquire Agila Specialties for $1.6 billion when the deal closes in Q4.
Mylan management has a clear vision of how make the company into both a profit-making machine and also the largest generic (and possibly overall) drug company in the world. Cash flow is expected to ramp over the years, enabling paying down the debt at a reasonable pace, if all goes as planned.
Guidance paints this picture in numbers. Q3 non-GAAP EPS is expected to jump sequentially to between $0.77 and $0.79 per share. Full year non-GAAP EPS is expected between $2.75 and $2.95. 2014 non-GAAP EPS is expected up another 19%, or to between $3.27 and $3.51 per share.
Most dramatically, and with all the usual caveats, non-GAAP EPS in 2018 is expected to exceed $6 per share. If that is the case, and if free cash flow growth is roughly proportional to EPS growth, and it the growth is achieved without more expensive acquisitions, then the debt is not a problem if everything goes according to plan.
The Mylan vision is attractive in ways that are not just reflected in the guidance numbers. Mylan has invested in state-of-the-art manufacturing facilities and the scientific capability to get its own new generic approvals, lessening the need to expand through acquisitions in the future. In addition to making a push in HIV anti-retroviral drugs, Mylan is prepared to bring biosimilars to market. Biosimilars like monoclonal antibodies and insulin analogs are much, much harder to manufacture than most generic drugs, which are small molecules. That means less generic competition and likely more revenue and better margins per drug introduced.
In a world where healthcare costs have climbed, and in a nation like the U.S. where healthcare costs have bubbled, quality generics are a big part of the economic and health solution. Mylan sees a coming globalization of the drug market. By bringing the highest U.S. quality standards to global generics, and competitive global prices to the U.S. and developed nations, Mylan could become the dominant player. The key to doing that is not just volume, but efficiency in cost of goods sold and operating costs, including R&D expenses. Efficiency plus volume means cash flows for reinvestment and to reward shareholders.
Mylan's 52 week high was $37.47, against a 52 week low of $23.25. Mylan has a P/E 22 on trailing GAAP EPS of $1.63 price and a non-GAAP trailing P/E of 13 on non-GAAP EPS of 2.78. MYL closed at $35.93 on September 4, 2013.
These P/Es are very reasonable, even given the heavy debt load. If long-term guidance is correct, MYL as it stands today is a bargain, with minimal risk and a likely 20% per year upside. [I use the term likely in the statistical sense.] That is a very good long term proposition for most investors.
Mylan pays no dividend, nor should it given the debt load. While few biotechnology companies pay dividends, I like dividends and so that would bias me to the ones that do pay them like Amgen (NASDAQ:AMGN) (1.6%).
To do better than MYL (in my coming biotechnology investment round) I would have to find several much smaller, riskier, companies with undervalued pipelines and a higher expected return. I will be looking for them, and reporting my findings here. While risks can be reduced with a properly chosen group of such stocks, they cannot be eliminated. In the end I may choose to add less-risky Nasdaq 100 biotechs like Mylan, Amgen, Intuitive Surgical (NASDAQ:ISRG) or Alexion (NASDAQ:ALXN) to the ones that I continue to hold that served me so well these last 5 years: Gilead (NASDAQ:GILD), Biogen Idec (NASDAQ:BIIB), and Celgene (NASDAQ:CELG).
Disclosure: I am long GILD, CELG, BIIB. I wrote this article myself, and it expresses my own opinions. I am not receiving compensation for it (other than from Seeking Alpha). I have no business relationship with any company whose stock is mentioned in this article.