Summary
Ridley is an animal feed business with a mix of businesses that has masked the stellar performance of one high growth segment. As a result the stock is undervalued, trading at a forward P/E ratio of just 9. Now that the high growth segment is driving overall profit growth, the market should realize its potential and give an upside in the share price of up to 100%.
The business
Ridley is listed on the Toronto Stock Exchange (RCL.TSX)(OTC:RDLYF) and is one of the largest commercial animal nutrition businesses in North America, serving customers mainly in the United States and Canada. Ridley manufactures and markets a full range of animal nutrition products, including formulated complete feeds, premixes, feed supplements, block supplements, animal health products and feed ingredients. Ridley's customers include livestock and poultry breeders and growers who produce meat, dairy and poultry products that are processed into consumer food products. Ridley's products are also sold to the equine, companion animal and hobby farm segments by direct sales to producers or through distributor and dealer channels.
Ridley's business is heavily dependent on the economic dynamics of the livestock industry which is subject to volatility, however over the long term demand is expected to increase with population increases. Currently however, high feed prices are suppressing the expansion of herds, and droughts have meant cattle population is at all time lows.
Ridley currently operates under three segments:
U.S. Feed operations (Feed)
Manufactures a broad range of complete feeds, supplements and premixes to meat, milk and egg producers located mostly in the Midwestern United States. This is a low margin high volume business with volatile earnings due to the cyclical industry.
Ridley Feed Ingredients (RFI)
Produces and distributes vitamin and trace mineral premixes, medicated and non-medicated feed additives to customers throughout North America. A slightly higher margin business due to producing some high quality ingredients but again earnings do fluctuate.
Ridley Block Operations (RBO)
Manufactures and markets a complete range of block supplements, including low moisture, pressed, compressed, composite and poured blocks, and loose minerals. This is a premium product and is Ridley's highest margin business. Lower cost producers produce inferior products that allow animals to eat them too fast. The segment has been Ridley's biggest growth area.
Management & Ownership
One of the most attractive aspects of Ridley is its management and ownership of 78.2% of the stock by Fairfax Financial Holdings Limited (FFH) who have a reputation as a sensibly run company. You can read their latest chairman's letters here. It also ensures that the company is focused on shareholder returns. This is demonstrated by Ridley's recent special dividend, no debt and constant willingness to close down or move operations that are not earning attractive returns on investment.
Earnings history
Ridley's earnings have been quite erratic since the start of the recession. The table below shows how overall operating income declined from a high of $27m to just $15m and has since stabilized around the $20m mark. But this headline picture masks the underlying performance of the separate businesses.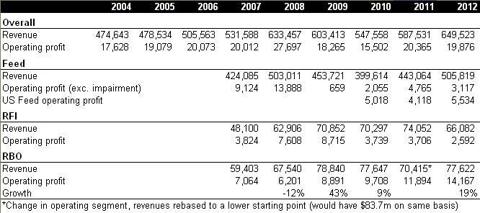 Firstly Ridley disposed of its Canadian feed operations recently, and as you can see in the table the profits over the last few years in the US segment has been much more stable.
Also the block segment (RBO) has seen phenomenal growth since the recession, having a compounded growth rate of 15% per year. Its latest results for 2013 suggest this growth is still going strong.
Valuation
Ridley can be valued as a sum of its different parts. I will ignore tax and corporate overheads for now and adjust for them later.
Firstly the Feed segment is earning operating profits of around $5m per year but its margins in 2012 are still around half what they were pre recession due to one off charges of $2.0m. In the first 9 months of 2013 the segment has earned an operating income of $10.4m. Capitalizing earnings at a 10% discount rate gives a value in the range $70m to over $100m based on 2013 earnings and improving conditions.
Next the RFI segment, which has earnings that are quite erratic so I think a multiplier of 8.5x earnings is appropriate. Based on latest earnings this gives a value of $22m, but based on the slightly higher 5-year average profit this gives a value of $43m.
Finally the real diamond of Ridley - RBO. This segment is on course to earn around $20m of operating profit in fiscal 2013. If it grows at 15% for just 5 years after 2013 and then flat lines thereafter, those earnings capitalized are worth $360m at a 10% discount rate. If it can continue with some lesser growth after 5 years the earnings could be worth $480m capitalized.
Growth at 15% for 5 years is not unrealistic. The segments revenues are still around only $100m and the growth would put them at $200m. The market has capacity for this.
Finally, assuming moderate growth in corporate overheads starting at around $3m gives a capitalisation of -$36m. The sum of the parts gives a range of $450m to $623m. Ridley's tax rate is circa 50% hence I value the company at $226m to $311m. Ridley's market cap is US$150m hence the upside potential is 51-108%.
At $20m the operating profits of RBO now dominate the overall P/L account of Ridley and so its underlying strength should be much more visible to the market. Hence I expect after continued strong results that Ridley will be re-rated to a multiple more applicable to a high growth company.
Disclosure: I am long OTC:RDLYF. I wrote this article myself, and it expresses my own opinions. I am not receiving compensation for it (other than from Seeking Alpha). I have no business relationship with any company whose stock is mentioned in this article.