Recently, I haven't had much of a premise to substantiate a buy/sell claim on any company, but, currently, I like the prospects of Westport Innovations Inc. (NASDAQ:WPRT). Westport Innovations is a company that develops technologies that allow an alternative to the conventional oil-based fossil fuels that are ubiquitously used in vehicles today. These technologies allow vehicles to run low-emission, cleaner fuels such as liquefied natural gas (NYSEMKT:LNG), compressed natural gas (CNG), landfill gases, etc. Westport is mostly known for its breakthrough in diesel engine technology that allows natural gas to run the great majority of the engine. Westport's HPDI technology explains that the "diesel acts as a pilot, rapidly igniting the hot combustion products, and thus the natural gas. Westport HPDI replaces approximately 92% of the diesel fuel (by energy) with natural gas."
In order to fully encapsulate the opportunity at hand, we should digress to the prospects of natural gas in order to see just how advantageous this company's products are in the first place. Seeming how Westport's prosperity is precarious on the performance and demand of natural gas, let's take a look at some of the benefits of the alternative fuel and extrapolate some conclusions.
Natural Gas Facts:
The idea of running natural gas in our vehicles is not theoretical. According to the International Association of Natural Gas Vehicles, there are approximately 123,000 vehicles in the United States running off natural gas and around 15.2 million worldwide. There has been a 23.7% average increase in demand over the last ten years with an astounding 19.8% growth over the previous year and 90.9% increase in growth sales over the previous year.
Also, this chart describes the incremental increase in natural gas fueling stations over the last 5 years, which has a 9.7% increase in growth over the previous year along with a 4.3% increase in growth sales.
Not only can the environment that we live in change given the expulsion of oil and adoption of natural gas, but also areas of the economy can experience growth and savings, as well. According to the American Clean Skies Foundation (NASDAQ:ACSF), "the federal government spends nearly $150 billion annually on transportation services, and it could save as much as $7 billion annually by switching just 20% of its business to carriers who fuel on domestic alternative fuels." Businesses that are capacitated by technologies offered from a company such as Westport Innovations. The report goes on to cite statistics such as vehicles that run on CNG or LNG cost anywhere from 26-43% lower than for vehicles running on gas or diesel.
Assuming you deduced the opportunity of natural gas from these facts, then subsequently you may ask:
Why Westport?
Westport has been in business since 1995 pioneering its way through the problems of our environment by introducing our society with an alternative way to fuel our vehicles more efficiently, cleaner, and, maybe most importantly, cheaper. Westport is the industry leader of natural gas engines and vehicles and has more natural gas technology patents than any of the other top 10 companies in the world with 326. Its nearest competitor, Toyota, only has 226. Westport also has alliances with 3 of the world's top 4 engine producers, 6 of the world's top 10 truck producers, and 7 of the world's top 10 automotive OEMs (original equipment manufacturer), which greatly increases its manufacturing capabilities.
According to PRNewswire, "In June, Westport acquired BAF Technologies, Inc. and its subsidiary ServoTech Engineering, Inc., securing its position as Ford's largest partner under the QVM program with over 10 products and approximately 150 Ford authorized dealerships." Also, Westport and Ford have come under an additional agreement, and beginning in the first quarter of 2014, Westport will offer the newest natural gas Ford F-150 in both the United States and in Canada.
John Lapetz, Vice President of Westport, exclaimed, "Ford has recognized the market demand and responded by adding one of its most popular models to the natural gas line-up." That will now make it 12 vehicles that has integrated with Westport's natural gas technology.
What really enthuses me about this company is its market capability. Before devoting any significant amount of investment into any company, you have to consider the scope of the company's goals and whether or not that goal is viable. And you also need to determine that once that goal is met, what is the payoff? If there isn't a big enough payoff to counter the risk, then the investment is unjustifiable under conservative measures. Westport's goals are viable and the payoff, if those goals were met, will be substantial. The future-upside opportunity in Westport's prospects is what makes this company an acceptable risk/reward investment.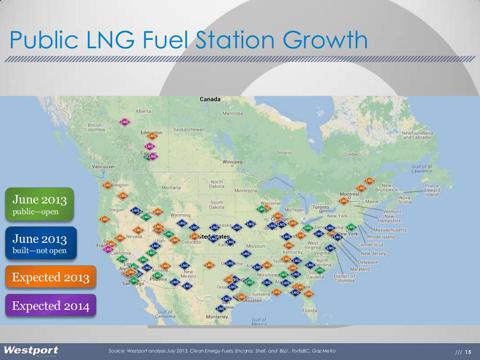 (Click to enlarge)
A big concern about converting to natural gas is the availability of fueling stations. The 2013 and 2014 projections may not be of great significance because it's only expected, but subsequent to the blue-labeled stations becoming open, that inadequacy becomes irrelevant. As these graphs display, the accessibility of liquefied natural gas will become sufficient in the near term and become spread nationwide shortly thereafter.
According to a slideshow made by Pioneer Natural Resources named "Working with Westport," PNR has what it calls "unprecedented growth planned in Texas" exclaiming it has 23 new LNG stations and a $46MM investment planned, over 39 CNG stations and a $29MM investment planned, and claims that more than 30 companies are moving their fleets to either LNG or CNG. Pioneer also claims that the transition of the entirety of its fleet will be converted to natural gas and completed by 2015.
In a recent interview with Sandeep Munshi, director of technology and development at Westport, Munshi was asked what is the biggest prohibitor that is restricting natural gas adoption today. Munshi said it perfectly when he said, " I don't see any single prohibitor that would prevent adoption. I guess with any technology, when you're talking shifting from traditional means of transportation or traditional technologies, it takes some time." The nationwide adoption of natural gas is imminent. The availability is present, and the need is present. Westport Innovations is the company that is providing the technology for this seemingly sluggish but inevitable natural gas transition, and that's why I believe it deserves a closer look for consideration in your portfolio.
Disclosure: I have no positions in any stocks mentioned, and no plans to initiate any positions within the next 72 hours. I wrote this article myself, and it expresses my own opinions. I am not receiving compensation for it (other than from Seeking Alpha). I have no business relationship with any company whose stock is mentioned in this article.