Blame it on post-summer doldrums or quarter end rebalancing; either way markets are typically poor performers in September. While September's track record is weak, investors willing to buy in September and own through fall are historically treated kindly.
I've already outlined some of my favorites in large cap consumer here, but for those interested in technology, Agilent Technologies (NYSE:A) and ASML Holdings (NASDAQ:ASML) have an uncanny ability of trading up over the coming months.
September weakness is likely to be short lived
Everyone knows the past doesn't guarantee the future. But, those who've followed the tape for a while recognize markets, sectors and industries tend to trade higher or lower at certain times of the year.
And, while the September and October sell-offs get the most media attention, investors shouldn't discount the S&P's ability to shrug off those sell-offs and move up into Q4.
Over the past decade, the S&P 500 has finished November higher than it starts September 9 times, generating an average and median return of 1.95% and 4.07% respectively. Those kind of returns suggest you shouldn't worry too much if you have cash to spend into weakness this month.
Source: Seasonal Investor Database

If you're looking for a bit more risk and reward than the broad market, technology stocks are worth a look. Since 2003, the SPDR Technology ETF (NYSEARCA:XLK) has gained 8 times, producing a market beating average and median return of 3.09% and 6.57% in the process.

These 2 technology stocks should be on your radar
There are two large cap technology companies you should watch this month. Agilent Technologies and ASML Holdings have both posted strong returns through November, suggesting September may be a good time to buy.
1. Cost cuts make this company leaner for the next business cycle
Okay. Agilent isn't a pure play technology company. They get a big chunk of their sales from healthcare. But, technology drives Agilent's product line. The company has a rich history of innovating to help pharmaceutical and biotech companies bring new products to market. And, its electronic measurement segment counts some of the biggest communications firms in the world as customers. Unfortunately, that business hasn't been a good one lately. In the most recent quarter, sales slumped 17% year-over-year. That's quite a headwind given it represents $3.3 billion in sales in FY12 -- nearly half the company's total revenue.
Offsetting that business, sales for chemical analysis and higher margin life sciences grew 1% and 3% from last year, respectively. The Chemicals group should provide low to mid single digit growth as company continues to see demand from emerging markets tied to meeting the world's food demand. The Life Sciences business offers steady mid single digit industry growth, suggesting sales should improve as Asia and Europe, which account for 37% and 27% of segment sales, get back on track. The strongest part of Agilent was Diagnostics & Genomics -- it's smallest business at just $400 million in FY12 sales. Revenue in that group grew 54% from last year in the quarter, or 6% if you remove the impact of its acquisition of Dako. The diagnostics and genomics group sells into a $7 billion market growing 8%-10% annually thanks to the trend for personalized and targeted medicine. Against a backdrop of lackluster growth, Agilent has been cutting costs. A leaner Agilent aims to reduce expenses in manufacturing and logistics by $200 million. Those moves will help support Agilent's earnings -- and corresponding dividends and buybacks -- while providing more margin friendly business to leverage once global growth returns. For the full year, Agilent is guiding to $2.83-2.85 per share in fiscal 2013.
Over the past decade, investors have bid up shares into fall ahead of hopes for expanding research budgets. Shares have gained 9 of 10 times, producing an average 4.95% and 8% return in the period, respectively.
Source: Seasonal Investor Database

2. Smaller chip sizes are driving demand for increasingly complex machines
Intel committed $2 billion to 14 nanometer chips earlier this year, an amount likely to be matched or boosted next year when Intel expects to have 2 new 14 nm fabs fully ramped by year end. Intel's activity is emblematic of the broader industry shift to smaller die size, which presents a host of challenges as smaller designs become increasingly complex, requiring more debugging and testing. The need for greater collaboration as sizes fall drove Intel, Samsung and Taiwan Semi to invest in ASML Holdings; giving them greater access to next generation extreme ultraviolet lithography ("EUV"). ASML bolstered its EUV product line with its acquisition of competitor Cymer in 2012. That technology is used by semiconductor makers to print circuits on increasingly smaller silicon, a market ASML has a stranglehold on with 80% share.
The company is sitting on a backlog of 42 systems -- 90% of which will ship in the next 6 months. It sold 38 systems in Q2. The majority to Taiwan. Units were split equally between memory and foundry.
As we move into the friendlier period for historical book-to-bill, ASML has been a nice performer. The company is guiding for full year sales, excluding Cymer, of EUR5 billion, up from its prior EUR4.73 projection.
Source: E.B. Capital Markets, LLC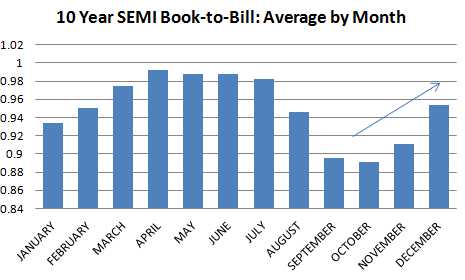 Shares have headed higher in 9 of the past 10 years, and investors have been rewarded with average and median returns of 9.83% and 12.83%, respectively.
Source: Seasonal Investor Database

The final take
Given the bullish backdrop for markets exiting the third quarter and moving forward into year end, taking advantage of any downturn may prove profit friendly. For those interested in a bit more risk and reward, buying technology stocks like Agilent and ASML may make the most sense.
Disclosure: I have no positions in any stocks mentioned, but may initiate a long position in ASML, A over the next 72 hours. I wrote this article myself, and it expresses my own opinions. I am not receiving compensation for it (other than from Seeking Alpha). I have no business relationship with any company whose stock is mentioned in this article.