I am bullish on CenturyLink Inc (NYSE:CTL) given that it has been successful in increasing the subscriber base of both high-speed broadband and Prism TV, which are key growth drivers for the company. Furthermore, the company has immense growth potential in its data centre business, which has an international outreach.
CTL is one of the largest telecommunication companies in the U.S. The company offers data, video, broadband services and Internet services to consumers and businesses. CTL also offers cloud infrastructure and IT solutions; it generates around $18 billion in revenues and operates in four basic segments, namely consumer, business, wholesale and data hosting.
Financial Performance in 2Q'13
Total operating revenues fell by 1.9% in 2Q'13 YOY. The primary reason behind the poor performance was the 7.2% YoY decline in legacy revenues, which contributed around 43% to consolidated revenues. As users now move towards high-speed data services, the legacy segment will continue to be challenged by new products and services. Separately, strategic revenues were up by 4.1% YoY. The strong performance was led by high-speed broadband, Prism TV and data centers. CTL managed to increase the subscriber base of its broadband customers to 5.9 million, showing a YoY increase of 2.5%. Similarly, CTL managed to grow its Prism TV subscribers by 10% QoQ, and expanded its network to Colorado, Omaha, and Nebraska, during the second quarter. After the acquisition of Savis, the company is on its way to extract growth through various data centers all across the world by offering its customers access to different telecom operators around the globe.
Forecast
The company has updated its guidance for the complete year. It has lowered its guidance for operating revenues and the adjusted EPS, which I believe makes more sense as they are now more achievable. Another encouraging sign is the increase in capital expenditure, which is important for future growth.
| | | |
| --- | --- | --- |
| | Previous | Current |
| Operating revenue | $18.1 to $18.3 billion | $18.05 to $18.20 billion |
| Adjusted diluted EPS | $2.60 to $2.75 | $2.63 to $2.73 |
| Operating Cash Flow | $7.35 to $7.55 billion | $7.35 to $7.50 billion |
| Free Cash Flow | $3.05 to $3.25 billion | $3.00 to $3.15 billion |
| Capital expenditure | $2.8 to $3.0 billion | $2.9 to 3.0 billion |
Source: Company Data
Discounted Cash Flow
I have used free cash flow estimates until 2016 and a 6.70% WACC (using cost of equity of 9.00% and cost of debt of 6.5%). Furthermore, I have used a terminal-year growth rate of 0.25%.
| | | | | |
| --- | --- | --- | --- | --- |
| | 2014 | 2015 | 2016 | Terminal Value of FCF |
| Estimated Free Cash Flow | $3,254 | $2,925 | $2,635 | $46,344 |
| Present Value | $3,050 | $2,570 | $2,169 | $38,150 |
Total Value to firm = $3,050+$2,570+$2,169+$38,150=$45,939 million
Total Debt= $19,682 million
Total Value to firm - Total Debt = Total Equity value
$45,939 - $19,682= $26,257 million
Share Outstanding = 648.5 million
Target Price = Total Equity Value/Share Outstanding
$40.48 = $26,257/648.5
The company is currently trading at the bottom end of its 52-week range, as the stock price experienced a decline of around 28% following the announcement of a dividend cut earlier this year. My target price is $40.48, which equals price appreciation of around 22%. So, I believe the stock is currently trading at a discount and a strong entry point is available for investors.
Why CTL should cut its dividends
At the current dividend rate, CTL is annually distributing around $1,294 million in the form of dividends to its shareholders, which yields to 6.5%, considerably higher than that of its competitors. So I believe that CTL should cut its dividends; the company would remain competitive among its peers despite the cut. The company has suffered in its traditional telephone services, mainly because of technological changes as users continue to move from voice to data services. So, it is important for the company to keep up with the pace of technological innovation and develop new products and services. The company needs to give up on its dividend-centric strategy and needs to invest in new projects to gain access to more up-to-date technology, which would enable it to compete more aggressively and gain a greater market share.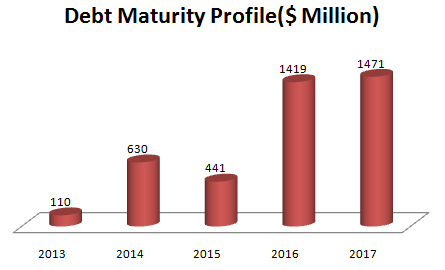 Source: Company Data
Furthermore, the chart given above shows the company's debt maturity profile for five years, and it shows that the company has a significant amount of debt, which is near to maturity. As indicated by the company, it might have to take new debts to repay old debts. The company's debt rating has already been below the investment grade, which means it has limited access to capital markets, and has high borrowing cost. So, if the board decides to cut dividends, the excess money could be used to pay off debt. Lastly, the repurchased common stock has been retired, which will help the company boost its earnings per share.
| | |
| --- | --- |
| Companies | Total Debt/Equity |
| Verizon Communications, Inc. (NYSE:VZ) | 57.08 |
| AT&T, Inc. (NYSE:T) | 87.97 |
| CTL | 111.88 |
Source Yahoo Finance
Stock Repurchase
The company has managed to repurchase 28.3 million shares with a market price of $1,010 million; meaning an average price of $35.69 per share. If we continue with the same average price, CTL would manage to repurchase another 27.7 million shares with the remaining $990 million, which would bring the total to 56 million shares. So, with the stock purchases, the company has not only managed to return $2 billion to its shareholders, but it will eventually help save around $121 million (56 million*$2.16) annually from dividends. Furthermore, after the dividend cut announcement earlier this year, the company managed to benefit from the lower stock price, which means that the management strongly believes that shares are currently trading at a discount.
Conclusion
| | | | | |
| --- | --- | --- | --- | --- |
| Companies | P/S | P/E | Dividend yield | PEG |
| T | 1.39x | 25.54x | 5.00% | 2.07 |
| VZ | 1.11x | 84.66x | 4.30% | 1.61 |
| CTL | 1.07x | 18.56x | 6.50% | 9.05 |
Source: Yahoo Finance
The current stock price of the company is depressed, which means that $33.31 is a good entry point. The company is also trading at cheap valuations, based on the P/S and P/E multiples. The company provides significant upside potential both in terms of price appreciation and dividends. However, it is important for the company to further diversify its business, so that it can decrease its reliance on the traditional wireline business.
Disclosure: I have no positions in any stocks mentioned, and no plans to initiate any positions within the next 72 hours. I wrote this article myself, and it expresses my own opinions. I am not receiving compensation for it (other than from Seeking Alpha). I have no business relationship with any company whose stock is mentioned in this article.