By Taras Berezowsky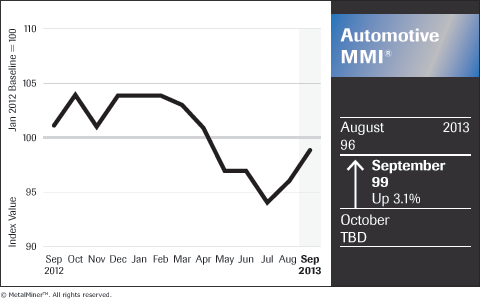 In 2013, we'll likely reach all-time U.S. auto sales highs as August sales beat demand at 16.09 million units on an annual basis. GM reaped the biggest benefits, posting an increase of 14.7%.
That's why the monthly Automotive MMI® continues to outperform most of the other indexes in MetalMiner's MMI series, by climbing 3.1 percent from 96 to 99 in September.
Car sales have grown due to leasing arrangements as opposed to actual outright car purchases. Consumer confidence and easier credit have allowed car companies to reap the benefits of these types of sales. According to the New York Times, leasing has seen a revival due to low interest rates, a strong used car market with higher residual values.
However, today's U.S. unemployment figures didn't necessarily overwhelm – they "fell slightly to 7.3% in July, its lowest level in over four years, but the sluggish pace of recovery continued as the economy added just 169,000 new jobs."
"Auto sales numbers have helped support the monthly index, though with auto sales at pre-recession highs, we find it curious that the Automotive MMI® hasn't performed even better," said Lisa Reisman, managing editor of MetalMiner. "This month's MMI saw price support from precious metals, rising copper and aluminum prices."
Nonetheless, the two-month upward price trend reflects positive demand.
Metal Drivers of Automotive Price Index
The price of Chinese lead rose 6.3 percent over the past month, the second straight month of gains. The price of U.S. platinum bar closed the month up 5.9 percent.
For the second month in a row, the 3-month price of copper increased, rising 4.6 percent on the LME over the past month to $7,122 per metric ton. The cash price of primary copper rose 4.3 percent on the LME over the past month to $7,094 per metric ton.
After rising the previous month, U.S. palladium bar prices jumped 9.4 percent.
The price of Korean 5052 coil premium over 1050 sheet increased 1.0 percent last month. Last month was consistent for U.S. HDG, which did not move.