There is something interesting happening with BlackBerry (BBRY), which does not line up with the conventional wisdom. For the three months ended June 30, 2013, StatCounter shows BlackBerry with just 2.8% of the North American smartphone market share (base on web usage data). Apple (NASDAQ:AAPL) pretty well owns the market with 52.0% and Samsung takes the Bronze medal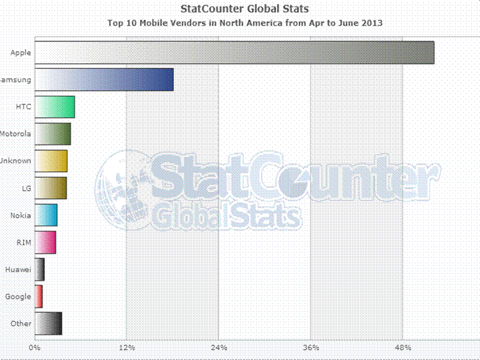 with 18.1%. There is nothing too surprising there.
Roll ahead to the third quarter, still under way. Now the picture is somewhat different. Apple share has dropped a bit to 50.9%, call it virtually unchanged within the bounds of measurement. Samsung is up a bit at 18.8%, again virtually unchanged but with a positive bias. BlackBerry, on the other hand, has jumped from 2.8% to 4.9%, an increase of 75% in a few weeks.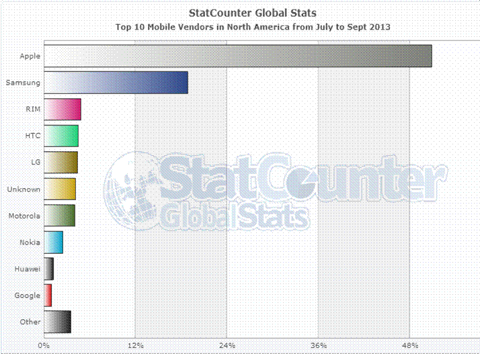 Equally impressive given all the negative sentiment, BlackBerry has moved into third place not in Africa, not in Latin America, not in Indonesia and not in the United Arab Emirates, all former BlackBerry strongholds, but right here in North America.
While the takeover speculation is behind the recent stock price moves, at the end of the day the value of BlackBerry will at least in large measure depend on the success of its products. Perhaps this one datum is grasping at straws, but it is a minor positive in an ocean of negatives so I thought it useful to point it out.
I am long BlackBerry calls, most of them underwater but some showing signs of life.
Disclosure: I am long BBRY. I wrote this article myself, and it expresses my own opinions. I am not receiving compensation for it (other than from Seeking Alpha). I have no business relationship with any company whose stock is mentioned in this article.
Additional disclosure: I hold calls on BlackBerry