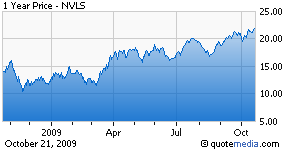 Novellus Systems (NASDAQ:NVLS-OLD) is expected to report Q3 earnings after the market close on Wednesday, October 21, with a conference call scheduled for 4:30 pm ET.
Guidance
The consensus estimate is (4c) for EPS, with the range being break-ever to (7c) and $172.43M for revenue, according to First Call. Novellus' guidance provided on their Sept. 3 mid-quarter update was for EPS of 0c-(9c), revenue of $160M-$180M, gross margin of 40% plus/minus 2%, tax rate of 20%, orders $156M-$172M, and shipments $150M-$170M.
Analyst Views
RBC Capital expects Novellus to meet its Q3 estimates of $170M and (4c). The firm expects orders and shipments in-line with guidance. For Q4, RBC recently revised its estimates to $230M and 21c, vs. consensus of 16c and $218M, company guidance is for revenues of $200M-$230M and EPS of 10c-20c. RBC expects Q4 orders to be up in the 30%-40% range. Citigroup listed the following items as key issues for the conference call should be: an update on ability to extend cost controls as revenues ramp and more proof points around what Citigroup now think is approximately $3.00-$3.50 peak EPS; comments on the potential expansion of the market as DRAM fully converts to copper this cycle ; and and update on the PECVD and PVD markets where Novellus has struggled.