Current Situation:
On 7/1/13, media conglomerate News Corporation separated its business into two individual companies: 21st Century Fox (NASDAQ:FOX) and new News Corp (NASDAQ:NWSA). The FOX business contains old News Corp.'s valuable entertainment and media assets, while new News Corp. predominately contains the less desirable news and information services assets. The board of director's principal objective was to create two separate entities that will operate more efficiently on an individual basis.
New News Corp. was given a fortress balance sheet; including a cash position of $2.6 billion (accounting for 27% of the company's market capitalization) and no long-term debt obligations with the exception of a $500mm legacy obligation. Media mogul and CEO of old News Corp. Rupert Murdoch serves as new News Corp.'s Executive Chairman and owns approximately <1% of new News Corp.'s Class A shares outstanding and 39.4% of new News Corp.'s Class B shares outstanding.
After reading SEC Filings and management's presentation, I strongly believe new News Corp. is an undervalued company with a tremendous upside.
Company Overview
New News Corporation is a diversified global media and information services company. The Company's operating segments include news and information, book publishing, and education services, and holds equity investments in subscription TV and a digital real estate business.
Business Segments:
News and Information Services (~$939mm 2012 EBITDA) The news and information services segment is the core of new News Corp.'s business, generating the majority of the Company's total earnings (~77% of 2012 total sales). The segment contains subsidiaries News International, News Limited, Dow Jones, The New York Post, and News America Marketing Group. Over the past decade, the online availability of free news content, coupled with mobile accessibility of said content has created secular tailwinds adversely affecting the print newspaper industry. News Corp.'s YoY advertising and subscription revenue decreased 7% and 8%, respectively. Their once dominant competitors, The Washington Post (WPO) and The New York Times (NYSE:NYT), witnessed similar declines in revenue and circulation volume attributed to their respective print newspaper segments on a YoY basis over the past decade.
The secular tailwind acted as a catalyst for new News Corp.'s management to begin directing their initiative towards investing in digital monetization in an effort to become a multi-platform news provider, much to the likes of virtually every newspaper provider. The ultimate success or failure of new News Corp.'s digital initiatives will be decided by the company's ability to leverage its publications' brand name recognition and content quality across its digital platforms. So far, no company in the entire newspaper industry has experienced success in their digital platforms with the exception of the Wall Street Journal and Barron's (Two publications owned by new News Corp.).
News Publications
News International publishes The Times, The Sunday Times, and The Sun, which account for 1/3 of all national newspaper sales in the U.K. Each brand has its merits:
The Sun is the UK's #1 weekly popular title by print sales.
The Sunday Times is the UK's #1 quality Sunday newspaper.
The Times is the UK's #1 quality title by total paid sales volume.
News International has been subject to a considerable degree of controversy following accusations of employees allegedly engaging in phone hacking, police bribery, and exercising improper influence in the pursuit of publishing stories. Not diving too much into specifics, the recent material effect of the scandal was a $144mm expense throughout a period of 9 months ended March 31, 2013 related to legal and professional fees and costs for civil settlements that elevated the company's SG&A expense.
News Limited is Australia's largest newspaper publisher, whose titles account for 63% of the country's daily and Sunday newspaper circulation. The segment also publishes the only nationally distributed general interest newspaper in Australia. News Limited's local news publications have economies of scale though its penetration into specific metropolitan, regional, and suburban markets. News Limited also publishes 12 magazine titles read by more than 2.5 million Australians on a monthly basis.
Dow Jones is a recognized global provider of news and business information, with newspaper, newswire, website, mobile, newsletter, magazine, database, conference, radio and video businesses. Dow Jones offers a publication mix targeting individuals, institutional investors, and businessmen. Its product mix includes The Wall Street Journal, Barron's, Dow Jones Newswire, Factiva, Market Watch, and Smart Money. Old News Corporation originally purchased Dow Jones in 2007 at an enterprise value of $5.7 billion, equating to 50x Dow Jones' 3-year average trailing EBIT. Was the considerable premium justified? Dow Jones' most valuable publication is the Wall Street Journal.WSJ comes with a rich 120 year history and is the number one selling newspaper in the US by circulation. WSJ's competitive advantages somewhat legitimize the absurd premium paid by News Corporation.
WSJ's brand name recognition and high quality content allowed the company to grow its circulation volume consistently YoY from 1998 to 2012, as well as its circulation revenue at a CAGR of 8% over the same period. Meanwhile, during the same time frame, the aggregate newspaper market experienced a decline in circulation volume.
The fact that 43% of WSJ readers are millionaires provides new News Corp. a valuable pricing power advantage and a reoccurring customer base.
Book Publishing (~$111mm 2012 EBITDA) The Company operates HarperCollins, the second largest English language consumer publisher, publishing over 200 best sellers every year. The company also owns Thomas Nelson, the #1 publisher of Christian books. While the demand for books in general remains fairly steady, the means by which consumers choose to read is shifting from printed books to e-books and tablets (E-books accounted for 21.3% of HarperCollins' Q3 FY12 revenue, materially higher when compared to Q3 FY08, when digital sales only accounted for 1.1% of revenue). To adapt and capitalize on the trend, the Company intends to undergo a large scale digital transformation (only 30,000 of the 100,000 titles offered by HarperCollins are available in the digital format) by centering its attention on its digital platform, expanding its e-book catalog, and growing its e-book storefronts through expanding its sales avenue.
Contrary to popular belief, the movement to e-books and tablets has beneficial, rather than adverse effects on publishers. Despite lower revenues on a book to book basis (e-books retail for less than print books), publishing content via the E-Book format will actually benefit the company's profitability and increase margins via lowering the fixed costs associated with a printed book. As illustrated below, the per unit contribution margin of an e-book vs. a hardcover book is 75.0% and 41.4%, respectively. The structural shift to a digital platform will also lead to a reduction in working capital requirements as a result of quicker payments, lower inventory requirements, and lower customer returns.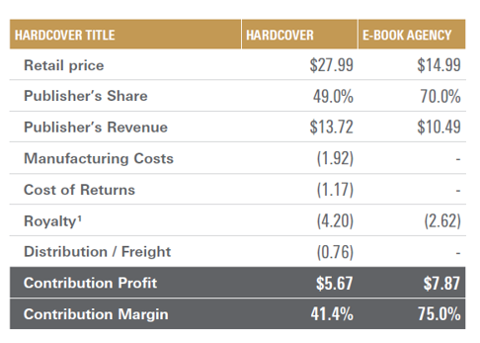 Digital Real Estate Services (~$129mm 2012 EBITDA) New News Corp. has a 61.6% consolidated stake in the largest residential property website in Australia, REA Group (REA.AX). REA Group, a publicly traded Australian company, has a market capitalization of $4.51bn USD, implying New Corp.'s stake equals approximately $2.78bn.
REA Group accounts for 75% of the total minutes spent on property sites in Australia. The segment reported a 40% NPAT CAGR over the past 10 years, 18% revenue CAGR from 2010 to 2012, and 24% EBITDA CAGR from 2010 to 2012. REA Group offers subscription, listing, and brand services centered on the entire property life cycle insisting of customer digital office, buy & lease existing property, new property, renovate, finance property, and data & analytics.
The diversified service mix offered through one channel makes the business highly scalable, evident in 39.0% to 45.1% EBITDA margins over the last three years. Management is taking advantage of REA Group's scalability by expanding its global footprint.
Television & Media (~$483.50mm 2012 EBITDA) In November 2012, new News Corp. completed its acquisition of Consolidated Media Holdings Ltd, an Australian media holding company for $2.235bn. CMH had a 25% interest in Foxtel and a 50% interest in Fox Sports Australia. The acquisition increased News Corp.'s equity stake in Foxtel and Fox Sports Australia to 50% and 100%, respectively. The transactions imply new News Corp.'s stake in Foxtel and Fox Sports Australia equates to roughly $4.47bn.
New News Corp.'s Form 10-12B/A states that Foxtel's operating results are not reported in new News Corp.'s pro forma income statement following the acquisition. As a result, new News Corp.'s reported pro forma revenue, EBITDA, and earnings do not provide an accurate picture of the company's true earnings when accounting for acquisitions. 2012 Pro-forma EBITDA excluding Foxtel equates to $1,124mm, while EBITDA adjusted for the Foxtel acquisition equals approximately $1,574mm. Using the adjusted EBITDA figure, the Company current trades at 4.7x EBITDA.
Fox Sports Australia is the #1 sports broadcaster in Australia. Recurring subscriptions largely contribute to the revenue generated by the business as a result of the exclusive content offered by Fox Sports Australia. The company's major sports content is secured through contracts set to expire between 2016 and 2017. Foxtel, a monopoly subscription TV provider, delivers 200 channels to a subscription base of over 2.3m subscribers (~30% of population).
Digital Education (~121mm loss 2012 EBITDA) The final operating segment is Amplify, a digital education business. Founded in 2000 as Wireless Generation, the segment was acquired in 2011 for $390mm. Despite operating at a loss, Amplify's average annual revenue growth rate has been 22% over the past 5 years. As public schools continue to incorporate technology into classrooms, Amplify is strongly positioned to exploit the tailwind.
Valuation:
The company currently trades at around $16.00 per share, or about 6.5x year-end March 31, 2013 pro-forma EBITDA and 4.7x adjusted EBITDA (adjusted for Foxtel acquisition), a deep discount to intrinsic value. At only 4.7x adjusted EBITDA, the market values new News Corp. as solely an undesirable print newspaper business. The valuation is fairly suitable at first glance considering:
New News Corp.'s newspaper business contributes to 77% of the entire Company's revenue, leading the public to perceive the entire company as an undesirable and dying newspaper business.
News International's current litigation predicament.
Indiscriminate selling amongst institutional investors.
Additionally, on a price to earnings basis, the Company's cringe worthy negative trailing earnings per share may further deter perspective value investors. With that said, reported net income is distorted in two ways:
First, the news and information segment recorded a huge $2.7b non-cash goodwill & intangible asset impairment charge in Q2 FY'12. I believe the charge could be dramatically overstating the true impairment of economic goodwill. Recall the outlandish premium the Company paid to acquire Dow Jones in 2007(50x 3-year average trailing EBIT)? The acquisition resulted in a large goodwill and intangible asset figure on the Company's balance sheet. An overstated goodwill impairment expense seems logical considering the trend of print newspapers and the probable discrepancy between Dow Jones' fair value and the acquisition price News Corp. paid. Furthermore, I also believe the overstated impairment charge is a onetime occurrence due to the fact the Company has not been impairing its newspaper assets at the rate in which the newspaper industry has been deteriorating (Only 25mm and 19mm were recorded as impairment charges in 2011 and 2012, respectively). Therefore, the $2.7b impairment expense likely represents the accumulated impairment the Company chose to forgo in previous years. If impairment charges were exempt from P/E, I estimate the company would trade at around 10x earnings. Impairment charges related to newspaper assets is likely in the future; however, on a considerably less scale.
Second, new News Corp. incurred a $483mm Depreciation & Amortization expense in FY12 that further lowered net income. The D&A expense overstated actual capital expenditures, which equaled $375mm in FY12.
New News Corp.'s core newspaper business conceals the underlying value of the Company's non-core segments. With each segment warranting a separate valuation based on different business economics and future prospects, a sum-of-the-parts valuation method is most appropriate for determining new News Corp.'s intrinsic value. (EBITDA multiples reflect industry averages; Digital Real Estate's value is reflected as new News Corp.'s equity stake times REA Group's current market cap; Fox Sports Australia and Foxtel value is reflected as the amount new News Corp. paid for CMH in 2012 times two)
$9.45b Market Cap. + $497mm Pension Liability - $2.6b Cash = $7.35b Enterprise Value
News and Information Services = $939mm EBITDA x 4-6 = $3,756 - $5,634mm or $6.41-$9.60 per share
Book Publishing = $111mm EBITDA x 8-10 = $888 - $1,110mm or $1.51-$1.90 per share
Digital Real Estate = $2,778mm or $4.74 per share
Fox Sports Australia and Foxtel = $4,470mm or $7.63 per share
EV Range: $11,892 - $13,992mm
Market Capitalization: $13,995 - $16,095mm
Intrinsic Per Share Value: $24 to $27.6, >50% upside
Using conservative multiples, HarperCollins, as well as the Company's stake in REA Group, Foxtel, and Fox Sports Australia (totaling ~$7,758mm) are worth at least new News Corp.'s enterprise value. This implies an investor buying News Corp. will receive the UK and Australia's #1 newspaper publication, the WSJ, and its Amplify business for free. So then, does the news and information segment deserve at least a 4x EBITDA multiple?
A conservative 4x EBITDA is more than an appropriate multiple to reflect the secular trends affecting the newspaper industry because:
Unlike most of the overleveraged newspaper businesses who trade at the 4-6x EBITDA multiple, new News Corp. is equipped with a strong balance sheet and no serious long term debt obligations.
Finally, its gross and operating margins have been about 100 basis points higher than that of its closest competitors.
Catalysts:
Litigation expenses equaling approximately $200 million annually related to the News International phone hacking scandal has been inflating new News Corp.'s SG&A expenses. As the lawsuits taper down, operating margins will begin to expand and augment free cash flow. Investors' confidence will gradually restore as the sour taste created by the scandal slowly diminishes.
General lack of in-depth information and transparency conceals its underlying value. Despite management presenting the company as a multi-channel business, the market trades the stock as strictly a newspaper business, neglecting its underlying subsidiaries and equity investments. Most news reports covering the spin-off portray new News Corp. as strictly a newspaper business. Overtime, the hidden value of the Company will be unlocked following more public recognition, further understanding of the entire business, and non-newspaper media related acquisitions.
At the current valuation, the market does not put any faith in the Company's ability to sustain current EBITDA levels. There are numerous factors that will potentially offset the newspaper businesses' declining EBITDA: lower corporate overhead spending (~$60mm EBITDA loss in 2012), Amplify reporting positive EBITDA as it crosses its break-even point, HarperCollins increasing its EBITDA as it gains more exposure in e-books, and REA Group continuing its rapid EBITDA growth. Reporting consistent EBITDA, an attribute not linked to a dying business, will prompt the market to reevaluate the dynamics of new News Corp.
Management utilizing its FCF, I estimate around $500mm for FY13, to create value for shareholders through share buybacks or a dividend declaration.
Net income stabilizes following the normalization of impairment charges.
Conclusion:
Given the sum-of-the-parts valuation, I believe that new News Corp. is tremendously undervalued. Because the combined value of the Company's 4 non-core segments (Foxtel, Fox Sports Australia, REA Group, HarperCollins) equal its enterprise value, an investor purchasing new News Corp. will receive the newspaper segment for free.
Disclosure: I am long NWSA. I wrote this article myself, and it expresses my own opinions. I am not receiving compensation for it. I have no business relationship with any company whose stock is mentioned in this article.