Throughout 2009, Boost Mobile has been at the forefront of a prepaid resurgence in the wireless industry. Boost's distinctive "Unwrong'd" campaigns have been all over the media for much of the year, but have they helped Boost gain any traction in the wireless world?
As it turns out, Boost had the right idea. Not only has its traffic increased significantly over the last year, but the prepaid market as a whole is experiencing a boom. Based on Compete's clickstream data, overall Prepaid Prospect Traffic (non-Customer traffic to Boost, GoPhone, VZW Prepaid, ToGo, Tracfone, Virgin Mobile USA) has increased 12% Y-o-Y.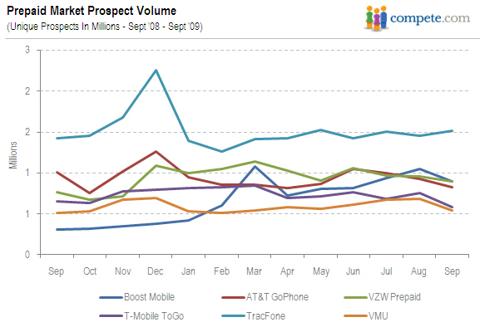 Boost saw the largest increase in traffic year over year (up 185%)
Boost's growth appears to have come at the expense of AT&T and T-Mobile's prepaid offerings (down 18% and 12% year over year, respectively)
The majority of this new interest comes from the introduction of attractive new offers. Boost in particular has capitalized on the launch of its $50 Unlimited plan in January 2009 (see the dark blue spike in the chart above). Even today, 9 months after launch, Boost's Unlimited plan page continues to attract over 40% share of the monthly traffic to Boost Mobile's website. In conjunction with the new plan, Boost continues to grow its footprint and today only trails TracFone and VZW Prepaid in coverage. However, Boost Mobile's competitors have certainly been taking notice and are introducing their own versions of unlimited plans to try to capitalize on this growth too.
These plans have been particularly effective as consumers have become increasingly price-sensitive over the last 12 months. A recent Compete survey of over 450 prepaid shoppers indicates:
73% of prepaid shoppers agreed that they had cut back more on expenses this year compared to last year
75% recalled having spent more time shopping around for bargains in recent months
65% agreed that they have cut back on discretionary spending (e.g. eating out, etc)
As consumers become more frugal and economic pressures continue to intensify, cost-cutting and bargain hunting become key tactics for consumers and the prepaid carriers are certainly benefiting.
With the introduction of plans that include unlimited text and web, consumers need devices that allow them to take advantage of this increased flexibility. In the past year, we have seen prepaid providers start to offer some more feature-rich, quick messaging devices, but these devices still make up a small percentage of the overall device portfolio. A recent Compete survey of over 450 prepaid shoppers indicates that 36% of prepaid shoppers want a phone with more functionality. They want to do more with their phone then just simply make calls. Already, we see prepaid Customers participating in the following activities:
80% of prepaid Customers are making voice calls at least 1x a week
50% are sending text messages at least 1x a week
20% are playing games, sending picture messages, using the mobile internet, accessing personal email, and using IM tools
So, how will the prepaid carriers attract new Customers going forward and capitalize on this year's momentum? We have seen that new plans and advanced features have been successful, but what is next? They need to offer more advanced, feature-rich phones at reasonable prices to ensure that their Customers can take advantage of these new plans.