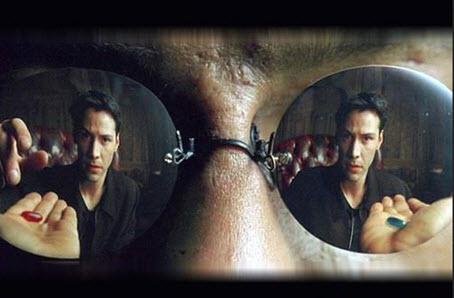 The much anticipated Non-Farm Payrolls report was a stinker. Not only did the number of new jobs (169K) miss expectations (180K) but the prior data was revised lower from 160K to a stunning 104K. Full time jobs were +118K and part time jobs -234K. The unemployment rate fell to 7.3% from 7.4%. Soon, with so many not looking for work (the labor participation rate currently at 1978 lows), the deceptive unemployment rate will fall to unimaginable lows. That's the statistical gimmick the methodology has created.
After the markets fell sharply on employment news, the bad news bulls appeared to rally stocks as they reasoned a Fed taper was unlikely this month given the perfectly bad data.
Later this afternoon, some wise guys in Syria claimed Assad launched another chemical weapons attack and markets started to fall into the close.
No, you shouldn't be able to make this stuff up, but they've been doing a good job of doing so the last decade.
In the end, neither bulls nor bears could gain the upper hand as the first of the three big September events passed. Next up is the Fed Meeting or Syria.
Markets moving higher Friday were mostly from previously beaten down sectors: Emerging Markets (NYSEARCA:EEM), Brazil (NYSEARCA:EWZ), Mexico (NYSEARCA:EWW), Korea (NYSEARCA:EWY), Homebuilders (BATS:ITB), REITs (NYSEARCA:IYR), Bonds (NYSEARCA:TLT), Gold (NYSEARCA:GLD) and Oil (NYSEARCA:USO). Everything else was more or less unchanged.
Volume was the heaviest we've seen in months as investors reacted to the employment report both logically to the downside and then cynically on the rally. Breadth per the WSJ was positive overall.

Follow us on twitter and become a fan of ETF Digest on facebook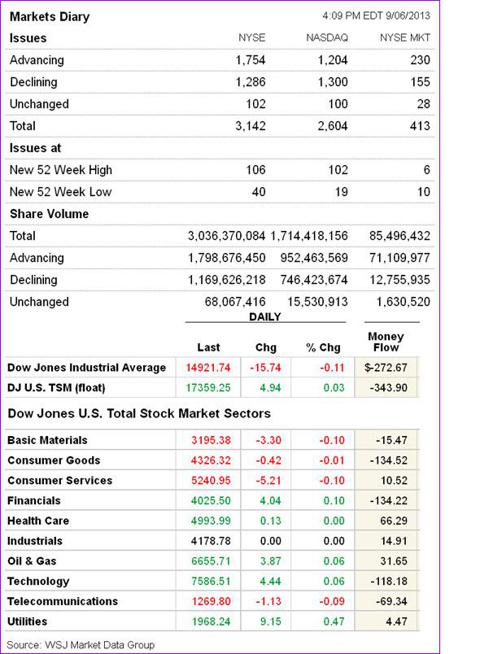 NYMO
The NYMO is a market breadth indicator that is based on the difference between the number of advancing and declining issues on the NYSE. When readings are +60/-60 markets are extended short-term.
NYSI

The McClellan Summation Index is a long-term version of the McClellan Oscillator. It is a market breadth indicator, and interpretation is similar to that of the McClellan Oscillator, except that it is more suited to major trends. I believe readings of +1000/-1000 reveal markets as much extended.

VIX

The VIX is a widely used measure of market risk and is often referred to as the "investor fear gauge". Our own interpretation is highlighted in the chart above. The VIX measures the level of put option activity over a 30-day period. Greater buying of put options (protection) causes the index to rise.

SPY 5 MINUTE

SPY DAILY

.SPX WEEKLY

INDU WEEKLY

RUT WEEKLY

QQQ WEEKLY

QQEW WEEKLY

IBB WEEKLY

XLF WEEKLY

XLY WEEKLY

ITB WEEKLY

IYR WEEKLY

MUB WEEKLY

TLT WEEKLY

UUP WEEKLY

FXE WEEKLY

FXY WEEKLY

GLD WEEKLY

SLV WEEKLY

JJC WEEKLY

GCC WEEKLY

USO WEEKLY

VEA WEEKLY

EEM WEEKLY

EWY WEEKLY

EWJ WEEKLY

EWA WEEKLY

AAXJ WEEKLY

EWZ WEEKLY

FXI WEEKLY
...
The markets remain in Bizzaro Land. Surely the reality of ongoing unemployment and part time hiring to avoid Obamacare should weigh on markets more than we're seeing. On the other hand corporate buybacks financed by low interest rates and ongoing Fed liquidity injections are the new bullish norm. It's difficult to deal with these realities emotionally. But investors either must go with the dictates of the tape or stand aside.
Let's see what happens.
Disclaimer: The charts and comments are only the author's view of market activity and aren't recommendations to buy or sell any security. Market sectors and related ETFs are selected based on his opinion as to their importance in providing the viewer a comprehensive summary of market conditions for the featured period. Chart annotations aren't predictive of any future market action rather they only demonstrate the author's opinion as to a range of possibilities going forward. More detailed information, including actionable alerts, are available to subscribers at www.etfdigest.com.
Disclosure: I am long QQQ, QQEW, IBB, XLY, GLD, SLV, USO. I wrote this article myself, and it expresses my own opinions. I am not receiving compensation for it. I have no business relationship with any company whose stock is mentioned in this article.