By RJ Towner
The US' two home improvement giants, Home Depot (NYSE:HD) and Lowe's (NYSE:LOW) posted robust second-quarter results, riding the housing recovery to success. Let's dive into recent performance.
Home Depot
Home Depot's second-quarter sales were 9.5% higher than a year ago at $22.5 billion, handily exceeding consensus estimates. Earnings per share jumped 23% year-over-year to $1.24, also higher than consensus expectations. Free cash flow stands at $4.1 billion year-to-date, equal to 9.9% of total revenue.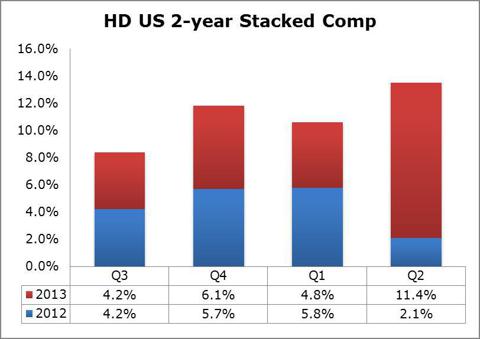 Source: Valuentum, Company Filings
Same-store sales expansion at Home Depot during the second quarter was fantastic, as total same-store sales jumped 10.7% year-over-year driven by an 11.4% growth rate in the US. Some sales of weather-sensitive goods were pushed into the second quarter due to the cool temperatures in the first quarter, but the trend is still overwhelmingly positive, in our view. The housing recovery continued through the beginning of August.
Needless to say, Home Depot is one of the firms with the most exposure to an improving housing market, not just from individuals making improvements, but also from a robust contractor business. Management noted that both large and small professional purchase activity accelerated during the quarter.
Similar to Best Buy (NYSE:BBY), Home Depot is capitalizing on consumers feeling more confident in making large purchases such as appliances and lawn mowers. Management commented on the robust growth rate of big ticket items, as Executive Vice President Craig Menear pointed out on the conference call:
"Transactions for tickets under $50, representing approximately 20% of U.S. sales, were up 3.8% for the second quarter, principally due to our garden business. Transactions for tickets over $900 also representing approximately 20% of our U.S. sales were up 15.5% in the second quarter driven by the strength in appliances, riding mowers, flooring as well as continued improvement from our pro business."
While we do not expect double digit growth in expensive items to continue indefinitely, the trend should be sustainable as long as the housing market recovery continues.
On the margin side of the equation, Home Depot's gross margin expanded a modest 10 basis points year-over-year, to 34.3%. Improved shrink and supply-chain initiatives offset a negative mix shift. SG&A declined 70 basis points year-over-year as a percentage of sales to 19.1% as the firm was able leverage fixed costs.
Looking ahead, Home Depot raised its full-year outlook materially. The firm anticipates total revenue growth of 4.6% driven by a 6% increase in same-store sales (was 2.8% and 4%, respectively). Home Depot expects earnings per share of $3.60, up from its prior forecast of $3.52.
Lowe's
Lowe's second quarter results also exceeded consensus estimates on both the top and bottom lines. Sales jumped 10.3% year-over-year to $15.7 billion, driving earnings per share 38% higher to $0.88. Year-to-date, the firm has generated free cash flow of $3 billion, equal to 10.6% of total revenue.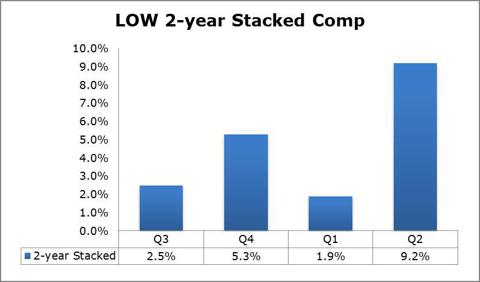 Source: Valuentum, Company Filings
Without question, Lowe's second-quarter performance bucks the recent trend of modest growth. Same-store sales jumped 9.6% during the second quarter compared to a decline of 0.7% during the first quarter. Management proclaimed that much of the strength was due to internal improvement, but we believe Lowe's was simply a beneficiary of the strengthening housing market. The 2-year stacked comp trends from Home Depot and Lowe's suggest Lowe's is losing market share to its larger rival.
Lowe's did a fine job on the cost side, as gross margins expanded 40 basis points year-over-year to 34.4%. This metric is roughly in-line with that of Home Depot, but it certainly represents a strong improvement over the prior-year period. Management attributed the increase to better value, or in other words, a reduction in the number of clearance items. As with same-store sales performance, it is easier to achieve margin improvements when demand is robust.
Thanks to sales leverage, SG&A costs as a percentage of revenue declined 50 basis points year-over-year to 21.7%. Lowe's has worked on improving its workforce via a voluntary separation program last year and by reworking commission splits, which have also had a positive impact on bottom-line performance.
Going forward, Lowe's expects same-store sales growth in fiscal year 2013 of 4.5% and total sales growth of 5%, up from prior forecasts calling for 3.5% and 4% expansion, respectively. Lowe's also boosted its annual earnings outlook by $0.05 per share to $2.10.
Valuentum's Take
Home Depot's consistently positive sales trends during the past few years and lower SG&A costs sway us to believe it is a better run company than rival Lowe's. In fact, Lowe's recent sales trends had been relatively mediocre, especially when taking the improving housing market into consideration.
Still, we don't believe the valuations of either company looks attractive at this time. Our favorite housing-related plays remain outside of the home improvement space. Best Ideas Newsletter holding Ford (NYSE:F), which is selling a tremendous amount of F-series pickup trucks, is a particular favorite of ours, and we also like appliance maker Whirlpool (NYSE:WHR), which we think has material valuation upside.
Disclosure: I am long F. I wrote this article myself, and it expresses my own opinions. I am not receiving compensation for it (other than from Seeking Alpha). I have no business relationship with any company whose stock is mentioned in this article.
Additional disclosure: RJ Towner is Director of Research Development at Valuentum Securities. F is included in the portfolio of our Best Ideas Newsletter.