ViroPharma (VPHM) is an international biopharmaceutical company which develops and commercializes drugs that are used for the treatment for Hereditary Angioedema, or HAE.
The increasing prevalence of HAE provides a tailwind opportunity for the biopharma companies that are producing drugs for this medical condition such as Shire Human Genetic Therapies ,CSL Behring , ViroPharma, Sanquin ,Dyax Corp., Pharming NV , Halozyme Therapeutics and BioCryst. Out of these companies, I believe ViroPharma is well positioned to monetize this opportunity through its Cinryze therapy.
The limited use of first-line steroids on Cinryze and in-house subcutaneous Cinryze would further impact positively on company's growth. I expect ViroPharma to continue adding patients to Cinryze therapy on a continuous basis going forward. In addition, ViroPharma also has strong potential with Maribavir, which will be used for the treatment of human cytomegalovirus, or HCMV, disease.
About HAE: HAE is one of the very rare and life-threatening genetic disorders. The symptoms include episodes of edema or swelling in various body parts including the hands, feet, face, and airway. Patients suffering from HAE have a genetic defect that controls a blood protein called C1 Inhibitor. This results in production of either inadequate or non-functioning C1-Inhibitor protein. Since defective C1-Inhibitor cannot effectively perform its regulatory function, a biochemical imbalance occurs and produces unwanted peptides that induce the capillaries to release fluids into surrounding tissue, thereby causing edema. According to the U.S. Hereditary Angioedema Association, around 6,500 to 10,000 patients in the U.S are suffering from HAE. There are an estimated 3,400 HAE patients in Canada, 5,000 - 10,000 HAE patients in Europe, and 15,000 HAE patients worldwide.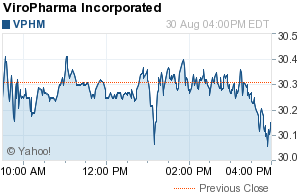 ViroPharma is known primarily for its leading product Cinryze, which has an Orphan Drug designation for the prophylactic treatment of HAE in the U.S. as well as acute and pre-surgical use in Europe. The company's other products are Vancocin, Buccolam, and Plenadren.
Cinryze's advantage against its competitors
It is the first and only FDA approved (Oct-2008) C1 esterase inhibitor therapy for routine prevention of HAE attacks in both the U.S. and Europe.
It is approved for both professional and in-home injection allowing the patients flexibility to use the therapy at their convenience.
Pipeline of Approved Products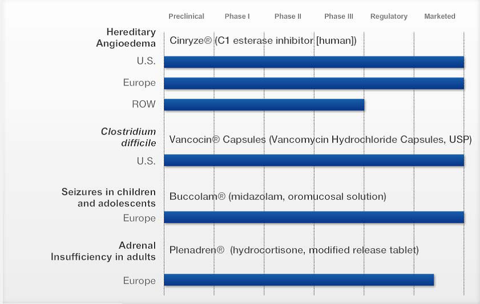 Cinryze is the backbone of the company
For patients suffering from HAE, ViroPharma is a godsend. It is administered as an intravenous injection to prevent attacks and swelling in teenagers and adults suffering from HAE. This therapy provides the body with enough working C1 esterase inhibitor to help prevent the causes of swelling and is proven to reduce the frequency, duration, and severity of HAE attacks. Normally, C1 esterase inhibitor prevents production of bradykinin, which is a protein that causes vessels to leak a large amount of fluid into the tissues.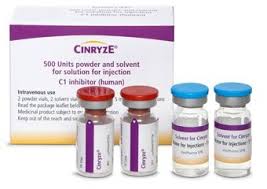 In its second-quarter of 2013, net sales were $104 million up from $95 million in the comparative period of 2012. Commercial product growth of Cinryze in the U.S and Europe is the primary driver of the increase in net sales quarter over quarter. Cinryze reported global sales of $95 million, representing growth of 23% over the 2012 period.
In the U.S., patient demand was $96 million for the quarter in comparison to $91 million in the first quarter for 2013. It shipped more than 22,000 doses to its specialty pharmacies and distributors, with dosing rates at an average of 1.8 doses per week. Even though a smaller percentage of steroid patients converted to Cinryze during the quarter, a larger proportion of new patients, and those previously managing HAE with acute treatment, began Cinryze therapy. Moreover, nearly 80% of its patients are administrating Cinryze therapy at home, which looks pretty impressive from a patient's point of view.
The company's management is estimating Cinryze to generate peak worldwide sales of $800 million in 2020. According to ViroPharma Management, the number of high-dose steroid-treated HAE patients in the U.S. has declined from around 1,500 at the time of Cinryze's launch in late 2008 to slightly less than 1,000 currently. Out of these 500 patients, around 300-400 patients shifted to Cinryze. Seeing the increasing number of patients, I believe that Cinryze patient additions can grow to $1billion in the HAE US market by the end of 2020, from $400 million currently. Moreover, Cinryze is now launched in the top five countries of Europe, which are the UK, France, Italy, Spain, and Germany. The company is anticipating profitability from this expansion in Europe in the next year.
In-House Subcutaneous Cinryze
ViroPharma has developed an optimized, low-volume subcutaneous formulation of Cinryze that is without rHuPH20, instead of Phase 2 study of subcutaneous Cinryze (C1 Esterase Inhibitor) with rHuPH20. As a result, ViroPharma expects to conduct a Phase 3 subcutaneous registration study with this alternative formulation in the same time frame that had originally planned to conduct testing for the combination product. The company plans to initiate Phase 3 trial in mid-2014. This new formulation is an improvement over prior non-rHuPH20 formulations, which caused injection site reactions. The new formulation contains new excipients (the older ones were known to be associated with pain/irritation), which could result in better tolerability and will potentially improve manufacturing cost of goods relative to rHuPH20. The company plans to deliver up to 2,000 IU of Cinryze in a single injection (the current IV dose is 1000 IU twice per week).
As noted on the most recent call for new formulation;
Vin Milano - ViroPharma Incorporated - Chairman, President, CEO

So the second question, or the first question in this case, was around have we done any Phase I work with our low-volume formulation.

Colin Broom - ViroPharma Incorporated - VP and Chief Scientific Officer

Now, we have done work on a prototype or earlier version, a low-volume that was a more concentrated formulation. So we do have pharmacokinetic data related to an injection -- a bolus injection subcutaneously. This new formulation, low-volume, that we'll be taking forward will advance into the first Phase I study. As I said earlier we're not anticipating there to be differences with the performance. It is Cinryze and it is using generally accepted as safe excipients.

Rachel McMinn - BofA Merrill Lynch - Analyst

So just a follow-up, I think with the earlier formulation that was a real concern about injection site pain and just pain around the [blood]. So do you feel comfortable with this newer formulation of resolving those issues because the volume is so much substantially lower, and like that's really it? Or is it something -- how do we know that it's not any C1 inhibitor would be really painful or any level of volume? I'm just trying to understand the competitive longer-term commercial implications of subcu without the Halozyme technology.

Colin Broom - ViroPharma Incorporated - VP and Chief Scientific Officer

Yes, Rachel, we are confident that the lower volume, very importantly, less volume administered will generate less reaction. In addition our very early work uses a more concentrated hyperosmolar formulation. This will be osmolar if it's normal. And also the excipients, generally accepted as safe excipients are benign in terms of tolerability. So I do expect this lower volume formulation should be better tolerated than our previous experience.
The new formulation is also developed in another tax jurisdiction, which will positively benefit the company's tax structure. ViroPharma's tax guidance for 2015 is 32%. By 2015, the company is expecting 30% of sales coming from Europe, $300- $500 million, and 70% from the US. Based on the product mix of business over the long-term, I assume that ViroPharma's tax rate could be close to 21% in the long-term with a 50/50 Cinryze mix. With 60/40 revenue mix, tax rate could be close to 24%. Going forward, I believe its own in-house subcutaneous formulation has both margin and tax benefits since it will not carry the 10% royalty obligation that was due Halozyme.
Earlier, ViroPharma's subcutaneous Cinryze collaboration with Halozyme (NASDAQ:HALO) was halted due to the presence of non-neutralizing antibodies that were reported among patients enrolled in the Phase 2 trial. The discontinuation of the study is a safeguard related to the emergence of an unexpected incidence of non-neutralizing anti-rHuPH20 antibodies in a number of patients. These antibodies have not been associated with any adverse clinical effects and are of unknown clinical significance. The study was fully enrolled and 41 patients completed at least one dosing arm of the study drug and a total of 20 patients completed both dosing arms. This data will be informative for design of future subcutaneous administration studies.
Maribavir breakthrough is the next catalyst
Maribavir is ViroPharma's experimental oral antiviral drug for the treatment of human cytomegalovirus, or HCMV, disease. Unlike the currently available anti-HCMV drug, which aims at UL54 HCMV DNA polymerase, Maribavir slows down UL97 and demonstrates in-vitro activity against resistant strains. By inhibiting UL97, Maribavir inhibits viral encapsulation and nuclear egress of viral particles, thereby avoiding infection of healthy cells. Along with this activity against resistant strains, it is generally better tolerated than existing anti-HCMV drugs, and I think it would fill an unmet medical need. In June 2013, ViroPharma received orphan drug label for Maribavir in Europe for the treatment of CMV in patients suffering from impaired cell mediated immunity.
Two months ago, the company announced encouraging results from the two ongoing, Phase 2 dose ranging studies investigating Maribavir for both first line treatment of HCMV viremia and treatment of resistant/refractory CMV. It is conducting two Phase 2 dose ranging studies of oral Maribavir at one of three doses, which are 400mg, 800mg, or 1200mg in transplant recipients. The separate studies were spurred by discussions with the regulatory agencies; the FDA supported the resistant setting and EMA supported use in front line. The first study is a randomized, active (valganciclovir) controlled Maribavir dose blinded multicenter Phase 2 study in up to 160 European hematopoietic stem cell or solid organ transplant recipients who have demonstrated CMV viremia but do not have CMV organ disease. The second study consists of a randomized, dose blinded multicenter Phase 2 study intended to enroll up to 120 hematopoietic stem cell or solid organ transplant recipients who have resistant or refractory CMV viremia with or without CMV organ disease.
According to ViroPharma's president and chief executive officer,
"We appear to have very good response about 90% in treating asymptomatic CMV viremia, which is what one would expect for a potent anti-CMV treatment. The resistant/refractory patients are more complicated, and we are seeing nearly 85% of patients attaining undetectable viral levels and a sustained antiviral response through the end of treatment in roughly half of the enrolled subjects, which is impressive given the lack of treatment options and high unmet need in these patients".
In both the ongoing studies, Maribavir shows a favorable safety and tolerability profile. Adverse events seen in these studies appear consistent with those expected in transplant recipient populations and what it has observed in more than 1,000 patients who have received Maribavir in previous clinical studies.
Phase 2 studies of Maribavir
 

EU- First line treatment of CMV viremia

US- Treatment of resistant/refractory CMV disease

Study No.

1263-203

1263-202

Regimens

MBV 400 mg BID

MBV 400 mg BID

MBV 800 mg BID

MBV 800 mg BID

MBV 1200 mg BID

MBV 1200 mg BID

Valganciclovir

-

Treatment Duration

Up to 12 weeks

Up to 24 weeks

Target N

160

120
After the earlier failure of Maribavir for prophylaxis, ViroPharma is proceeding cautiously by analyzing the data for three obstacles for a successful antiviral:
1) Efficacy
2) High barrier to resistance
3) Safety
Initial data from the first 83 patients treated across both studies appeared promising, with 92% of treatment-naïve and 84% of resistant HCMV patients achieving viral loads below the limit of detection, which demonstrates that Maribavir passed the first obstacle.
Initial data from the first 83 patients
 

1st line EU Study or Asymptomatic Patients

Resistant/Refractory US Study

Maribavir

Valganciclovir

Maribavir

Total Patients= 83

39

13

31

Viral loads below quantification limit

36 (92%)

9 (69%)

26 (84%)

Viral Breakthrough

2 (5%)

1 (8%)

11 (35%)

Failed

1

1

4

Withdrawn

2

3

1
However, the results included some study participants who had not completed the whole trial and therefore, could still have a viral rebound, and it didn't disclose how Maribavir performed at different doses. I am optimistic and assume a 50% chance that Maribavir is approved in the U.S. and Europe by 2016. Due to the larger available patient pool in both the European Union and the U.S., studies are expected to read out in the first half of year 2014. I expect ViroPharma is likely to get breakthrough title for Maribavir for treatment-resistant CMV infection.
Upside drivers for ViroPharma
1. Plenadren US approval - Plenadren is not approved in the U.S; however, it has received orphan drug label status in the U.S. and has maintained orphan status in Europe. The FDA decided that the data filed in the EU and approved by the European Medicines Agency related to use of Plenadren for treatment of adrenal insufficiency in adults isn't sufficient for assessment of benefit/risk in a marketing authorization submission in the U.S and that additional clinical data would be required. And according to the recent transcript call, it is very likely that company will get positive news on Plenadren from FDA very soon
Joseph Schwartz - Leerink Swann - Analyst

Okay, so if we can't get any insight into that now, when is the meeting expected to occur? When can we expect to get some clarity on the regulatory pathway for what seems to be a good drug and the FDA's just requiring more work than was required in Europe?

Vin Milano - ViroPharma Incorporated - Chairman, President, CEO

We' going to try to get the meeting in the fourth quarter. So depending on when that meeting is, we could have data by the end of the year or information by the end of the year.
2. No competition for U.S. Cinryze before 2020 and the drug will maintain its dominance even after its expiration in 2015.
3. High probability of approval for Phase 2 candidate, Maribavir
4. Faster development among its product pipeline
Timeline of ViroPharma's Clinical Program
Product

Event

Timeline

Cinryze

Country-by-country launch in Europe

2013

 

Data from kidney transplant

4Q13

Cinryze (NYSE:SC)

Meet with FDA to discuss ph.III protocol

End-2013/1H14

 

Initiate ph.III study in HAE

3Q14

Buccolam

Country-by-country launch in Europe

2013

Plenadren

Regulatory discussion with FDA

4Q13

VP20621

Data from ph.II study to prevent CDI recurrence

2013

 

License drug to a potential partner

2H13+

VP20629

Complete enrollment in ph.II study in Friedreich's ataxia

1H14

Maribavir

Complete enrollment in two ph.II studies and
announce top-line data

Mid/End-2014

Budesonide

Ph.II study results/Meritage M&A option decision

2014
Downside risks
ViroPharma is currently developing a subcutaneous formulation of Cinryze. If in any case the development of this new formulation fails, it would question ViroPharma's ability to extend Intellectual Property protection beyond orphan exclusivity expiration in 2015.
Risks include the potential for disappointing clinical data, regulatory setbacks, and commercial shortfalls. Since ViroPharma presently has only three commercial products (Cinryze, Plenadren, and Buccolam) any of those possible setbacks may impact the stock negatively.
Competitor's presence
It wouldn't be justifiable to analyze ViroPharma's growth avenues in HAE market without knowing what its competitors are doing in the same market. One of its competitors is Halozyme Therapeutics, which often relies on other companies to in-license the product to improve the performance of protein therapies. Last month Halozyme Therapeutics halted a Phase 2 study of Cinryze with rHuPH20 due to unexpected, potentially serious antibody buildup. Although the antibodies have not been associated with adverse reactions, Halozyme, along with ViroPharma, decided to end the trial. The FDA told investigators to stop dosing patients with rHuPH20 in the Baxter and ViroPharma clinical studies. Baxter and ViroPharma were relying on Halozyme's rHuPH20 to improve delivery of their therapy. This resulted in a major setback for the company and since then shares of Halozyme have been trading low.
At the end of 2012, Halozyme signed a $507 million deal with Pfizer (NYSE:PFE) for its Enhanze technology which may help to reassure investors that the industry hasn't lost faith in Halozyme's product. This deal seems to be a win-win situation for the companies. Halozyme has granted Pfizer a worldwide license to develop and commercialize products combining rHuPH20 with Pfizer proprietary biologics. Halozyme will receive an initial payment of $8 million. This opportunity also has the potential to enhance Pfizer's ability to optimize treatments for patients.
Another competitor of ViroPharma is Dyax (NASDAQ:DYAX), which focuses on HAE and other plasma kallikrein-mediated disorders. Its key drivers are the Kalbitor and DX-2930. Since February 2010, Dyax has been selling Kalbitor in the U.S for the treatment of acute HAE attacks in patients 16 years of age and older. Outside the U.S, it has established partnerships to gain regulatory approval and commercialize Kalbitor in certain markets; additionally, it is evaluating opportunities in others. In the second-quarter financials for 2013, Dyax reported revenue of $8.6 million for Kalbitor net sales, as compared to $9.2 million for the same period in 2012. As of June 30, 2013, Dyax had cash, cash equivalents, and investments totaling $46.9 million, exclusive of restricted cash, which will help the company to perform financial operations related to DX-2930.
Unlike Cinryze, Kalbitor is not approved for in-home injection and should be given by a medical professional. Also in contrast to Cinryze, Kalbitor is designed to treat acute episodes of HAE.
The company is developing DX-2930 as a subcutaneous injection for prevention of HAE attacks. Last month, Dyax announced dosing of the first subject in a Phase 1 clinical study, where it evaluated the safety and tolerability of a single subcutaneous administration of DX-2930. The Phase 1, single-center, randomized, double blind, placebo-controlled study is planned to assess the safety and tolerability and to characterize the pharmacokinetics of single, subcutaneous administrations of DX-2930 in healthy subjects. This seems to be a significant milestone for the DX-2930 development program.
Recently, the company collaborated with Laureate Biopharma for process development and cGMP production of a new treatment candidate known as DX-2930 for HAE. DX-2930 is a fully human IgG antibody designed to prevent HAE attacks by inhibition of plasma kallikrein. In working with the cell line producing DX-2930, Laureate's scientists were able to manufacture a high-titer antibody process successfully. This process was modifiable to cGMP production in both stainless steel and single-use bioreactors. Aseptic filling, a routine operation at Laureate, produced the clinical drug product in 98% yield. Finally, both companies resulted in the successful release of bulk drug substance.
The other competitor is BioCryst Pharmaceuticals (NASDAQ:BCRX). Its BCX4161 is a novel, selective inhibitor of plasma kallikrein, which suppresses bradykinin production. The company reported positive results in Phase 1 trial of the oral treatment BCX4161 in terms of safety, tolerability, drug exposure, and on-target kallikrein inhibition. As a result, the company is currently prepping the initiation of a Phase 2a proof of concept, or POC, study for kallikrein, which is expected to begin in the fourth quarter of 2013. The trial will test 400 mg of BCX4161 administered three times daily for 28 days in a randomized, placebo-controlled, two-period crossover design. The main goals for this clinical trial are to evaluate the safety and tolerability of BCX4161 and to calculate the degree of efficacy in reducing the frequency of HAE attacks. Amongst a healthy degree of competition in the prophylactic HAE market, I believe that even modest efficacy could create a meaningful market opportunity for BioCryst given the number of patients who may consider using a prophylactic drug if there were an oral option. However, BCX4161 has a long way to go before FDA approval, and afterwards another challenge would be its successful commercialization.
Valuation
Valuation Metrics with competitors
Metric/Company

ViroPharma

Halozyme

Dyax

BioCryst

Revenue (million)

(NYSE:TTM)

408.35

53.42

52.51

14.24

Market Cap

1.98 billion

934.76 million

489.13 million

346.03 million

Forward P/E Ratio

(fye)

40.20

-

-

-

PEG (5 years expected)

(-)1.41

-

(-) 4.20

-

Price/Sales

4.86

17.57

9.44

24..88

Total Cash (million)

258.73

76.01

46.93

291.2

Total Debt (million)

168.13

31.82

82.33

30
Source: Yahoo! Finance
ttm= trailing twelve months mrq=most recent quarter fye=financial year end 2014
After looking at the valuation metrics, ViroPharma looks stronger than its competitors do. Its Price/Sales ratio is less than its competitors' ratio. It also looks financially stronger in terms of cash and revenue. However, it has a negative PEG ratio, which may bother investor's interest.
Summary
ViroPharma has seen a robust growth in the stock price this year due to continued success in Cinryze. Seeing the increasing number of patients with the HAE disorder, I believe that Cinryze has robust growth potential in this market even after the drug expiration in 2015. Along with that, the company has potential to attain a Maribavir breakthrough by the mid or end of calendar 2014. As the Maribavir program is in its infancy stage, I believe it has significant opportunity in HCMV disease. Moreover, the weaker competitor's presence also reflects the dominance of ViroPharma in HAE market. The stronger product pipeline indicates a better future for ViroPharma. Currently trading at a stock price of $30, I think that the approval of subcutaneous Cinryze in the future and Maribavir next stage development will spike the stock to a higher price. This stock is definitely bullish for long-term growth.
Disclosure: I have no positions in any stocks mentioned, and no plans to initiate any positions within the next 72 hours. I wrote this article myself, and it expresses my own opinions. I am not receiving compensation for it (other than from Seeking Alpha). I have no business relationship with any company whose stock is mentioned in this article.