I wrote an article recently about Venaxis (APPY), a company with tremendous growth potential that has been under the radar of most investors. That is all about to change in the coming weeks, as the company just announced that they will present at three upcoming investment conferences:
Event: Rodman & Renshaw Annual Global Investment Conference
Date: Monday, September 9, 2013
Time: 3:40 pm (Eastern Time)
Location: Millennium Broadway Hotel; New York, NY
Event: Craig-Hallum 4th Annual Alpha Select Conference
Date: Thursday, September 26, 2013
Time: 3:10 pm (Eastern Time)
Location: Flatiron Room; Convene 730 3rd Avenue; New York, NY
Event: Aegis Capital Vegas Healthcare Conference
Date: Thursday, September 26, 2013
Time: 11:30 am (Mountain Time)
Location: Wynn Las Vegas Hotel; Las Vegas, NV
A webcast of their presentation will be available for 90-days after the live presentation through the company's investor relations link: ir.venaxis.com
Venaxis is on track for obtaining FDA clearance in Q1/Q2 of 2014 of their proprietary CE Marked APPY1 test-a rapid multiplex biomarker assay for identifying patients with low risk for appendicitis. The company has recently established distributors in Europe and has on-going contracts in multiple countries within the region. In my previous article, I discussed in detail the company's product and the reason it was approved in Europe and why it's pending approval here in the U.S. The unique APPY1 test shows a high sensitivity and negative predictive value, allowing for more conservative management of patients and limiting the use of CT scans. (Please see FDA initiative to reduce CT scans in U.S.). Appendicitis affects primarily the adolescent and young adults, who are routinely sent for CT scans for abdominal pain to rule out the risk of appendicitis. Thus, the unnecessary exposure increases the patients risk for cancer (i.e. up to 2% of U.S. related cancers result from CT scans123). There are approximately 22 million emergency visits for abdominal pain in the U.S. and Europe annually, providing a large potential market for the APPY1 test.
APPY is setting up for take-off
The stock has slowly, but steadily maintained a bullish trend for the past 60 days.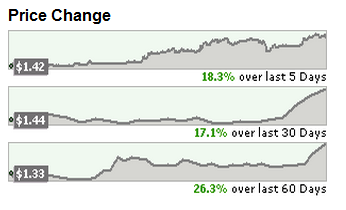 It established new support at $1.40 after breaking its previous resistance a month ago (the first signal that the security is about to move higher). After trading side-ways and testing its new support level all of August, it finally broke free this Wednesday rising more than 15% over the last three days. The initial spike occurred one day prior to the company's announcement about its planned presentation(s) at the three investment conferences this month, which will likely result in another surge of buyers. The company is still not covered by the majors, but this may soon change and that "golden opportunity" to invest may also pass.
Trading volume has been very heavy over the past three days, with mostly buyers, and is three times its monthly moving average.
The 60-day chart below shows today's spike, the overall bullish trend, and signs of continued momentum. As I discussed in "Venaxsis: The Hidden Gem With a 'Feel-Good' Investment Opportunity" the initial spike a month ago was a good signal that this particular security is going to move higher.
There are a few additional catalysts scheduled by the end of this year and first two quarters of 2014. The final pivotal-study (requested by the FDA) is on track for completion by the end of 2013, which will lead for filing of FDA approval of the proprietary APPY test in the U.S.
While the technical analysis showed signs of this move a month ago, the company's innovative product and success in Europe were equally important in predicting this surge. As I mentioned previously, it is only a matter of a time before Venaxis reaches investors' doors, and that day is coming sooner than later now. The surge in buying over the last few days is likely the result of investors learning about Venaxis, its product, and overall potential in the coming years. Another fact worth noticing is that the markets performed miserably over the last three days, barely closing with minimal gains today, all while APPY skyrocketed.
Venaxis continues to present a great long opportunity for investors. The company's one of a kind proprietary diagnostic test for appendicitis, and overall progress and execution of milestones are great signals that this is only the beginning.
1 Brenner et al., Rev on Enviromental Health, 2010; 25(1):63-67
2 Brenner et al., New England Journal of Medicine, 2007; 357:2277-84
3 Larson et al., Radiology, 2011; 259(3):793-801: 793-801
Disclosure: I have no positions in any stocks mentioned, but may initiate a long position in APPY over the next 72 hours. I wrote this article myself, and it expresses my own opinions. I am not receiving compensation for it (other than from Seeking Alpha). I have no business relationship with any company whose stock is mentioned in this article.