This is an update to the latest rankings for the 25 BDCs that I cover and a follow up to "Latest BDC Rankings: Discounted At Last?" taking into account the latest pricing and analyst ratings as well as revised earnings estimates and outlooks. I have also included highlights of recent changes and the results from the BDCs that have reported for Q2. The only BDC that has not reported is Full Circle Capital (FULL) but I have included it in the rankings using last quarter's results. These are the five general criteria I use to evaluate BDCs:
Profitability (EPS to cover dividends, NAV and EPS growth)
Risk (rate sensitivity, diversification, portfolio quality, volatility)
Payout (sustainable, consistent, growing)
Analyst Opinions
Valuation (NAV, P/E, PEG)
The table below does not actually contain whole numbers and the totals might be different (by 1) due to rounding: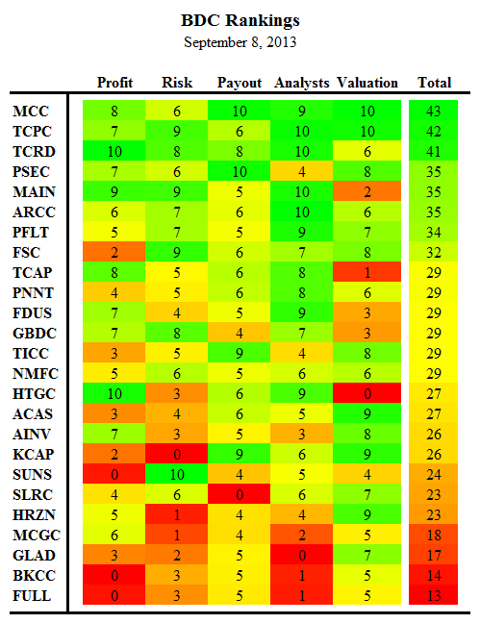 Highlights:
Medley Capital (NYSE:MCC) has recently announced a public offering of 6 million shares at a price above its net asset value ("NAV") per share and has been upgraded by analysts as well as sufficiently covering its dividend. MCC had an increase in non-accruals, a decrease in senior secured first lien and floating rate loans, and its weighted average yield of 13.8% is higher than most BDCs. It increased its use of leverage but will use the proceeds from the offering to pay down its debt.
MCC's stock price has been underperforming compared to the other BDCs and I consider this a buying opportunity.
Prospect Capital (NASDAQ:PSEC) moved up in my overall rankings considerably after surprising analysts with EPS of $0.38 for the quarter, 27% above expectations, and adequately covering dividends while maintaining its NAV per share. Analysts have begun to raise recommendations and EPS estimates for the upcoming quarters as anticipated in the "Prospect Capital: Time To Buy?" article. PSEC also improved its risk profile due to lower amounts of non-performing loans, decreased portfolio yields due to increased investments in senior secured loans, increased skin in the game from management, and improved profitability.
Main Street Capital (NYSE:MAIN) has also recently announced a public offering of 4 million shares at a price well above its NAV per share and has been upgraded by analysts as it continues its history of excellent dividend coverage and NAV per share growth but has recently started to increase leverage, using debt to grow the portfolio that will be paid down using proceeds from the offering. Senior type debt investments still make up over 78% of the portfolio and its risk profile remains better than average.
Ares Capital (NASDAQ:ARCC) remains near the top of the rankings and grew its NAV per share from the previous quarter. It missed projected EPS but it was close to covering its dividends and the debt to equity ratio increased but is close to the industry average. Its portfolio investment mix improved and ARCC remains well positioned for rising rates as discussed in "Ares Capital: Ready For Rising Rates?".
Fifth Street Finance (FSC) has fallen in the rankings mostly due to missing its EPS projections and inability to cover dividends by approximately 14% for the quarter. As a result I have reduced the profit category as well as the payout category to reflect the potential for a dividend reduction. Analysts have begun to downgrade the stock as well and all of these factors will be taken into account with regards to my "High-Yield Portfolio" allocations.
Triangle Capital (NYSE:TCAP) moved up in the rankings due to its improved risk profile, excellent dividend coverage and growing its NAV per share more than most BDCs. TCAP reduced its debt to equity levels and improved its interest coverage from net investment income ("NII") due to higher earnings, while reducing the amount of non-accruals.
PennantPark Investment (NASDAQ:PNNT) moved up in the rankings due to its improved overall risk score, by meeting projected EPS for the quarter, improving its portfolio mix, reducing portfolio yields and debt to equity ratio, improving its interest expense coverage from increased NII and still has no loans on non-accrual.
TICC Capital (TICC) is also part of my "High-Yield BDC Portfolio" but it missed its EPS projections by 7% and its projected EPS of $0.28 is slightly below current dividends of $0.29 per share. TICC also had a 3% reduction in its NAV per share, an increased debt to equity ratio, higher than average portfolio yields that were recently reduced due to its improving portfolio investment mix and it improved its interest expense coverage from NII.
American Capital (NASDAQ:ACAS) continues to struggle with non-performing loans at an all-time high and well above any other BDC. As discussed in "American Capital: Is It Time To Get Out?" its quarterly NAV per share growth continues to slow and only grew 1.3% over the last quarter which is lower than other BDCs that pay a dividend rather than reinvesting their gains. Analysts have been reducing ratings as well as EPS projections most likely due to these trends as well as missing its EPS projections by an average of 20% over the last two quarters. ACAS recently announced realized gains of $7 million related to the sale of Pan Am Holdings.
Apollo Investment (NASDAQ:AINV) continues to rank low due to its high volatility ratios, lower than average amounts of senior debt and insider ownership. Its portfolio yields and investment class mix have remained stable and it recently reduced its leverage and increased its interest expense coverage from NII.
Solar Capital (NASDAQ:SLRC) had a disappointing quarter and reduced its quarterly dividend from $0.60 to $0.40. On July 24, 2013, SLRC announced the exits of two legacy investments resulting in a temporary reduction in NII and a 3% reduction in NAV per share. Its portfolio mix was mostly unchanged but overall yields dropped, its debt to equity ratio increased reducing its interest expense coverage from NII and it had one loan on non-accrual. However, SLRC has announced a stock repurchase program and it currently trades at a discount to its NAV per share.
BlackRock Kelso Capital (NASDAQ:BKCC) remains at the low end of my rankings for a few reasons. Its NAV per share value has been on the decline over the last two years as well as positioning its portfolio into riskier equity investments and having some of the highest volatility ratios.
Investors should only use this information as a starting point for due diligence. See the following for more information:
Disclosure: I am long MAIN, TCPC, TCRD. I wrote this article myself, and it expresses my own opinions. I am not receiving compensation for it (other than from Seeking Alpha). I have no business relationship with any company whose stock is mentioned in this article.