Back on June 20th I wrote an article (Will Cole Become A Sleep Well At Night REIT?) on Cole Real Estate Investments (NYSE:COLE). As I explained, Cole was listing shares at that same date making the Phoenix-based REIT "one-step closer to its goal of creating full market liquidity". As I explained, "Cole was not listing in traditional IPO style since the company was previously a non-traded REIT", and unlike the other (non-listed) REITs that listed in a staged liquidity format (i.e. staged liquidity), Cole made all 490 million shares tradeable on day one.
Cole made a tender offer for $250 million of shares, and while the company knew that there would be selling pressure, it purposely designed the stock listing such that investors could immediately access liquidity for the 102,000 individual investors.
Since the listing, Cole has been a volume leader in both dollar volume and share volume. With an average of 9 million shares traded daily, Cole has unlocked a significant amount of capital increasing awareness of the institutional demand for income.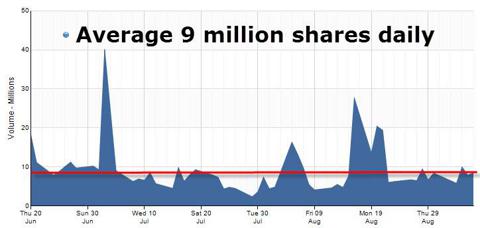 Because of the lack of Wall Street coverage and modest institutional investor interest, shares in newly listed public REITs often remain undervalued for extended periods of time. Due to the decreased institutional support, there's an even better chance that newly-listed REITs will result in an underestimation of a company's operational health and prospects.
I, for one, thought that Cole would trade under $10.00 since the listing (back in June); however, as illustrated below, Cole has rallied as many hedge funds have picked up the selling opportunity.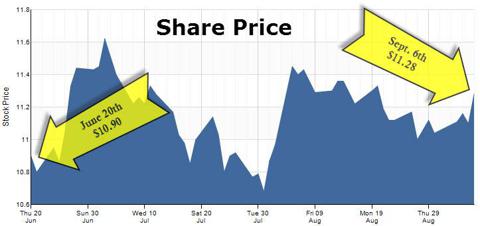 I'm certain that many new Cole investors are seeking an opportunity for yield, and although Cole is a new player in the public sector, most investors mitigate the risk for the lack of the REIT's dividend history by examining the fundamentals of the former non-traded REIT platform. By examining shares in a public REIT that was formerly a non-listed REIT, an investor has the advantage of researching the dividend history and the management team's track record for managing risk. Here is a snapshot of Cole's dividend history as a public REIT.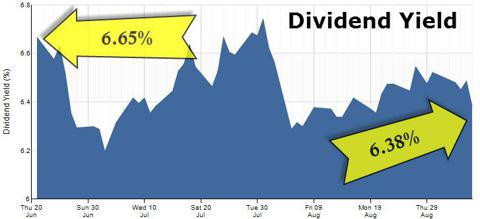 For the purpose of this article, I have included a larger pool of peers that include both free-standing REITs and Industrial REITs. Cole owns a diverse portfolio of 1,026 properties and I believe that the peer group should be a combination of the free-standing and industrial assets. Accordingly, I have illustrated below the dividend yield for Cole and the related peers (Cole's current dividend yield is 6.38%).

How Does Cole Stack Up?
As referenced above, Cole has an above average dividend yield of 6.38%, and with a market capitalization of $5.295 billion, the company is considered one of the largest REITs in the Triple Net sector.

However, based on assets owned, Cole ranks #2 with total assets (as of Q2-13) of around $7.913 billion.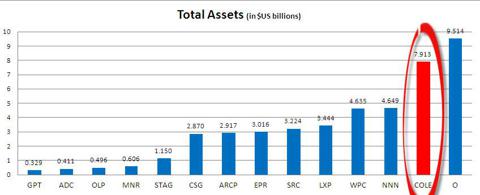 As I wrote in previous article (I'm Adding More SALSA To This Super-Sized Big Mac-Daddy Of REIT-Dom), the Triple Net REIT sector has seen a wave of M&A activity, and I prepared the chart below illustrating a conceptual peer chart for the REITs over the next few months. American Realty Capital Properties (ARCP) has announced a few mergers that should close in the next few months.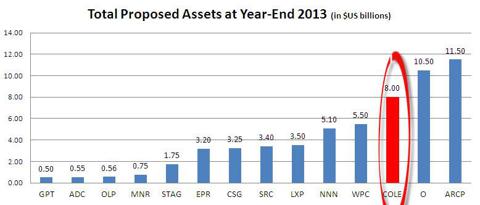 There are likely other M&A deals on the horizon and I have listed below a few suspects that I consider prime targets for the continued Triple Net REIT rollup.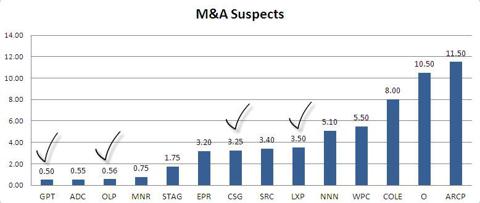 Let's Look at Cole in More Detail
As noted above, Cole is one of the largest Triple Net REITs today; however, the company acquired many of the properties when cap rates were declining. That means that the company was able to generate higher returns when developers were under more pressure to monetize assets. Based on data provided by RealCap Analytics, Cole is the number one buyer of single tenant properties over the last ten years.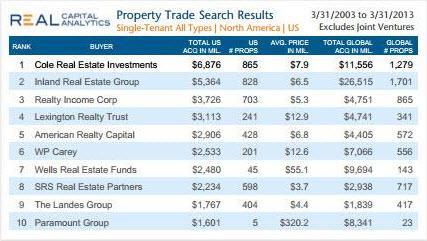 Cole has a portfolio of 1,026 properties that consists of 567 tenants. Cole's top tenants include Walgreen (WAG), Albertson's, PetSmart (NASDAQ:PETM), and CVS (NYSE:CVS). No one tenant represents more than five percent of Cole's portfolio: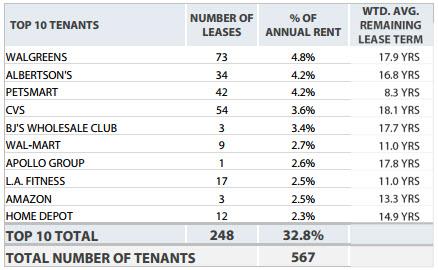 Most of Cole's portfolio is comprised of single tenant retail and office; however, the company does derive around 24% of its revenues from shopping center tenants. Many of the Cole's single-tenants are also shopping center anchor tenants so that is the reason that the company has invested in multi-tenant properties. Here is a snapshot of the investment type by diversity.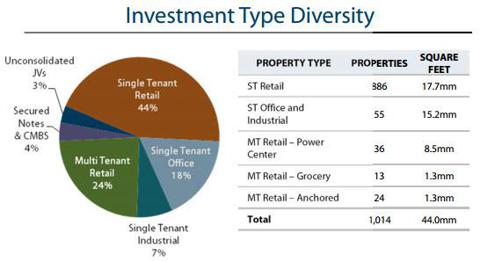 As a result of the diverse tenant makeup, Cole also has a diverse composition of tenant categories. Cole has 75 grocery store leases that account for 9.1% of total revenue - the largest category and 17 drugstore leases - the second largest category.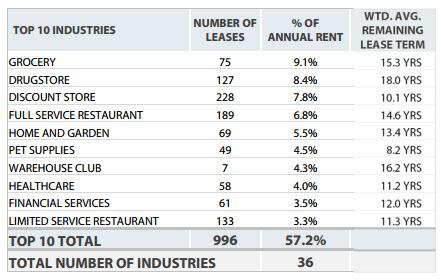 Cole also has a diverse geographic model that represents approximately 44.0 million square feet of commercial real estate in 48 states. Texas, Arizona, and California represent the largest concentration by State.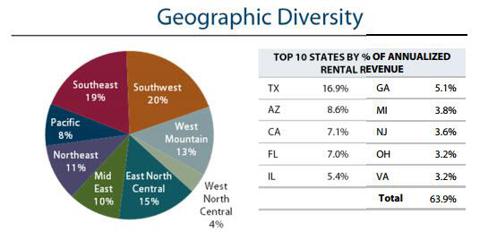 42% of Cole's annual rent is derived from tenants rated investment grade and another 13% from tenants with an implied rating of investment grade.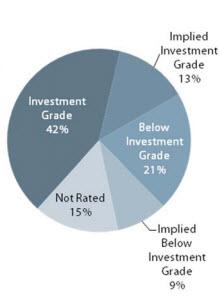 Cole's tenant-based credit profile is one of the best in the sector (American Realty Capital Properties maintains a higher investment grade makeup) and the high-quality characteristics are evident below: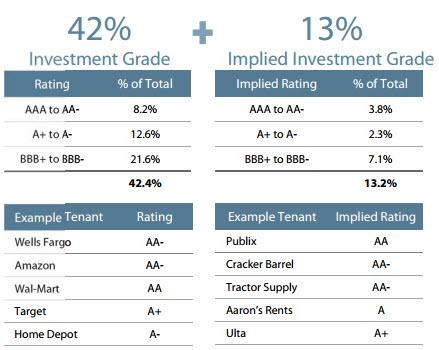 One Unique Way Cole Does Business
Unlike the more traditional Triple Net Lease REITs, Cole has carved a differentiated model that includes both hard commercial real estate assets along with an advisory business that generates fee-based income. To date, there has not been a lot of trading history with this type of dual -income structure, and the market does not have the depth of research coverage that the new Cole REIT will offer. This trading structure however is not unique as W.P. Carey (NYSE:WPC) has a similar investment platform as it merged its real estate company and its advisor last summer and the shares have performed very well since then.
Cole's private capital business, Cole Capital™, is an alternative broker-dealer with fully integrated teams across external and internal sales, marketing, sales analytics, events, national accounts, due diligence, compliance and shareholder services. According to Robert Stanger & Co. industry reports, Cole Capital™ is the only non-traded REIT sponsor to rank in the top 3 for the past five years and has raised over $8.1 billion since 2007. Here is a snapshot of Cole's integrated private capital management model: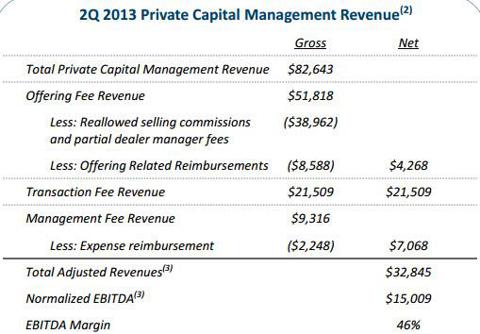 Cole's disciplined investment strategy and proven ability to acquire accretive assets provides an opportunity to attract a long-term investor base that values year-in, year-out execution. The company's past results demonstrate the recurring, repeatable nature of high-quality revenue. The sequencing of each new offering provides consistency across the three fee categories: (1) offering fees, (2) transaction fees, and (3) management fees. It's what I call the "3-bites at the apple" approach: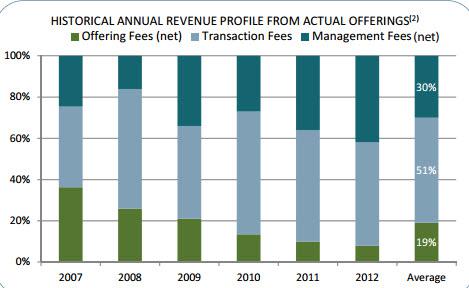 As evidenced by the historic amount of non-traded REIT equity raised in 2013 - estimated at $18 billion (source: Robert A. Stanger), Cole should continue to maintain consistent market share and steady recurring income.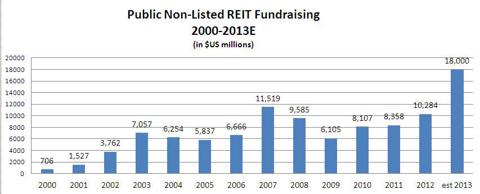 Cole is second to American Realty Capital in the amount of equity raised over the last ninety days. Here is a snapshot of the Top 10 sponsors: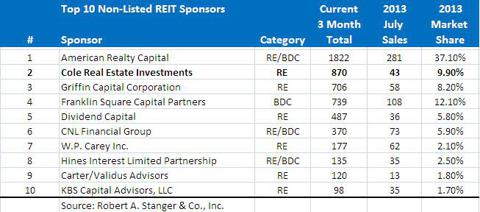 As illustrated below, Cole's capital management model has delivered $15,908 million in Adjusted Funds from Operations (or AFFO) over the last quarter (Q2-13). Cole projects around $860 million in 2013 (mid-point of estimate) that consists of around $250 million in gross fee-based revenue (30%); however, net revenues should be around half of that number. The real estate model will still drive a significant amount of cash flows that support the sustainable aspects of the REIT.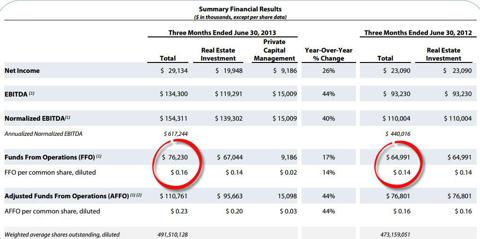 Here is a snapshot of Cole's 2013 Normalized EBITDA composition: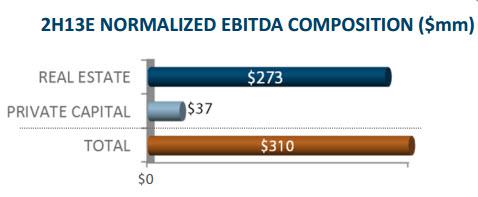 Here is a snapshot of Cole's revenue and normalized EBITDA guidance: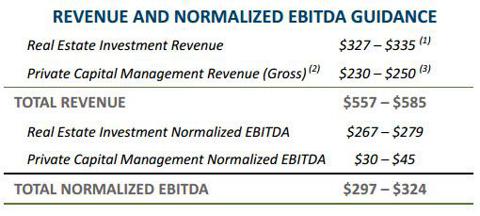 Why Does Cole Trade at a Lower Multiple To Its Peers?
Cole shares are trading at $11.28 per share with a Price to Funds from Operations (P/FFO) multiple of 13.8x. That ranks the unique-positioned REIT in the lower end of the valuation range (average P/FFO multiple is 14.75x):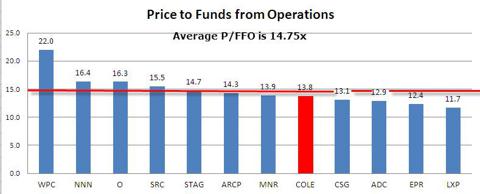 While researching this article, I observed two distinct reasons that Cole is trading below the peer group.
(1) Debt Capacity: Although Cole is not considerably highly leveraged; the REIT does have more secured debt (77%) than the more expensive peers, Realty Income (NYSE:O) and National Retail Properties (NYSE:NNN). Realty Income has less than 20% in secured debt and National Retail Properties has less than 1% (of secured debt).
In addition, Cole does not have an investment grade debt rating while Realty Income (S&P BBB+) and National Retail Properties (S&P BBB) do. Cole, however, does have a well-structured balance sheet that includes $167 million in cash, $2.8 billion of secured debt, $700 million of unsecured debt, and 88% fixed-rate debt. Cole has a debt to market cap ratio of 38.39%. In addition, Cole has a well-laddered debt maturity schedule: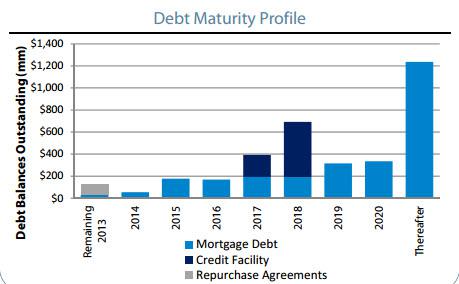 (2) Run Rate Potential: As mentioned above, Cole derives a minimal amount of its cash flows from its capital management model. Non-listed REITs have been under fire as it relates to the disclosure of selling commissions (FINRA 2014) as proponents have been advocating that fees are disclosed "above the line", meaning fees are disclosed where shares are priced after fees are taken out. In short, the potential for Cole to generate sustainable revenue for the REIT is questionable and although the run rate potential for Cole could be around $150 million a month, the market does not give much value to the fee-based business model.
Is There a Buying Opportunity with Cole?
As I stated in a previous article, "my TARGET is $9.00" and I explained that I'm "unsure of the fee-based valuation so I will only value the "brick and mortar" until I understand the sustainability of the advisor". However, is it possible that Mr. Market disagrees with me and instead pushes the shares higher or more in-line with the peer group?
After all, Cole's potential as a "sleep well at night" REIT is evidenced by its early inclusion in the MSCI U.S. REIT Index (RMS/RMZ) that occurred on July 3, 2013. In addition, Cole expects to be included in other index lists that will result in inclusions in Dow Jones Real Estate, FTSE NAREIT, and various S&P indices. Cole's AFFO multiple illustrates that the shares are trading around 33% below the peer AFFO multiple of 16x.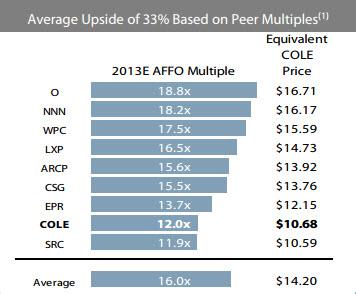 While Cole has limited analyst coverage today, the prospects for more institutional coverage look promising. In the company's first earnings report as a publicly-listed company, it reported consolidated revenue of $250.3 million and net income of $29.1 million, a 91% and 26% year-over-year increase from the second quarter of 2012, respectively. Also, the company reported consolidated AFFO of $0.23 per diluted share, a 44% year-over-year increase from the second quarter of 2012.
Also, Cole increased the annual distribution rate to $0.72 from $0.70 per share effective with the August dividend, payable September 3, 2013 - representing an 11% increase over the past two quarters.
It appears that hedge funds are filling up the void where Cole's retail investors aren't. As the ownership in the shares evolve from retail investors to hedge fund investors, it will be interesting to see how the market responds going forward. I believe that Cole has all of the credentials to be a "sleep well at night" REIT as the portfolio appears to be fundamentally sound. Management is not proven although I am warming up to the unique fee-based platform.

I'm not convinced that Cole deserves to trade at a higher multiple and it will take me a few more quarters before I can determine whether or not the fee-based revenue is desirable (and has any such multiple attached). Since I consider Realty Income to be the "bond proxy" REIT, I often compare the dividend yield (and dividend fundamentals) as a barometer for measuring valuation.
Although some of my readers have argued that Realty Income will trade lower (to the peer group), this article gives me ample assurance that the "Monthly Dividend Company" is trading at fair value and if the shares drop below $35.00 and the dividend yield hits 6.5%, the blue lights will go on! In other words, the justification of Realty Income trading at 13x P/FFO implies a "margin of safety" that is certain to provide long-term earnings power for a long time.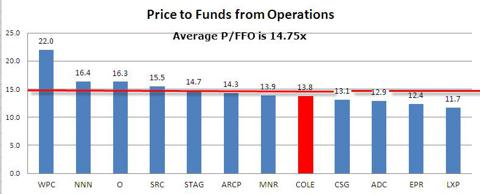 I don't see Cole trading much higher in the short term; however, I do see value in the 6.38% monthly dividend. I'm not sure that we will see a $9.00 entry price and I intend to consider a more likely target of $10.50 (that will yield around 7%). Remember that American Realty Capital Properties is yielding around 7.14% today (shares priced at $12.75) and I believe that's a much better buy that involves less uncertainty relative to Cole's fee-based model.
In closing, I'm still reluctant to take a position in Cole. I like the portfolio and I will wait patiently for a better entry price (or until the hedge funds unload shares). Most of the other Triple Net REITs have provided better entry prices and more attractive risk-adjusted returns. I see no premium opportunity (for Cole) and I see no logical justification for owning shares now. I will wait patiently for the institutions to provide more support and that will enable me to determine if the hybrid REIT model is justified. Summing it up: I Want to Own Cole So I Need Self-Control.
Disclaimer: This article is intended to provide information to interested parties. As I have no knowledge of individual investor circumstances, goals, and/or portfolio concentration or diversification, readers are expected to complete their own due diligence before purchasing any stocks mentioned or recommended.
Source: SNL Financial an Cole Investor Presentation.
For more information of REIT investing, check out my newsletter here. Also, I will be moderating a panel of Net Lease REIT CEO's this week at the Interface Net Lease conference. I will provide access to the video for paid newsletter subscribers.
Other REITs mentioned: (NYSE:ADC), (NYSE:EPR), (NYSE:CSG), (NYSE:STAG), (NYSE:MNR), (NYSE:GPT), (NYSE:OLP), (NYSE:SRC), and (NYSE:LXP).
Disclosure: I am long O, ARCP, HTA, VTR, DLR, CSG, HCP. I wrote this article myself, and it expresses my own opinions. I am not receiving compensation for it (other than from Seeking Alpha). I have no business relationship with any company whose stock is mentioned in this article.