When BlackBerry (BBRY) said it was considering privatization, the timing of the news could not have been worse for its marketing department. Around $1 billion budgeted for marketing, to support the push for Q10 and Z10 devices sales globally. The ownership uncertainty could easily reduce the effectiveness of ads to consumers, since its future is in question. Winston Churchill said that "success is not final, failure is not fatal: it is the courage to continue that counts." BlackBerry's privatization plan is a step forward for the company, and ensures that its 3 core entities will thrive well into the future.
BlackBerry Split
The sale of BlackBerry is the first catalyst for its shares, since a plan to split BlackBerry into 3 entities would enhance shareholder value. The company could be split into BBM, BES and Blackberry Device Services. Despite many messaging applications already on the market that includes Skype and WhatsApp, demand for BBM is going to rise. When a fake BBM was spotted on Google Play, the app was downloaded around 100,000 times before it was removed. BlackBerry promised consumers BBM would be available in the summer on Apple's iOS and Google's Android. When it is finally made available, the user base for BBM should be expected to sky rocket.
As a point of reference, Microsoft paid $8.5 billion for Skype. The messaging app was recently reported having 210 million monthly active users. BBM had 60 million total users, and the number should be expected to rise when it is officially made available.
BES, or BlackBerry Enterprise Services, will continue to generate licensing fees so long as pre-BlackBerry 10 devices are supported. BlackBerry is stimulating the uptake of BB10 by offering steep discounts for its CALs ("Client Access License"), along with free CALs for corporations that have CALs for existing devices. Hewlett-Packard (NYSE:HPQ) recently reduced its debt to pre-Autonomy levels, and could be interested in BlackBerry's BES unit. On its conference call, the company said:
"So we now have an opportunity to say where can we use strategic acquisitions to further our overall objectives as a company and we will be back in the market as we think about acquisitions that can further our objectives."
Demand for Blackberry devices and for BES servers could rise once BBM is available on other platforms. Corporations might want to host their own BlackBerry servers to manage work devices, and for devices running BBM.
Short Interest Increased Again
Excessive bearishness is another catalyst that could set its shares to move up. Bearishness increased again after dipping between July 15 and July 31, 2013. When BlackBerry reports earnings on September 27th, any positive sales figures could trigger a short squeeze. This would make acquiring BlackBerry more expensive, but also affirms the company's transition to BB10 is on track.
Top of Form

Settlement DateBottom of Form

Short Interest

Avg Daily Share Volume

Days To Cover

8/15/2013

152,899,981

39,686,869

3.852659

7/31/2013

145,904,806

15,114,392

9.653369

7/15/2013

160,837,750

25,342,957

6.346448
Source: Nasdaq.com
A short squeeze could be powerful when the short float is high. Tesla Motors (NASDAQ:TSLA) rose from $40 to $166.97 in the last 5 months when the company reported stronger sales. The short float for its shares is 25.5%, compared to 31.8% for BlackBerry shares.
Microsoft Purchase of Nokia
Investors viewed the purchase of Nokia's (NYSE:NOK) phone business by Microsoft (NASDAQ:MSFT) as a negative for BlackBerry, when the opposite is true. Microsoft will be less of a threat on the corporate market as it manages the operational transition in the short term. Microsoft will likely spin off or close the features phone unit of Nokia, because it will promote the Lumia 500 series and below as the budget phone. This will make it easier for BlackBerry to boost sales for the Curve in emerging markets, which in turn will support demand for the CALs.
Microsoft's acquisition only boosted Nokia's Price/Sales to 0.59, compared to 0.5 for Blackberry:
NAME

MKT CAP

PRICE/SALES

Nokia

19.9345B

0.59Top of Form

Bottom of Form

BlackBerry

5.59B

0.5
Source: Yahoo Finance
The low amount paid by Microsoft for the patents is one negative from the purchase. A potential buyer might have a lowered value in mind for patents held by BlackBerry.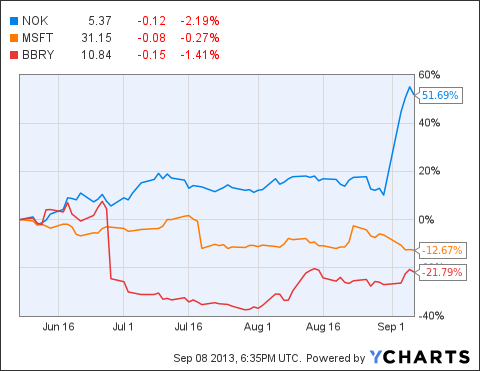 Bottom Line
BlackBerry shares may very well dip ahead of its quarterly earnings report, as investors speculate news of weak Q10 sales as true. Strong Blackberry usage in the recent quarter suggests otherwise. Even if BlackBerry shares surge after earnings, investors should still expect the company to enhance shareholder value through privatization.
Disclosure: I have no positions in any stocks mentioned, but may initiate a long position in BBRY over the next 72 hours. I wrote this article myself, and it expresses my own opinions. I am not receiving compensation for it (other than from Seeking Alpha). I have no business relationship with any company whose stock is mentioned in this article.