Preferreds are technically a hybrid between a bond and stock. However, there characteristics are more akin to that of a bond due to a fixed rate that exists. Just like most fixed-income securities there is a inverse relationship between interest rates and these instruments.
It's not rocket science...when rates go up, the principal value of these investments must fall. This is because the market now expects a higher yield to compensate for the risk. So the only way fixed-income securities will bridge the gap is by a decline in principal.
The 10-year treasury has been on a tear lately. With all of the positive economic data coming out, investors are expecting a rates rise by the middle of 2014, but possibly sooner.

The 10-year treasury has risen nearly 77% in the last year. Thus its no surprise that the preferred market would react significantly to this drop.
However, given the rise in the 10 year, preferreds have actually held together pretty well. Let's take a look at how the preferred indices have performed against the 10-year.
The iShares S&P US Preferred (NYSEARCA:PFF) has only fallen 5.62% in the same period.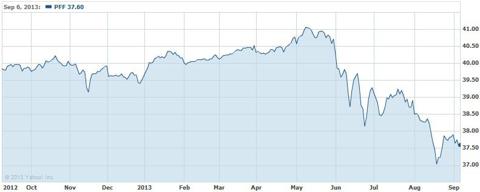 The Powershares Preferred (NYSE:PGX) has fallen 7.88% in the same period.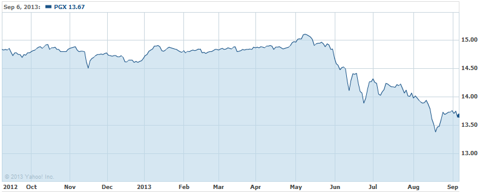 Since many preferred issuers are financial companies. It also helps to take a look at how this industry has performed. The Powershares Financial Preferred ETF (NYSE:PGF) is comprised of only financial preferred securities. This index is down 7.42% over the same period.
So by looking at the indices above, we can see that the preferreds have not taken that big of a hit on an overall basis. Now many of you may be thinking that is because only the 10 year is rising. In reality, rates have not actually risen. However, keep in mind that the market is based on perception. When Bernanke announced a possibility of tapering, the perception changed. The market knew that the good old days of low rates were not going to last much longer.
Investor's perceptions changed in this case and a selloff ensued. Given that the market has finally been made aware of a future rates rise, I believe most of the damage has been done. It's likely that preferreds could still fall lower, but not at the rate that was seen for the last couple of months.
If you take a look at the preferred market just before Bernanke made the announcement, you will see everything was trading well above par value. Even some of the most low credit quality preferreds with high yields were trading above par. The market was not being realistic and it was concerning to see this.
I am glad to see the Fed making this announcement because reality has finally set in. The pricing action in the preferred market was just too aggressive, but now the timing is right for investors to get back in.
Many quality preferreds are trading below par. Here are just two examples:
Glimcher Realty (GRT) series I preferred now has a yield on cost of 7.4%. It is now trading $2 below par value. GRT owns large retail centers around the country. Glimcher has maintained occupancy above 90% for it's portfolio, which is pretty impressive. The added plus of long-term leases means that preferred investors are very safe as there is a strong and guaranteed cash flow stream.
SL Green (NYSE:SLG) series I preferred has a yield on cost of 7%. SLG owns prime real estate in Manhattan. Given the high barriers of entry in NYC, SLG is a great company with strong assets. The company owns 76 properties in the Northeast with its largest concentration in NYC. I wrote an article last month on why I believed SLG's series I preferred to be a great investment.
These are just some examples, but it's important to know that there are quality preferreds out there with very nice yields. Income investors should feel much better now with the recent decline and should start putting that extra cash to work.
Disclosure: I have no positions in any stocks mentioned, and no plans to initiate any positions within the next 72 hours. I wrote this article myself, and it expresses my own opinions. I am not receiving compensation for it (other than from Seeking Alpha). I have no business relationship with any company whose stock is mentioned in this article.
Additional disclosure: I am long SLG-I and GRT-I.