Himax Technologies (NASDAQ:HIMX) Surges After Bullish Research Commentary from Craig-Hallum and Oppenheimer; Shares close above $8 on September 6th after trading more than 100 million shares for The Four Day Week and Is Poised to Go Higher with the Introduction of New Wearable Devices.
In April of this year, "The Focused Stock Trader " recommended Himax Technologies (HIMX $8.08 ) at $5.39. At the time, the Taiwanese LCD technology manufacturer was recommended as an underpriced opportunity. Since then, important catalysts have sent Himax shares up nearly 50%.
New milestones are now in place that should take Himax shares to the $10-$13 range.
Factors such as the recent analyst notes from both Craig-Hallum and Oppenheimer have helped drive the stock from $5.39 in July to a high of $8.62 on September 6th. Trading volume for the four-day week ending September 6th exceeded 100 million shares, versus a three month average of 40 million shares per week.
It is assumed that these analyst comments are in response to the introduction of wearable mobile devices such as Google Glass, the Samsung Gear and other wearable devices and the increasing use of display systems in the automobile industry.
During the Himax Q2 conference call, the company said its line of LCOS microdisplays are being rolled out and "applied by numerous customers and partners to create products targeting a wide range of applications."
"We are pleased with our second quarter performance, with revenue, gross margin and EPS all meeting the guidance we provided," stated Mr. Jordan Wu, President and Chief Executive Officer of Himax said in the company's press release regarding the earnings report.
Mr. Wu further went on to comment that "The core drivers of our business strategy remain intact. By focusing our investments in higher growth markets and higher margin products, we have been able to sustain double-digit growth in our small and medium sized driver and non-driver IC businesses while steadily improving our margins. The progress we are making in our LCOS microdisplays is another example of our technology leadership. As we execute on these and other exciting initiatives, Himax is well positioned to continue delivering substantial returns to our shareholders."
"Displaying Solid Growth"
A Himax presentation detailed positive financial data and solid growth. According to Himax's latest financial results, dated August 15th, the company reported revenue of $207 million for the second quarter of 2013, compared to $189.5 million in the second quarter of 2012, representing an increase of 9.2%. It also reported gross profit of $50.9 million, compared to $43.7 million, a 16.5% increase. Gross margins increased 1.5% to 24.6% while GAAP EPS jumped 27% from last quarter from $0.08 to $0.11.
According to Himax, second quarter revenues reached a high not seen since the fourth quarter of 2008 and also reported a positive outlook for the rest of 2013. Himax currently pays a 3.09% dividend, which makes the company all the more attractive to investors.
Technical Analysis by Harry Boxer (thetechtrader.com)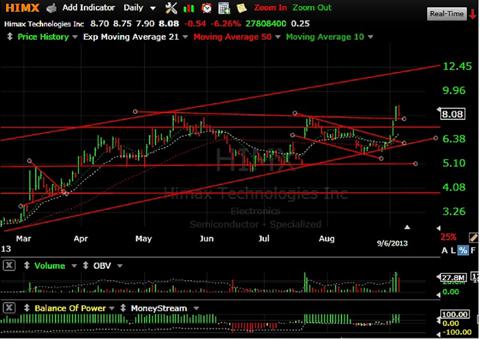 HIMAX TECHNOLOGIES: HIMX has recently exploded again, this time out of a nearly 4 month consolidation basing phase. HIMX has more than doubled from near $4 to over $8 in less than 2 months! As a result of HIMX's recent surge and breakout to a new high at 8.75 , accompanied by huge volume (more than 100 million traded in just 4 sessions last week alone!), we are now reiterating our BUY rating and projecting a potential run to more new highs near $10, then 11.75-12.50 zone as a secondary target . Support near 7.60-.7.75 then 7.20-.25 may be used if a pullback occurs to enter new or additional positions.
Partnership With Google
In July, Himax announced the signing of an agreement under which Google (NASDAQ:GOOG) will invest in Himax Display, Inc., also known as HDI. Google will hold a 6.3% interest in HDI, which is a wholly owned subsidiary of Himax, with the option to make additional investments in HDI at the same price within one year from closing. If the option is exercised in full, Google will own up to 14.8% in HDI's total shares. It should be noted that Himax will remain the major shareholder of HDI after the transaction.
The purpose of the investment will be used to fund production upgrades, staff expansion, capacity expansion and the further enhancement of the production capabilities of the HDI division.
As other wearable devices are introduced, Himax will stand to benefit from being one of the OEM (original equipment manufacturer) leaders in the production of other wearable devices given its experience with Google Glass. Some estimates of the wearable device market are projected as high as $12 billion by 2018, which should assure that Himax will be a very successful investment given its current price levels.
Based on Himax's diversified product mix, the potential market impact from wearable devices and from the increase of its production capacity of LCOS microdisplays, we at "The Focused Stock Trader" are optimistic about Himax's share price reaching $10-$13 and then higher as wearable devices are further adopted by the masses.
Disclosure: I have no positions in any stocks mentioned, but may initiate a long position in HIMX over the next 72 hours. I wrote this article myself, and it expresses my own opinions. I am not receiving compensation for it (other than from Seeking Alpha). I have no business relationship with any company whose stock is mentioned in this article.
Additional disclosure: I was assisted by my associate Anthony Orbanic