By Michael Rawson, CFA
Investors pulled $20.4 billion from exchange-traded funds in August, the worst month of flows for ETFs on record and a sharp reversal from the $39.5 billion inflow in July.
The selling was strongest out of U.S. equity ETFs, where investors withdrew $15 billion. But on a percentage of assets basis, selling was heavier out of taxable bond funds, where investors pulled $6.7 billion.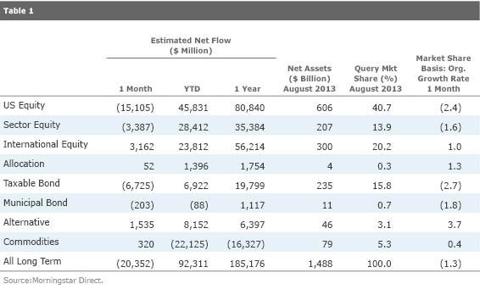 As interest rates have risen over the past few months, investors have sold bond funds, particularly those with a lot of interest-rate risk, and opted instead for bond funds with shorter duration. Bank-loan funds have been particularly popular. PowerShares Senior Loan Portfolio (NYSEARCA:BKLN) gained $345 million for the month and $3.9 billion for the year to date, bringing assets in the fund to $5.3 billion. IShares Floating Rate Bond (NYSEARCA:FLOT) attracted $288 million for the month. IShares Barclays 3-7 Year Treasury Bond (NYSEARCA:IEI) lost $2.3 billion from flows, reducing assets to $2.5 billion.
Outflows from equity funds were driven primarily by SPDR S&P 500 (NYSEARCA:SPY), which lost $16 billion to outflows. As the largest ETF and the most liquid exchange-traded security, SPY is frequently used by traders and institutions to quickly change market exposure. According to filings, the fund is heavily owned by institutional investors. Last year, the fund won the Morningstar Award in the Large Blend institutional category due in large part to its liquidity. But because it charges 0.09% and excludes most mid-cap and all small-cap stocks, it less than ideal for long-term investors. The Morningstar Award in the Large Blend retail category went to
Vanguard Total Stock Market ETF (NYSEARCA:VTI). This fund charges just 0.05% and covers the entire U.S. equity market. VTI gained $110 million in flows last month and $4.3 billion year to date.
Another fund with strong flows so far this year is PowerShares Buyback Achievers (NASDAQ:PKW). The fund drew $273 million last month and nearly $1 billion year to date. Assets are now $1.3 billion. The fund, which focuses on stocks of companies that have bought back shares, has returned a phenomenal 28.7% over the past year and 12.2% annualized over the past five years, compared with 18.7% and 7.3% for the S&P 500 Index.
Institutional and Retail Investors Disagree on Emerging Markets
International Equity funds had $3.2 billion in inflows, driven by strong flows to Europe stock and foreign large blend, offset in part by outflows from diversified emerging markets. There has been a divergence in flows to emerging-markets funds between ETF and mutual fund investors. While ETF investors have been pulling money out of emerging markets, mutual fund investors continue to buy. For the year to date through the end of July, mutual fund investors added $27 billion to diversified emerging-markets funds, while ETF investors have pulled $5.7 billion. That difference might be driven by institutional investors, who own roughly 50% of ETF assets, while mutual funds are predominately owned by retail investors. Continued inflows to emerging markets from retail investors may just be a reflection of the fact that retail investors have historically been underweight in this asset class, as discussed by my colleague Patricia Oey in this article.
ETFs make up 13% of the total assets in mutual funds and ETFs, but they make up 29% of assets in the diversified emerging-markets category. A number of our favorite actively managed mutual funds in the category are closed to new investors, but not all of the ETF options are completely passive. For example, as discussed in this article, WisdomTree Emerging Markets Equity Income (NYSEARCA:DEM) weights stocks by dividends paid rather than by market cap and has returned 4.3% annualized over the past five years, compared with 1.9% for the MSCI Emerging Markets Index.
Market-Share Leaders
While iShares and SPDRs had outflows last month, Vanguard had inflows. Compared with iShares, a larger percentage of Vanguard ETF assets are owned by individuals rather than institutions. The fact that Vanguard had inflows last month provides more support to the argument that selling last month was driven by institutions. Vanguard continues to take market share from rivals, pushing its market share up to 19.4%. Vanguard has attracted 40% of all ETF flows for the year to date. Over the past 36 months, Vanguard has only had one month of outflows from its ETFs compared with eight for iShares and 15 for SPDR. Other providers gaining share include WisdomTree, Guggenheim, and Schwab.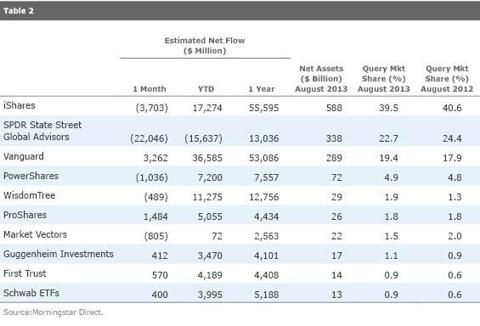 Disclosure: Morningstar, Inc. licenses its indexes to institutions for a variety of reasons, including the creation of investment products and the benchmarking of existing products. When licensing indexes for the creation or benchmarking of investment products, Morningstar receives fees that are mainly based on fund assets under management. As of Sept. 30, 2012, AlphaPro Management, BlackRock Asset Management, First Asset, First Trust, Invesco, Merrill Lynch, Northern Trust, Nuveen, and Van Eck license one or more Morningstar indexes for this purpose. These investment products are not sponsored, issued, marketed, or sold by Morningstar. Morningstar does not make any representation regarding the advisability of investing in any investment product based on or benchmarked against a Morningstar index.